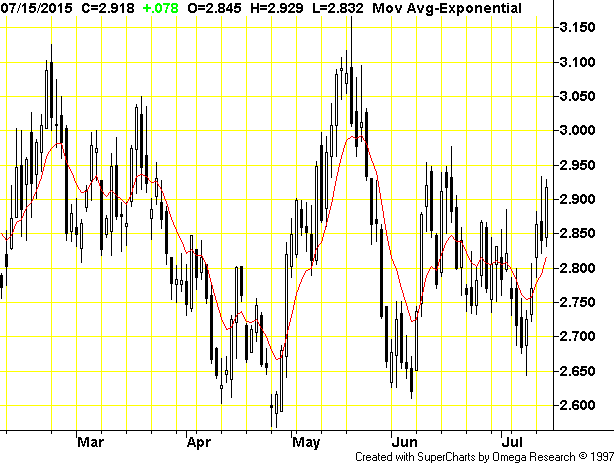 The above chart is a daily chart of August Natural Gas. Natural gas has rallied up 4 of the last 5 days. Recently natural gas has sold off whenever we traded into the $2.90s and traders have successfully bought the triple leveraged ETN (NYSEARCA:DGAZ) to benefit from the selloffs. For instance, back in early June we rallied from just above $2.60 up to $2.95 in three days (June 8th to June 10th). Then came Thursday's inventory report and we were knocked down Thursday and Friday to the $2.77 level. That was followed by a retest of $2.95 and roll over which brought sideways to lower action for 3 weeks. Now today is another Thursday inventory report and we are coming in on strength. It is anticipated we could again get a small selloff today and possibly Friday, since the expected 95 MMBtu number is slightly higher than last week's 91 MMBtu number.
However, ben2008, the administrator at firstenercastfinancial.com is looking for 92 MMBtu today, and 64, 50 and 53 MMBtu figures for the following 3 reports. click here. These are low figures for this time of year and tells me that we are indeed headed to $3.00 and possibly to $3.25 or higher, over the next 3 weeks. Initially one might be able to successfully buy DGAZ as we are in the resistance level of the $2.90 to $2.95 level that has recently been resistance, but take your profits quickly.
We are finishing up the last 4 days of a bearish cycle that occurs every summer from the 11th trading day in June and continuing through the 14th trading day of July. The dates this year are June 14th through July 21st. Thus, the bearish cycle ends next Tuesday. You can read about the cycle from Jay Kaeppel, click here. This year the pattern worked great until last Thursday's low. But we are now rallying and could in fact end up closing strong through next Tuesday which would cause the pattern to fail. What is most important for traders to realize is that the bearish cycle ends soon. Apparently it is common for weather to heat up beginning the middle of next week, which typically ends the bearish cycle in natural gas. Thanks to usage of air conditioners, there is a drawdown in inventories and natural gas has a seasonal strong rally period. With the heat wave forecast for the next 3 weeks, one would expect this year will show season strength through the first week of August. Enjoy your DGAZ trades for now, but realize that if we move above $2.95 and especially $3.00, one needs to abandon that trading strategy and join the UGAZ party.
Last week on the Thursday inventory reporting day, we came into the report on the weak side, having fallen for the previous 2 days. I correctly recommended being short through the report using DGAZ for a daytrade, taking profits a few minutes following the report. That turned out to be the bottom at $2.644 and we closed up last Thursday and have rallied ever since.
This week we are coming into the report strong, but could easily get a selloff since a number in the 90s is substantial. However, one needs to utilize any weakness one sees in natural gas over the next 2-3 trading sessions to position themselves into UGAZ as that should be the winning side as we move into August.
To follow along as we short out-of-the money commodity puts and calls, or trade crude oil (UWTI and DWTI), gold, natural gas (UGAZ and DGAZ) and other commodities, join us in our private Short Bull Trading Room on WeChat. Just download the free app on your phone or tablet, and then add "bobed1". You can then send me a message so I can invite you into the room. Still plenty of room.
You can also subscribe to my free weekly newsletter. Send an email to shortbull2020@yahoo.com if interested in subscribing. Again, it is free!
Disclaimer:
The thoughts and opinions in this article, along with all STOCKTALK posts made by Robert Edwards, are my own. I am merely giving my interpretation of market moves as I see them. I am sharing what I am doing in my own trading. Sometimes I am correct, while other times I am wrong. They are not trading recommendations, but just another opinion that one may consider as one does their own due diligence.