What has been clobbering the gold and silver markets lately, has been caused by massive shorting by large speculators and funds. When we bottom, these short positions have to be covered as they cash in their profits by buying the contracts back. Adding to the bottom fishers, buying by short sellers should cause a massive short-covering rally. To understand how this will work and for his timely insight, please check out Adam Hamilton's article, by clicking here.
Now, before we can start that short-covering rally we must first bottom. Today we made a low price in gold futures, not seen since April 2010, which is over 5 years ago. However, a new bottom is near! And I think I have a good idea when that new bottom will appear. I know most are anxious to see a sharp short-covering rally. I predict the bottom is anywhere from Friday's low in August Gold futures at $1129.60, to as low as $1084.00. And we should hit that low this coming week. Yes, within the next 5 trading days.
To see how I came up with this prediction, we need to take a look at the weekly chart of August Gold futures as follows: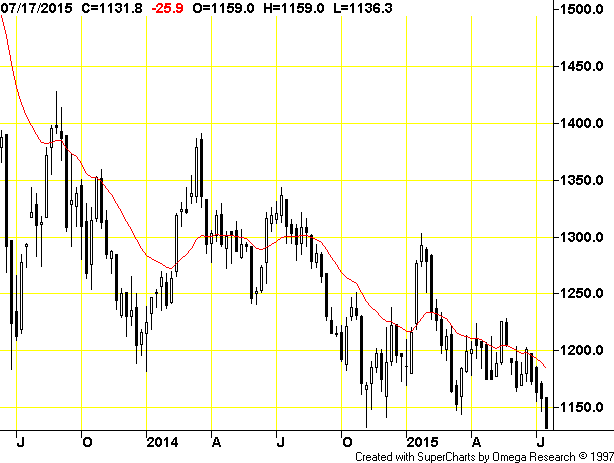 Counting from the left, on the third bar of the above weekly continuation chart of Gold we see an important bottom struck the last week of June 2013, at $1183.20. That bottom was powerful enough to cause a short-covering rally in 9 weeks to $1428.00, a gain of $244.80. But in January 2014, we again tested the low, stopping at $1182.00. After a rally to nearly $1400, we would again test that low in October 2014, stopping at $1182.80. These three lows formed what is called a triple bottom formation. Unfortunately the last bottom would fail just three weeks later, when gold broke under $1182, closing that Friday at $1171.10, and falling to $1133.00 the following week. Look at the above chart to see the dark black candle. It was indeed fortunate we bottomed the next week and the $1133.00 level sustained two retests without making a new low.
To review, breaking $1182 support, caused a $49 further selloff to create the $1133.00 bottom, and a rally back to form a bullish candle the following week the support was broken. However, on Friday, July 17, 2015, on the third test of that low, gold broke down to a new low of $1129.60, closing under the $1133.00 support level on the week. Could we now fall a similar $49 next week like we did when the $1182 support level was broken? Sure. And that would cause a low of $1084 next week, and a big short-covering rally to the high $1120s by Friday to form a bullish hammer candle on the weekly chart. We may not fall as low as $1084, but that is what I feel is the worst case scenario. We could have bottomed on Friday in fact, but that is doubtful since we hardly bounced late Friday. Be advised there are price targets of $1125, $1113, $1100, $1095 and of course my $1084. One of these levels should hold and start a short-covering rally. Last time we rallied from $1133 to just under $1203 in less than 3 weeks, a move of almost $70 off the bottom. I expect no less of a rally when we bottom this time, and possibly more since we have record short interest. I look forward to trading this coming week.
To follow along as we buy GLD, mining stocks and Gold futures, or trade crude oil (UWTI and DWTI), natural gas (UGAZ and DGAZ) and other commodities, join us in our private Short Bull Trading Room on WeChat. Just download the free app on your phone or tablet, and then add "bobed1". You can then send me a message so I can invite you into the room. Still plenty of room.
You can also subscribe to my free weekly newsletter. Send an email to shortbull2020@yahoo.com if interested in subscribing. Again, it is free!
Disclaimer:
The thoughts and opinions in this article, along with all STOCKTALK posts made by Robert Edwards, are my own. I am merely giving my interpretation of market moves as I see them. I am sharing what I am doing in my own trading. Sometimes I am correct, while other times I am wrong. They are not trading recommendations, but just another opinion that one may consider as one does their own due diligence.