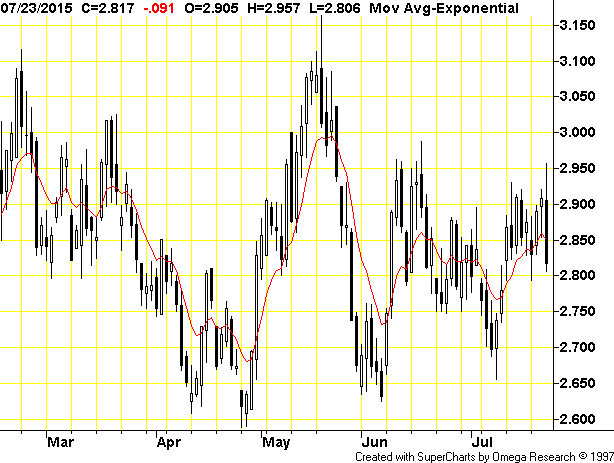 The above daily chart of September Natural Gas shows a market that rallied to just above $2.950 resistance on a bullish inventory number today, but then closing down hard, engulfing the prices where natural gas traded the previous two days. Above $2.90, I was recommending buying DGAZ and expected a bearish reaction after the report. I stated in our WeChat room that natural gas would likely close down today despite the bullish report, as we are still building large inventory. The funds are bearish and they use every opportunity to sell into strength. Someday this may change but not now. If you look at the action of May 19, 2015 on the above chart, you will see a similar key reversal down day when we topped at $3.163. Volume that day was large. Today's volume was over twice the normal volume in September Natural Gas futures, which also confirms the strength of this move.
Just as we got early day rallies the following two days following the May 19th key reversal day, do not be surprised if they buy natural gas up on Friday, July 27, 2015, at least initially. One could expect to get within a few ticks of $2.90 on Friday, which would translate to a DGAZ price of less than $5.20. Here is a daily chart of the triple bearish DGAZ chart.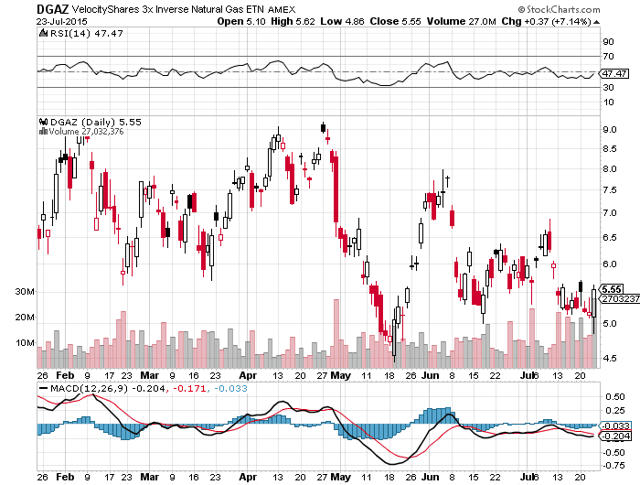 If you buy DGAZ at $5.20 or a bit lower, you can do like "Anti" does and add every 6% lower. That will work fine for now, especially since we have formidable resistance in natural gas at $3 and $3.15. If however, natural gas starts showing unusual strength and begins charging strongly above $3, instead of continuing to buy at lower and lower DGAZ prices, a more prudent approach might be to balance your account with the triple leveraged UGAZ.
WARNING!!!
Note: Whenever I mention a triple leveraged ETF or ETN, I will try to always give a caveat! Since a 33% drop in the underlying commodity can cause a 99% loss in a "triple" and blow out your account, one needs to divide their money into 3 trauches. You can continue to buy a "triple" until 1/3 of your money is invested. At that point you are only allowed to buy the opposite "triple". Then when the 2nd third is fully invested, you can add to which ever side is "winning". This way it would be an extreme challenge if you tried to blow out your account. When one accumulates more and more on a "triple" without ever taking any "protection" by purchasing the opposite "triple", it is often an extreme challenge not to blow out your account, even when you are trying desperately to hold on!
Again these "triples" like UGAZ/DGAZ, NUGT/DUST, UWTI, DWTI etc., are made for daytrading or swing trading and not advised to be held for longer than a week. I have a Friday rule when trading "triples". For any triple that is in a loss greater than a few cents, I will sell out of half my position to raise cash to buy back lower, or better yet, buy the opposite triple on that same Friday to "freeze the loss" and see how I want to play once we start trading the next week.
Summary
It looks like it is time to stop buying UGAZ unless you want to buy extreme lows. But with today's big selloff, you might be able to scalp from the long side using UGAZ until we approach the $2.90 level, but above $2.90 in September Natural Gas switch to DGAZ. If we should rally above $3 and especially $3.15, that is time to play UGAZ again. On short-term strength, it is DGAZ time!
To follow along as we buy GLD, GDX, IAG, KGC or other mining stocks or Gold futures, or trade crude oil (UWTI and DWTI), natural gas (UGAZ and DGAZ) and other commodities, join us in our private Short Bull Trading Room on WeChat. Just download the free app on your phone or tablet, and then add "bobed1". You can then send me a message so I can invite you into the room. Still plenty of room.
You can also subscribe to my free weekly newsletter. Send an email to shortbull2020@yahoo.com if interested in subscribing. Again, it is free!
Disclaimer:
The thoughts and opinions in this article, along with all STOCKTALK posts made by Robert Edwards, are my own. I am merely giving my interpretation of market moves as I see them. I am sharing what I am doing in my own trading. Sometimes I am correct, while other times I am wrong. They are not trading recommendations, but just another opinion that one may consider as one does their own due diligence.