Why FCX?
Freeport-McMoRan Inc. (FCX) has fallen 18.5% in the last two days, ending Friday at $12.29. It is starting to look very cheap. I am not saying you should rush in to buy the stock when it opens on Monday, but if you could pick up shares closer to the $10 level, you should be able to make a very profitable quick trade in the stock.
I have a bit of nostalgic fondness for this stock as it used to be one of my favorite day-trading vehicles. Also I rode the stock down from the $20s, to a low of $7.87, back in 2008, and back up to the $20s and beyond. My patience was rewarded.
Those buying at current rock bottom prices should on a long-term basis, also be rewarded when the prices of copper, gold and crude oil improve. However, my current interest in the company is only for a quick scalp, a mere trade. I am looking for a very oversold bounce to occur, once the price stabilizes.
FCX reported earnings on Thursday and the stock has been killed for two days, as reported here. Earlier this year, Morgan Stanley was actually encouraged about the company's prospects and upgraded the stock in April. The bottoming of crude oil helped, along with stability in gold and copper prices. However, now all three markets have weakened and FCX stock has plunged. Here is a five year weekly chart: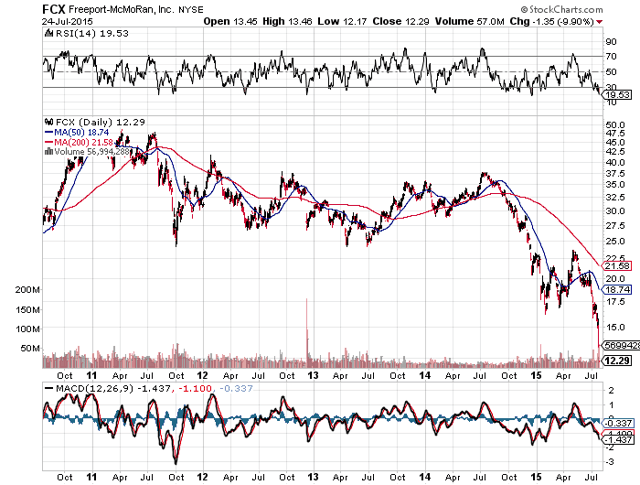 You will notice how the FCX stock price traded between $25 and $40 from late 2011 to late 2014. However, because FCX decided to diversify into the oil and gas arena instead of sticking with their copper & gold mining interests, they suffered with the drop in crude oil prices. The last major high occurred at $37.67 back in July 2014. FCX finished out 2014 at $22.76. In less than a month, FCX would fall to a low of $16.23. Then in February, a high of $21.63 was reached. Then came a March 2015 bottom at $16.81. During April and May, thanks to a rally in crude oil, FCX was able to finally get back to $22.74, about where FCX started the year. It appeared that FCX had found a new trading range between $16 and $23. But closing below support on Friday, July 20, 2015 at $15.88, was a bad omen. This past week the stock has been obliterated, hitting a low on Friday of just $12.17.
To understand where FCX might again find support, we can look to see how FCX traded during the last hard smackdown back in 2008: Here is a weekly FCX chart going back to that time period: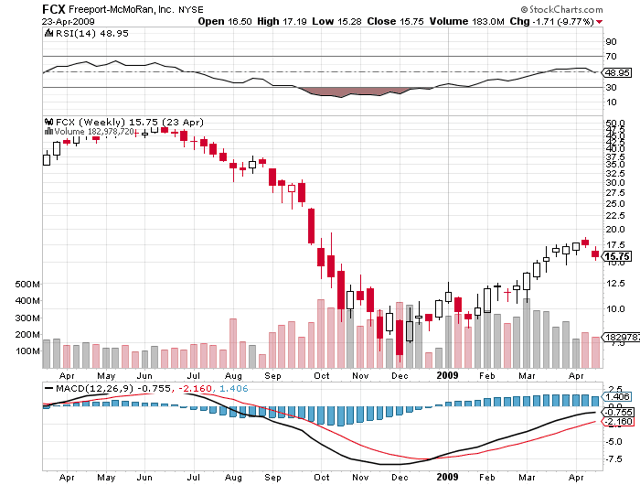 From a May 2008 high of $50.30, FCX fell during the financial crisis to a low of $6.31 (adjusting for dividends). You will notice how initially $10 held support and the stock traded between $10 and $13 for 4 weeks. I expect to see FCX do something similar should it again fall to $10. Then in November 2008, FCX plunged the next week to a low of $6.95, only to hit $10.30 the next week. Finally the major low was hit the following week at $6.31, the first week of December 2008. Just a week later we saw $10.14, and after 4 more weeks FCX hit $12.50. It is not shown on the chart, but by June 2009, just 6 months after bottoming, FCX hit $24.68. By January 2010, FCX hit above $36, and that started the trading range of $25 to $40 that FCX would remain in until recently.
As we trade below $12, I now expect to see FCX struggle to find support somewhere between $10 and $11. When FCX fell from $37.67 to $16.23, that is a drop of 57%. From the recent high of $22.74, a drop of 57% would project a new low of $9.80. Thus the $10 area should be a good target price to buy FCX.
Once FCX does bottom, expect it to trade in a range for 3 to 4 weeks. However, the ultimate low could be a plunge to $8, $7, or maybe $6, but I would expect to see a quick rally back to $10 within a week or so, with every plunge. Since $16 was recent support, it will likely become future resistance, and that is the long-term price level one should target, if crude oil, copper and gold should finally stabilize and rally out of their present holes.
Summary:
Scale trading in on FCX as it approaches $10 should work out well, as the company is extremely oversold and could bounce.
On an operational basis the company does still earn a profit, but is forced to take big write offs based on lower valuations of its assets. In recovery, the appreciation of these assets should help bolster prices, just as they now are a drag. If copper, gold and crude oil prices remain at current rock bottom prices, FCX will have to take further write-offs which could plunge the stock below $10. However, somewhere around $6 to $8, there should be some real value discovered. The stock has a book value of over $13, and a forward PE of just under 7. The company plans to spin off the oil company interests which should improve the balance sheet and remove the drag of low crude oil prices. In any case, FCX has positive cash flow and can weather the storms for several more years. Just as FCX rallied from $16 earlier this year, I expect it will begin a rally around $10 in the short term with maybe some quick spikes lower.
Disclaimer:
The thoughts and opinions in this article, along with all STOCKTALK posts made by Robert Edwards, are my own. I am merely giving my interpretation of market moves as I see them. I am sharing what I am doing in my own trading. Sometimes I am correct, while other times I am wrong. They are not trading recommendations, but just another opinion that one may consider as one does their own due diligence.