December Gold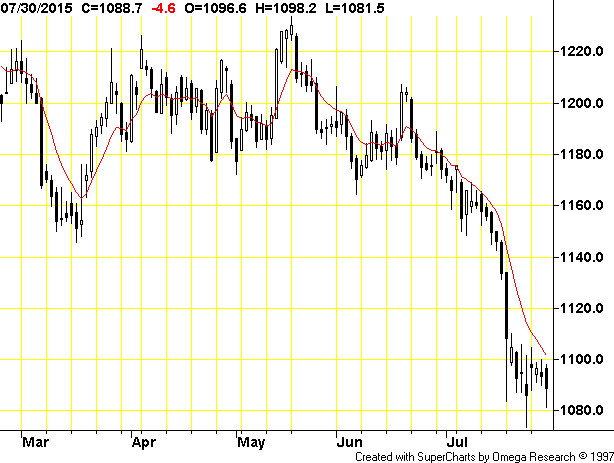 The above daily chart of December Gold futures shows stability above $1080, despite seeing only a couple up closes in the past 16 trading days, and a current drop of 3 days in a row. Until we get a rally to "undo" the current severely oversold condition, further drops should be limited. There is better than a 50/50 chance that we will hold support in the $1065 to $1072 level for now, and should get a rally soon of $80 or more. If we should break lower, it should be a bear trap, and I do not see a drop below $1050 for now. Until we see a move back above $1100, scalping from the long side should be quite profitable if playing the gold futures or GLD.
I won't post charts of the gold miners or GDX or GDXJ, at they are too depressing, but I do believe that buying IAMGOLD (NYSE:IAG) and Kinross Gold Corp (NYSE:KGC) should do fine if one patiently holds for the next gold rally. The triple leveraged ETFS (NUGT and JNUG) are absolutely toxic and cannot be safely purchased until gold establishes a bottom which it has not yet done.
September Crude Oil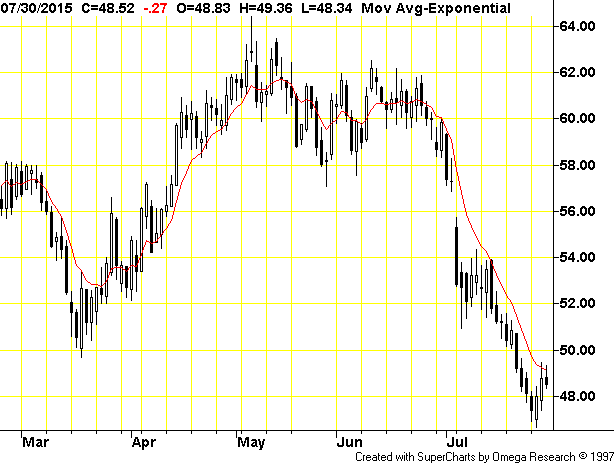 Finally September Crude Oil Futures prices have stabilized at the $47 per barrel level. After two up days off the lows, today we saw some profit-taking. However, on near-term dips and possible retest of the lows, expect the bottom to hold. For those not long, buying UWTI when crude oil is trading between $47.60 to $48.50 should work out well. Here is a daily chart of the triple leveraged ETN (NYSEARCA:UWTI):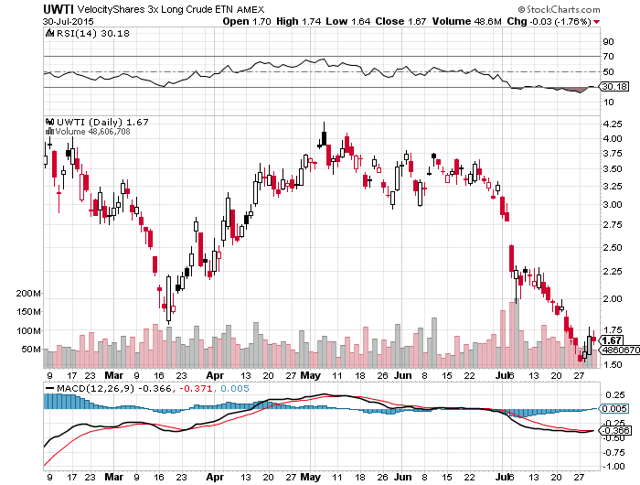 The MACD is giving a buy signal in UWTI, as shown in the above chart. With a rally back towards $54 in crude oil, UWTI should return to prices above $2.20. Despite all the negativity in the media it will not be easy to keep crude oil below $50, let alone $40 or anything lower. Unlike worthless paper gold which has become less prized than a pet rock, crude oil has real intrinsic value due to the fact it remains an indispensable primary energy source, so it should not drop any lower in price than is absolutely necessary. It has taken perfect alignment of the stars to get crude oil back under $50 and we should not remain trading in the $40s for long. Relief for beleaguered bulls should be shortcoming.
To follow along as we buy IAG as well as GLD, GDX, KGC or other mining stocks or Gold futures, or trade crude oil (UWTI and DWTI), natural gas (UGAZ and DGAZ) and other commodities, join us in our private Short Bull Trading Room on WeChat. Just download the free app on your phone or tablet, and then add "bobed1". You can then send me a message so I can invite you into the room. Still plenty of room.
You can also subscribe to my free weekly newsletter. Send an email to shortbull2020@yahoo.com if interested in subscribing. Again, it is free!
Disclaimer:
The thoughts and opinions in this article, along with all STOCKTALK posts made by Robert Edwards, are my own. I am merely giving my interpretation of market moves as I see them. I am sharing what I am doing in my own trading. Sometimes I am correct, while other times I am wrong. They are not trading recommendations, but just another opinion that one may consider as one does their own due diligence.