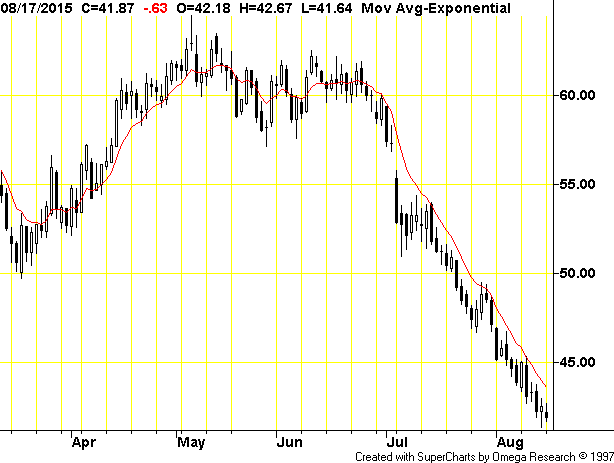 Crude Oil Is Sitting At Long-term Support
The above daily chart of September Crude Oil shows a market that has been in a horrific downtrend. It all started with that breakdown on Friday July 3rd when the crude oil market traded on the Globex and broke down, even though the market was technically closed. When traders returned on Monday, crude oil just got slaughtered. This was a telling sign that something had changed and I should have been more proactive in proclaiming the threat to bulls who were playing the triple leveraged ETN (NYSEARCA:UWTI). I was still hopeful that the $49.50 area would show some support. When that support broke I have not been hopeful for a turnaround.......until now. The crude oil market is finally trading near the $42.03 area struck in late March 2015. That was good for a 7 1/2 week rally to $62.58. Well, we are back now just under $42 and the downward momentum appears to be fading.
One constructive sign was the fact that on Friday, August 14, 2015, we bottomed at $41.35, and closed at $42.50, creating a bullish hammer on the daily charts. Then today, August 17, 2015, we traded within Friday's range. This inside day, closing down, should have an up close the next day (Tuesday) about 70% of the time. This is another bullish factor. If the bottom at $41.35 can hold, we could easily bounce back to resistance at $45, $47, or even $50, rather easily, considering how oversold the market is.
One other bullish factor is the fact that the last 7 trading days of action we closed down, up, down, up, down, up and now down today. We are due for a turnaround Tuesday up close, and if we could get above $43, we could see 2 or 3, or how about 5 up days in a row? There is enough buying occurring at these lows to turn the market up after every new down day, recently. The downward momentum is showing signs of fading!
Which ETF or ETN To Play?
The ETN that I hate the most is the triple leveraged ETN as it is now down to $1 per share and threatening to go below $1. If the bid and ask is one cent apart and UWTI is trading at $1, there is a 1% spread between the simple bid and ask. That makes trading extremely expensive and thus, until there is a reverse split, I see no reason to touch UWTI. Here is a daily chart anyway: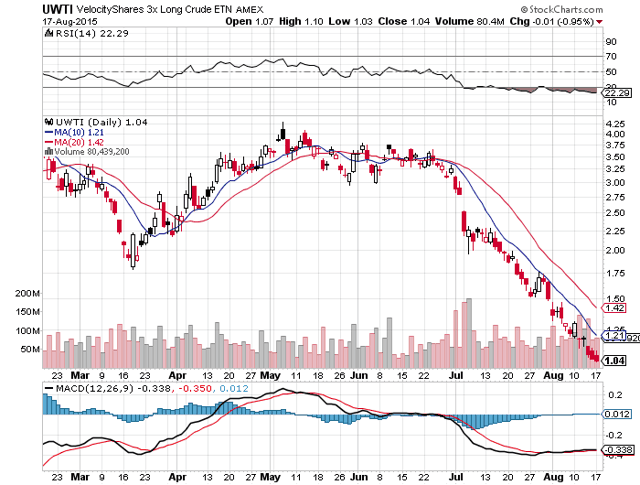 It is amazing that we have not been able to touch the blue ten day moving average line for 12 days. Before those 3 days in late July where UWTI touched the blue line, it was the first time then in about 25 trading days (5 weeks). This shows the crude oil market has been in an bearish imbedded stochastic moving lower. You can see how hard it is to break these. When we do finally turn, don't be surprised if the rally lasts a few weeks or months.
A better vehicle to use to catch this bottom in crude oil should be the double leveraged ETF (NYSEARCA:UCO). Here is the daily chart of UCO: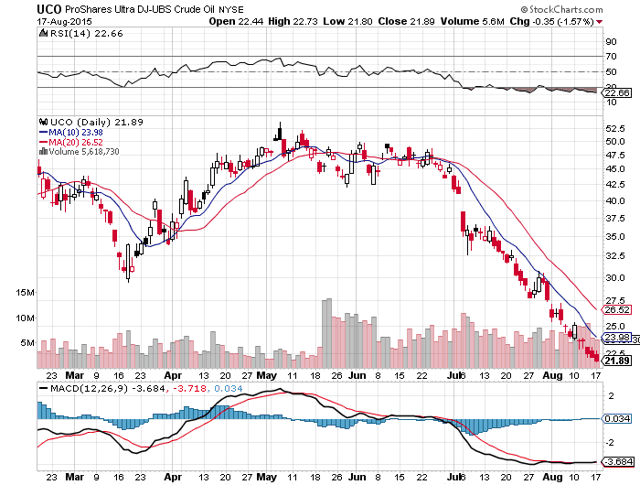 At least UCO is trading at a nice healthy price, just under $22. Also only being double leveraged, the slippage is less than half as severe as you experience with a "triple" like UWTI. Looking at the flat-lining of the MACD, it would not take much of a rally to get a solid MACD buy signal.
However, another choice you might consider is the triple leveraged energy stock ETF (NYSEARCA:ERX). It has already bottomed and started rallying. If crude oil turns up, it should also do quite well. Here is a daily chart of ERX as follows: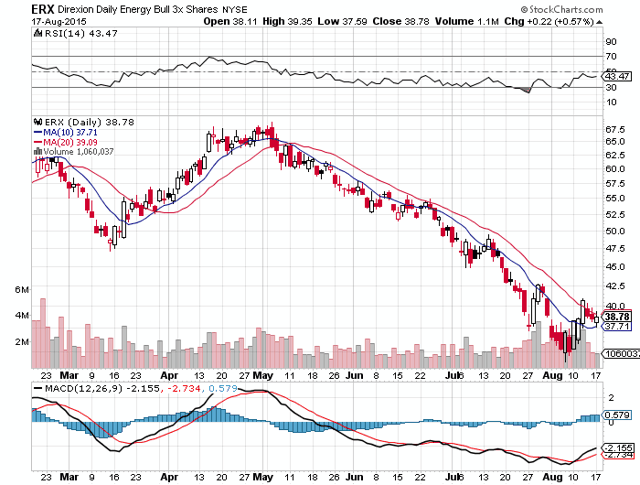 The ERX bottomed on August 6, 2015 at $33.91, and scored a bullish engulfing pattern that very day. After a retest lower the following trading day, ERX surged for 3 days to a high of $40.95. It has now fallen back in a consolidation pattern but managed to still close up slightly today, despite crude oil again closing down. I like buying ERX below $39, and anticipate a move back to $50 or higher. The MACD has given a buy signal over a week ago, and the blue ten day moving average line on this chart, is acting as a support line now. If I was going to trade one of these ETFs or ETNs, I would choose ERX as having the most upside potential with the least amount of downside risk.
To follow along as we buy ERX, as well as GLD, GDX, IAG, KGC or other mining stocks or Gold futures, or trade crude oil (UWTI and DWTI), natural gas (UGAZ and DGAZ) and other commodities, join us in our private Short Bull Trading Room on WeChat. Just download the free app on your phone or tablet, and then add "bobed1". You can then send me a message so I can invite you into the room. Still plenty of room.
You can also subscribe to my free weekly newsletter. Send an email to shortbull2020@yahoo.com if interested in subscribing. Again, it is free!
Disclaimer:
The thoughts and opinions in this article, along with all STOCKTALK posts made by Robert Edwards, are my own. I am merely giving my interpretation of market moves as I see them. I am sharing what I am doing in my own trading. Sometimes I am correct, while other times I am wrong. They are not trading recommendations, but just another opinion that one may consider as one does their own due diligence.