Stocks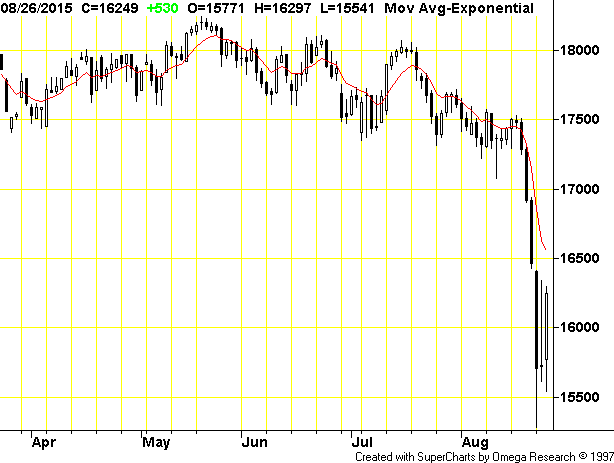 On Tuesday March 25, 2015, the stock market completed a 5 day selloff for the record books. The above December Dow Jones E-mini Futures had a trading range to the downside of over 2200 points at the lowest point on Monday. But the worst part was the volatility. Rarely do you see moves up and down of 100 to 200 points in the Dow, every 5 to 10 minutes. How bad is this market? Well, you may be surprised to know that the RSI (Relative Strength Index) on the daily chart of the Dow Jones Industrial Average ETF (NYSEARCA:DIA) is lower now than at any time in 2008? Back then the RSI never fell under 19, while recently I saw a 16 reading. Extremely oversold.
Well, we had the 1100+ point drop on Monday but the Dow Futures "only" closed down 747 points (the futures slipped more than the cash index as traders priced in even more carnage for Tuesday). But on Tuesday the Dow Jones futures were up over 600 points early (500 points in cash). But the rally never held and the cash market closed down over 100 points, while the Dow futures closed up 10 points. Indeed, these are not normal times. Looking back over the charts I saw several instances when you get a "Gravestone Marker Doji pattern" like we saw on Tuesday, the next day is a move higher. And sure enough, on Wednesday, August 26, 2015, we closed near the highs of Tuesday. We may now continue to rally, since we are up in Asia as I type, but don't marry your stock positions. The rally will surely be short-lived. When you break long-term trendlines like the stock indices have now done, the ultimate bottom does not occur until we have fallen a lot more than what we have seen so far. In fact, the best trade is to look for a spot where the upward momentum fades and get short. The safest and most financially rewarding plays will now be from the short side. Wish I had better news. Oh, but we can buy other markets like gold and mining stocks. Not so fast!
Gold And The Miners
What I find most disturbing is that gold rallied nearly $97 off the recent lows, and has now given back about half of the move. However, the miners, think GDX, GDXJ or IAG, have given back nearly all of their recent strength. I expected a correction in both markets but not to the extent to what we have seen. These same miners are supposed to be leading gold out of the hole. Instead they are leading us down a rat hole. Now take a look at the daily chart of December Gold: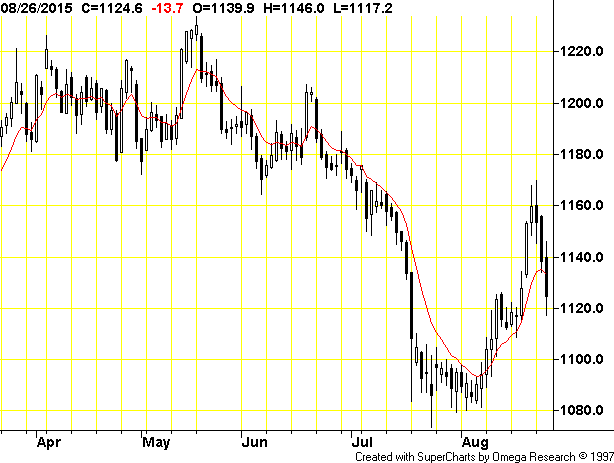 On the way up, there was a gap left between $1132 and $1128 that I thought would provide some support on a correction. Usually a market goes part way into the gap, but does not fill it on the first attempt. Being the 3rd down day in a row, I wanted to buy Wednesday's weakness, anticipating a 2 to 3 day rally starting on Thursday. Now I am not so sure. I was a bit surprised we filled the gap, but then kept falling lower and lower, finally hitting a low of $1117.20. We did stay above the recent consolidation low on the way up, of $1108.50, but we should have held the $1128 area. This is quite concerning. For now, we can still maintain a bullish posture with the hopes that today's action was overdone. However, we cannot tolerate any close under $1117.20.
What adds to my concern is the fact that silver got obliterated today, making a new multiyear low. I am not going to post that chart but trust me, it is ugly. The only consolation is that when silver falls this hard into new lows, it will tend to consolidate. Palladium has fallen for 4 days and is not far from the 2008 lows. Today Palladium also made a multiyear low. Platinum recently was trading over $170 below the price of gold, (rarely does it stretch to a $200 discount). So with gold's drop of nearly $14, Platinum actually closed up over $7 today on profit-taking.
Today I knew to buy into the weakness all the way from $1130 to wherever we bottomed which turned out to be $1117, in anticipation of a snapback. Fortunately we got that pop, rallying $10 off the low. This allowed me sell out of my low priced contracts at a profit, and then reload on a dip to $1120.50. On the closing rally I lightened up and now am completely out in the $1127 to $1128 area, hit in the night Globex session. I am happy to report that I ended up with a net profit on the day, going long on a nasty somewhat unexpected plunge lower. However, I am not going to tempt fate and try that again, if we should roll over shortly. Next time I look to be going short.
Having just rallied $97 out of the hole, leaving the great abyss under $1100, we hit against $1170 and $1200 was not far away. Well, we could not go any further up, and have now given back over half of the $97 gain. But remember, the first dip after such a major rally, can almost always be bought. I have made the most money trading commodities employing the buying of the first dip rule. Thus, I expect to see a rally to at least $1140 and hopefully as high as $1160, $1180 or even $1200. However, if we fail to make a new high above $1170, (and even if we do), expect a major selloff to follow, which can even be to new lows down to $1050 (or lower). Use the strength you see in the next several days to dump out of your gold mining stocks, hopefully at a profit. Those playing IAMGOLD (NYSE:IAG) were encouraged to sell into the recent rally last week towards $2. Since we have now fallen back under $1.50, we are again in a value zone and should be able to buy IAG for a trade. However, you may be advised to use near-term strength to liquidate a good portion if not all of your position.
Gold Is No Safe Haven!
Another very disappointing feature is how gold traded on Monday, August 24, 2015. With the Dow Jones falling over 1000 points, you would think that gold would be soaring past $1200. Instead, it made a small marginal new high two ticks shy of $1170, and then closed down for the day. Monday was the day the US Dollar got killed and that alone should have rallied gold up towards $1200. If ever gold was to shine as a safe haven play, Monday was the day. And gold miserably failed. For a long-term gold bull like myself, this is extremely disheartening. It is looking more and more like the bear market in gold will not end until the November/December 2015 timeframe at the earliest. At this point, I would not be surprised to see a marginal new low down to $1050, or another $100 lower than that at worst. For now, I have turned quite cautious and will only scalp very short-term from the long side.
Bottoming is a process. The first attempt to bottom usually fails. It is looking more and more like gold will not be able to sustain itself above $1100 for long, and will have to retest the lows and likely make at least a marginal new low, before this bear market ends. I wish I had something better to report, but I do not. For those holding IAG under $2 and those who bought miners recently, there is plenty of time to get some rallies to get out, and I am not saying to panic and sell out immediately at a loss. What I am saying is to use rallies to lighten up and be very cautious buying back into the mining sector in any size, until the markets improve. There will be a time to be aggressively long gold and the miners, but now is not yet that time, as I see it now.
Disclaimer:
The thoughts and opinions in this article, along with all STOCKTALK posts made by Robert Edwards, are my own. I am merely giving my interpretation of market moves as I see them. I am sharing what I am doing in my own trading. Sometimes I am correct, while other times I am wrong. They are not trading recommendations, but just another opinion that one may consider as one does their own due diligence.