How bullish? The call by Goldman Sachs for $20 crude oil, is the most bullish thing crude oil has going for itself right now? Before you dismiss me as crazy, there is at least one other person who just might agree with me. That would be Mike Paulenoff, who tells us not to trust Goldman Sachs, click here. To understand where we are, just take a look at the daily chart of October Crude Oil: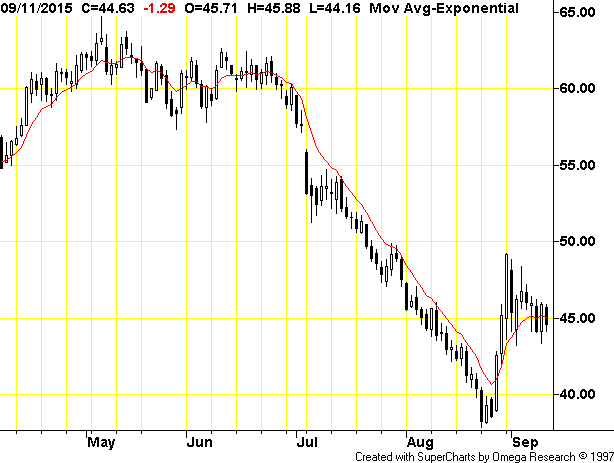 Recently October Crude Oil futures bottomed at $37.91, but rallied to $49.22 just five trading days later. That is a rally of $11.31. When we bottom soon, we should get another upward thrust equal to the initial thrust of $11.31. Thus if $43.21 is the lowest we see during this consolidation, the price target on the next rally would be $43.21 plus $11.31, or a price target of $54.52. Ever since we had that big thrust out of the bottom, I have been calling for a move to the $50 to $54 level. I figured crude oil would correct down to the $41.50 level, so when you add $11.31 you would get a target of $52.81. But so far, the lowest price we have seen is $43.21, and this week's low was $43.36.
The Goldman Sachs Rule
Not to be confused with the "Golden Rule", the Goldman Sachs rule is a new technical calculation I have invented to get price targets. Here is how it works. If Goldman Sachs says we are going to make a new low down to some ridiculously low price, you look for a move in the opposite direction. Thanks GS for confirming that we are going higher in crude oil, the moment you came out with your ridiculous nonsence prediction of $20. Yes, I am looking for higher crude prices, rather than lower prices. How high? Well, the low so far was $37.91, and Goldman Sachs is calling for a drop to $20. Thus, GS is telling us we should drop another $17.91 lower than our most recent low. But instead of going down another $17.91, the "Goldman Rule" says to add the $17.91 to the low we have seen so far. Adding $17.91 to $37.91, you get a price target of $55.82. That is just a bit higher than the calculation of $54.52 that I have already been looking for.
So there you have it. Goldman Sachs says we are dropping to $20, but I, Robert Edwards, want to go on the record that I am predicting a similar rise off the recent crude oil low, in the opposite direction. I cam calling for a rise from the recent low, similar in magnitude to the drop GS is calling for. Thus, I am saying you should see a nearby crude oil at $55.82 before you see a price of $20. It will be fun to see how this works out!
To follow along as we buy JNUG or IAG, as well as GLD, GDX, KGC or other mining stocks, or trade crude oil (UWTI and DWTI), natural gas (UGAZ and DGAZ) and other commodities, join us in our private Short Bull Trading Room on WeChat. Just download the free app on your phone or tablet, and then add "bobed1". You can then send me a message so I can invite you into the room. Still plenty of room.
You can also subscribe to my free weekly newsletter. Send an email to shortbull2020@yahoo.com if interested in subscribing. Again, it is free!
Disclaimer:
The thoughts and opinions in this article, along with all STOCKTALK posts made by Robert Edwards, are my own. I am merely giving my interpretation of market moves as I see them. I am sharing what I am doing in my own trading. Sometimes I am correct, while other times I am wrong. They are not trading recommendations, but just another opinion that one may consider as one does their own due diligence.