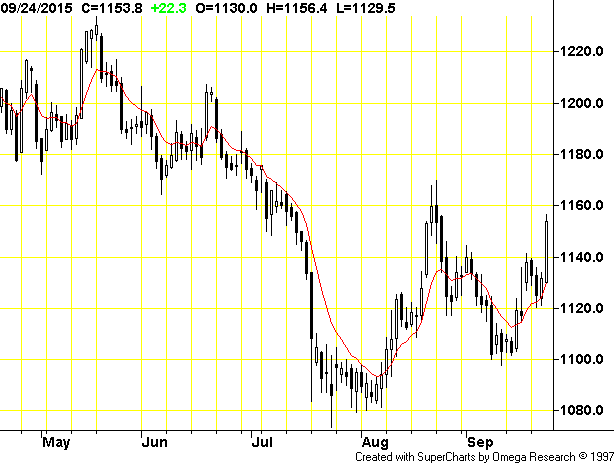 The above daily chart of December Gold futures shows where gold has traded through Thursday, September 24, 2015. For review, last week, we started out the week struggling to hold support above $1100, but rallied strongly when the Fed did not raise interest rates on Thursday, September 17th. Last Friday December gold hit a high of $1141.50 and closed strongly. Coming into this week, I expected to see some consolidation but recommended in our Short Bull Traders WeChat trading room that all dips would be a buy this week, as gold should be well supported for another week at least. I was hopeful gold would not correct lower than the $1125 to $1128 support area, but we fell all the way down to the $1120 area. At that point I was concerned, but stated that even if we should fall all the way back to $1105, gold should still be bought on the dip. Fortunately Wednesday we rallied and closed above $1130 ($1131.50 close) negating a move lower, and today December Gold futures exploded to a high of $1156.40, hitting stops above the $1141.50 high. So where do we go from here?
To get a clue about future price action we need only look to the recent past. First of all, when December Gold futures bottomed recently at around the $1180 area, the first rally out of the bottom stopped at $1126, a gain of $46.00. Then there was a 2nd swing lower to just under $1109, a drop of about $17. Then gold surged higher, and one would have expected another $46 pop up towards $1155. However, we got a $15 bonus move to $1170. The three moves were up, down and back up. Well, then we started a three wave down move, falling first to $1117, then swinging up to $1144.50, before bottoming just under $1100. Fortunately we stopped at $1100 which is an improvement over the recent low of $1072 to $1080. Making a higher low, shows that gold is trying to bottom and with a move back over $1144.50, will turn the trend sideways. The first swing out of the low did not quite make it, as we stopped at $1141.50, a gain of about $41. Then we corrected down around $1120 on the down wave, before moving higher now. Adding a similar $41 gain to the $1120 price, my first price projection would be $1161. However, the third wave can extend another $15 like we had when we rallied to $1170. Adding $15 to $1161, my expected target gets raised to $1176, a marginal new high, moving above $1170. So that is where I believe we are heading next. And if we should stop in the $1176 to $1185 area, one could expect to see a $50 correction back around $1130, to then be followed by a failed rally if gold has not bottomed, or to over $1200, if gold has bottomed.
With those price targets in mind, we find ourselves correcting overnight, and I was able to buy December Gold futures at $1146.00 which is down $7.80 from Thursday's close. I have additional buy orders in the market, should we correct down further. Should we fall lower than the current low of $1145.60, we should hold above $1141.50. What was resistance, should now be support. Although we could fall short of my $1176 to $1185 swing target, all dips in gold should be a buy until we get back above $1160. I would be surprised if gold rolled over without first hitting at least $1165.
For those not interested in trading large 100 ounce futures contracts where every $1 move in gold up or down is a difference of $100, one can trade a mini 32 ounce contract, or a micro 10 ounce contract. For a novice you cannot beat the micro gold contracts as you can scale in buy to average down your price, and take partial profits on rally to cash in and reduce your risk.
But most will stick to the gold miners and you cannot go wrong playing the mining ETFs of GDX (majors) or GDXJ (Juniors), as well as IAMGOLD (NYSE:IAG) or Kenross Gold (NYSE:KGC). I will finish with a daily chart of IAG: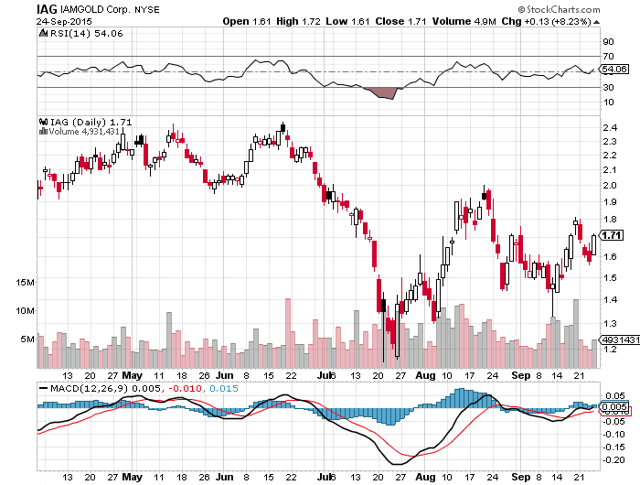 After hitting $1.81 Friday of last week, IAG corrected back to a Wednesday low of $1.56. If we get the rally in gold that I am looking for, IAG should rally above $2.00 within the next few days.
Disclaimer:
The thoughts and opinions in this article, along with all STOCKTALK posts made by Robert Edwards, are my own. I am merely giving my interpretation of market moves as I see them. I am sharing what I am doing in my own trading. Sometimes I am correct, while other times I am wrong. They are not trading recommendations, but just another opinion that one may consider as one does their own due diligence.