My last article on crude oil was written on September 20th, click here. Back then I was correctly bullish. Crude oil did not disappoint. Today crude oil broke out decisively from the sideways wedge pattern, and is now looking to move higher, maybe much higher! Take a look at today's daily chart: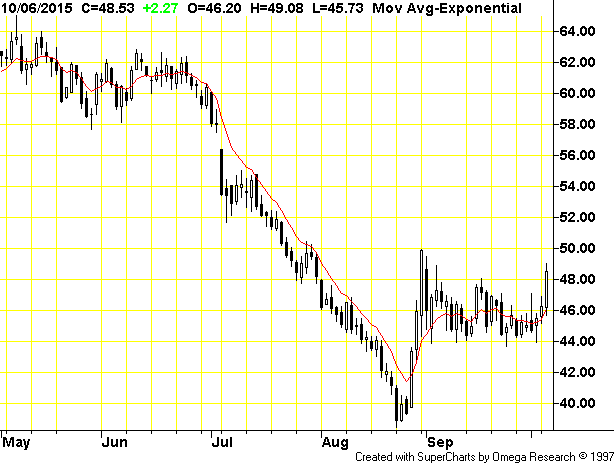 It was impressive to see crude oil close above $48 today. It was more impressive that we got a further rally after the close, following the API data. The reasons given for this bullishness is Mideast tensions with Russia getting into Syria and now violating Turkey airspace, large recent drop in rig counts, and rumor that Saudi Arabia will work with Russia to move the price higher and relieve the budget strain for OPEC and others heavily reliant on crude oil revenues to run their government. But whatever they give for the fundamental reason, technicals continue to be positive ever since we had the big 3 day thrust in late August. Today's move higher could be just the first day of another 3 day thrust that would carry us to the $54 to $55 level. All that stands in the way is the $50 overhead resistance level. Breach that and the trend is decisively turned higher with any drop back under $40 completely removed from the realm of possibilities for the remainder of 2015.
For those not already in, you should hope that $50 does provide some resistance on Wednesday, and that we can sell back off, towards the $47 level, either prior to, or following the weekly inventory report that comes out at 10:30 a.m. EST. If we can get that selloff, then one wants to consider buying the triple leveraged ETN (NYSEARCA:UWTI).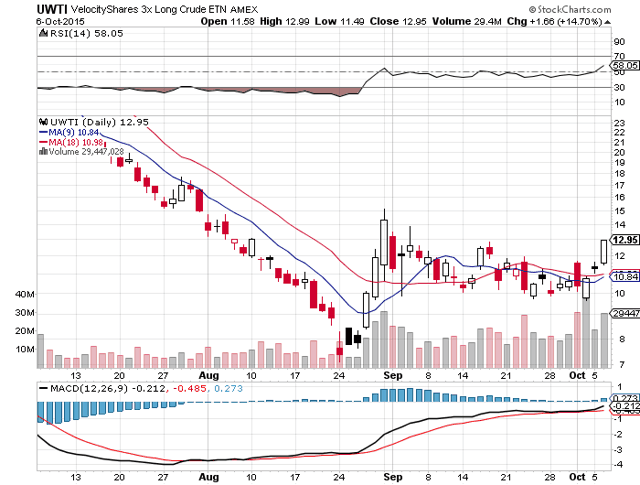 Today UWTI gapped up with a low of $11.49 leaving a 20 cent gap. Do not expect to see that gap filled anytime soon. Thus all dips in UWTI down to $12 and a bit lower are buys until we retest $15 and hopefully break it and eventually move up towards above $17. Right now, UWTI appears to offer one of the very best of trading opportunities but you will need to act fast. We could hit our bullish targets by Friday of this week.
Bottom line, today was a breakout. Having consolidated for several weeks, today's close above $48 projects much higher prices. Even if $50 is initial resistance, once we do stop going up, all dips should be bought in both crude oil and UWTI as many traders who missed getting in will be anxious to buy. Do not be surprised if corrections are quite shallow. Before I end, take a quick look at the Petrobras (NYSE:PBR) chart.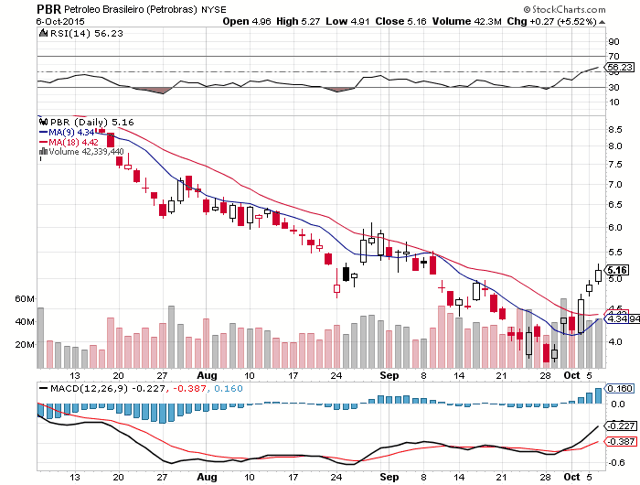 The bottom in PBR was a bit nastier than expected, with bottoms at $3.77 and $3.72 last week. Just when I recommend buying PBR on dips below $5, the PBR debt gets downgraded and some nasty comments are made by analysts. However, PBR is greatly leveraged to the price of oil and even if PBR eventually drops to a price of zero, it is a year if not several years away and would require crude oil prices remaining another year under $50. That is unlikely to happen. Anyway, since we are now back above $5, anyone who bought on my recommendation needs to sell out on this crude oil strength. PBR has initial resistance at $6 but could move above $7 if we move decisively above $50 in crude. There is no reason to trade a risky vehicle like PBR if you are not cut out for such a thing. Scalping from the long side in leveraged UWTI is where I will be recommending traders focus their efforts going forward. Still, it is always nice to see these exciting short-covering pops in the garbage stocks such as PBR. They are actually quite predictable. Whether or not the bottom was $4 or $3, you could still get a double in price in PBR like we saw when it moved from $5 to $10 not so long ago. With the current major low in at $3.72, expect to see a double to $7.44 in the near future. If crude oil rallies to the $54 to $55 area, that $7.44 price target is well in range!
Disclaimer:
The thoughts and opinions in this article, along with all STOCKTALK posts made by Robert Edwards, are my own. I am merely giving my interpretation of market moves as I see them. I am sharing what I am doing in my own trading. Sometimes I am correct, while other times I am wrong. They are not trading recommendations, but just another opinion that one may consider as one does their own due diligence.