I just did an article on LABU found here. This is a follow-up to that article where I show where XBI has traded, the ETF that leveraged LABU is based on.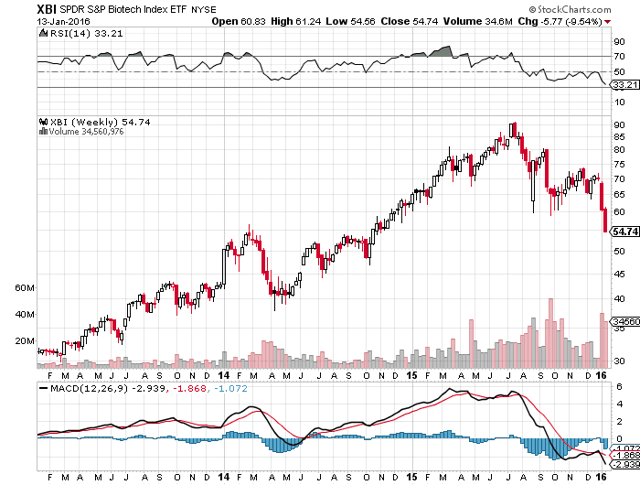 The above weekly chart of the Biotech ETF (NYSEARCA:XBI) going back three years, shows how drastic has been the recent selloff. The MACD at the bottom of the chart shows how this is the most bearish this ETF has been in years. But what I want to concentrate on, is how this ETF has been in an uptrend, for most of the 3 years shown, and 2 years prior to that for a total of 5 years. Back in early 2014, XBI topped out at $56.49 and then corrected 33% to a low of $37.84. It then returned to rally mode until topping in July 2015 at $90.86. Calculating a 33% correction, one would expect to see a bounce off the $60 mark, which we actually got twice. However, now we have broken down further to today's low so far of $54.74. In the past, XBI would have corrected to $60 and then rallied to a new high. The July 2015 high was more substantial however, as we are now in a downward channel. The most recent high was made at $73.64 in November 2015. If you drop 33% from there, XBI would have correction potential down to $49.00. That is another 10% drop from today's close.
Now, if you were trading the leveraged ETF (NYSEARCA:LABU) based on the XBI, like me, you would know that another 10% drop in XBI would mean a 30% drop in LABU from today's $9.58 close, or a drop to $6.38. An 80% pop off from that low would only get a return to $11.48 on the rebound, if we remain in the current corrective channel. Also notice that even though XBI double bottomed during August and September of 2015, around $60, due to slippage the leveraged LABU ETF first hit $20 in August 2015, and then dropped to $14 in late September 2015. That is a monstrous amount of slippage to overcome, but LABU did bounce from $14 back to $25, allowing those who bought the first time at $20, a chance to get out in a profit. I expect to see the current low that should fall somewhere between $6.38 to today's low of $9.47, to bounce back of 80% at a minimum. With the $9.47 bottom, you should see a rally back towards $17, but if the bottom hits as low as $6.38, we may only get a rebound back to the $11.50 level. My average price in LABU is in the $10.80s, so I should be fine, regardless of where the ultimate bottom is.
Disclaimer:
The thoughts and opinions in this article, along with all STOCKTALK posts made by Robert Edwards, are my own. I am merely giving my interpretation of market moves as I see them. I am sharing what I am doing in my own trading. Sometimes I am correct, while other times I am wrong. They are not trading recommendations, but just another opinion that one may consider as one does their own due diligence.
Disclosure: I am/we are long LABU.
Disclosure: I am/we are long LABU.