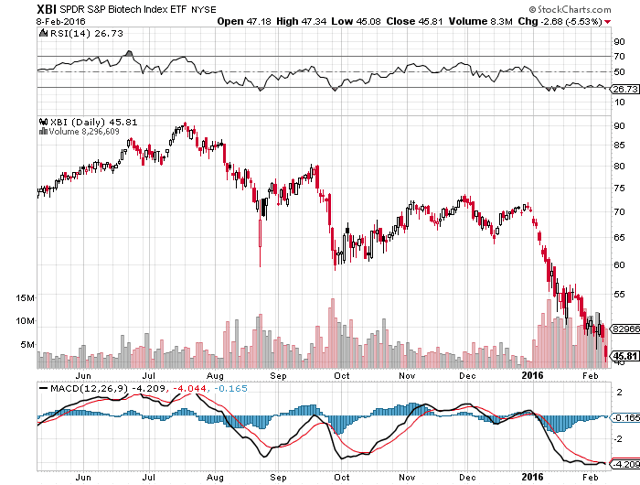 Back in July 2015, the S&P Biotech ETF (NYSEARCA:XBI) hit a high of $90.86. To lose half of its value, would be a drop to $45.43. Well, that has been my downside target and it was hit today, when XBI hit a new 52 week low of $45.08, and closing at $45.81.
I have been buying the corresponding triple leveraged Biotech ETF (NYSEARCA:LABU), but looking for a drop to as low as the $4.80 to $5.00 area. Well today's low in LABU was $5.01, and it closed at $5.23. Now we just need to see a rally! The Biotech sector has been hammered for 6 weeks, but in this 7th week, we just might get some much needed relief. Here is an article that I just saw today from OptionMonster staff, posted at Yahoo, click here.
Apparently a large trader sold 8,000 weekly $49.50 puts for $1.75 last Friday. They expire this Friday, February 12th, and if XBI is not trading above $47.75, the trader will be forced to take a loss or to purchase 800,000 shares (units) of XBI. Today's close was $45.81. Yikes! I hope we see a rally to bail out that trader!
Another article that I came across was posted at ETF Channel, click here. Apparently there was a 10.9% increase of units of this ETF compared to Monday a week ago. That shows significant inflows and should help support the stock.
If you want to see what 105 stocks are in the XBI, click here. You may prefer to own some of the individual names. One of the stocks included in XBI is Bluebird Bio Inc. (NASDAQ:BLUE). The stock has a 52 week high of $197.35, and today closed at $45.63, down $2.10. It is up from a recent low of $37.40. As you can see these stocks are volatile, so it pays to do your homework, especially if you are getting involved with the individual names.
Disclaimer:
The thoughts and opinions in this article, along with all STOCKTALK posts made by Robert Edwards, are my own. I am merely giving my interpretation of market moves as I see them. I am sharing what I am doing in my own trading. Sometimes I am correct, while other times I am wrong. They are not trading recommendations, but just another opinion that one may consider as one does their own due diligence.
Disclosure: I am/we are long LABU.