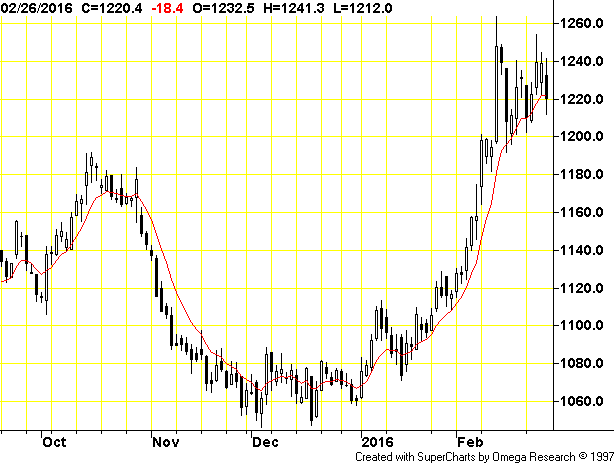 Last fall I predicted a seasonal rally in gold beginning in January 2016. Well, we started the year with a 4 day rally, only to give it nearly all back the following week. By the end of January gold was up but hardly making any traction. However, in February that all changed as gold surged from under $1120 to over $1260 in a matter of 9 trading days. That rally caught most traders and pundits off guard, including myself.
What makes the recent gold surge remarkable was the blow-off top formed on February 11, 2016. After three straight closes just under $1200, April Gold Futures exploded to a high of $1263.90 on high volume. That day gold closed at $1247.80, which was $16.10 off the high. Apparently there were a lot of traders shorting gold above $1250. When gold dipped back under $1200 just two days later, it was apparent that for now, the gold rally is done.
Since gold topped out, we saw a rally up to $1240.60 on February 18, 2016 where gold closed $14.30 off the day's high. Then last Wednesday, February 24, 2016, gold hit a high of $1254.30, but closed at $1439.10, a drop of $15.20 off the high. Volume that day was also quite large, also confirming that selling was occurring on the highs. I shorted April Gold futures myself that day, at $1243, but was happy to make a small scalp of a few dollars and get out. But iff I had held to Friday's low of $1212, I could have made over $3,000 on just one contract.
Now that April Gold futures has twice failed to make a new high, the chances of reaching up towards $1300 on this current up move, are greatly diminished. But whether we do get a quick move to a marginal new high, or if we have already seen the top, the next move in gold is more likely a retest of the $1190 to $1200 support area. Since many technicians consider the $1180 area at critical support, and there are most likely a lot of stops placed around $1178, I am looking for the market to run the stops and possibly fall down towards $1265, before again rallying to retest the highs.
Volatility has picked up greatly. However, unlike most of the action of 2015, volatility is as much to the upside as to the downside. That is a good thing for gold bulls. For once in a very long time, I am comfortable buying on extreme dips.
Summary
Most likely, the next move in gold is lower. And if we do get that correction back under $1200, I want to be a buyer, especially in the $1165 to $1180 area. After basing in there, I will look for a move back towards a retest of $1250. If however, we should rally early next week, we should find strong resistance above $1238 and one should be getting short. If gold moves quickly to $1260 or even $1300, one still wants to position from the short side, as gold should not be able to move meaningfully higher without first consolidating gains and testing and successfully holding support in the $1165 to $1180 area.
To follow along as we trade TWTR, the Canadian Dollar, gold futures, or mining stocks such as IAG or KGC, as well as GLD, GDX, NUGT or JNUG, along with crude oil (UWTI or DWTI), the S&P500 (SPXL or UPRO), Biotech (LABU & LABD), natural gas (UGAZ and DGAZ), or other commodities, join us in our private Short Bull Trading Room on WeChat. Just download the free app on your phone or tablet, and then add "bobed1". You can then send me a message so I can invite you into the room. Still plenty of room.
You can also subscribe to my free weekly newsletter. Send an email to shortbull2020@yahoo.com if interested in subscribing. Again, it is free!
Disclaimer:
The thoughts and opinions in this article, along with all STOCKTALK posts made by Robert Edwards, are my own. I am merely giving my interpretation of market moves as I see them. I am sharing what I am doing in my own trading. Sometimes I am correct, while other times I am wrong. They are not trading recommendations, but just another opinion that one may consider as one does their own due diligence.