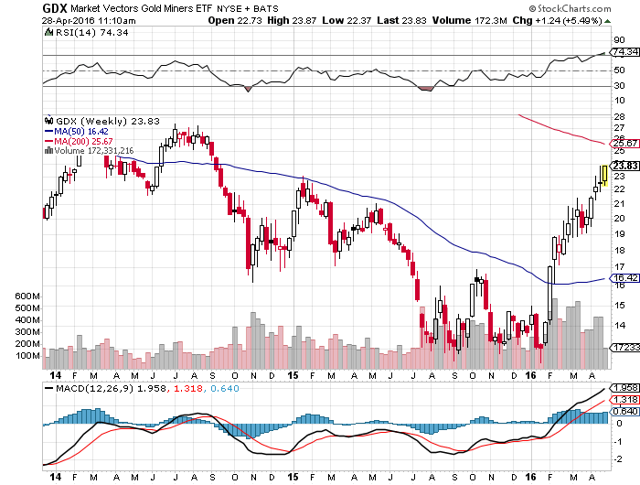 Recently GDX tested and took out the high of $23.01 scored in January 2015. That makes the next major resistance level in GDX all the way up towards $27.00. However, looking at the above weekly chart, GDX this week is up for the 5th straight week and is getting overbought. GDX has been up 12 of the last 14 weeks, quite a run indeed! However, the gold metal chart does not look nearly as impressive as the gold mining stock ETF (NYSEARCA:GDX) chart, and is underperforming compared to silver, platinum and palladium. The last time gold was up for 5 straight weeks was in June 2014, and the top that week was $27.36, a price not seen since. I have a sneaking suspicion that the high scored this week, coming in a similar 5 straight week high streak, could also be a significant top. In any case, I want to play the other way, using the triple leveraged bearish gold mining ETF (NYSEARCA:DUST). DUST has been down for 14 of the last 15 weeks, and is due to bottom shortly, at least for a bounce. Here is the daily chart of DUST: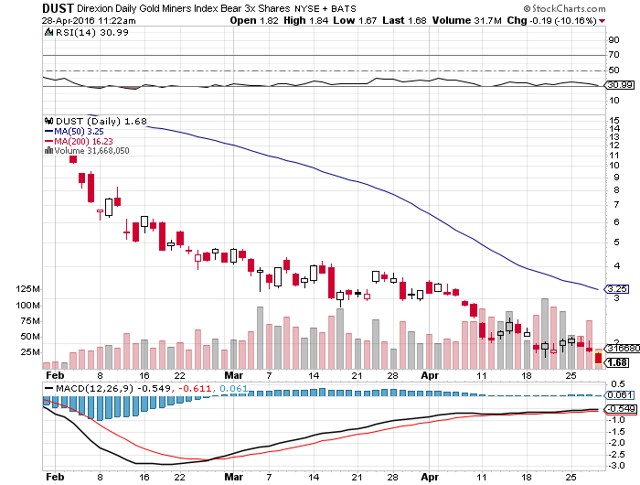 After trying to hold support around $3 from the middle of March until the first week of April, support finally gave way, and DUST fell to a low of $2.01. Then DUST rallied 50 cents in a couple days, hitting a high of $2.51. The next new low scored was $1.76, a drop 25 cents lower than the $2.01 low. That was followed by a small rally and top at $2.11, just three days later. Now today, DUST has fallen so far to a low of $1.66. Since $1.76 was 25 cents lower than $2.01, if DUST makes a new low by a similar 25 cents, one would expect DUST to bottom at $1.51. That is my projection right now. If and when we see $1.51, I would expect to see a short-term bottom and small rally again. The most recent rallies stretched 50 cents and 35 cents. From around $1.50, one would expect to see a rally back above $1.80 and possibly as high as $2.00, even if the downdraft continues a bit further.
As I now type, GDX is at $24.21, with DUST at $1.65. If GDX should eventually retest the major resistance of $27.00, that is an increase of 11.5% above current prices. That would translate to a 34.5% further drop in DUST, all the way down to $1.08. We might eventually get there but it will not occur in a straight line.
I am presently scale trading, buying more DUST every dime lower, with my largest number of shares to be purchased near my short-term target of $1.51. I bought a few shares so far at $1.89, 1.78 and 1.67. I bought equal amounts so far at each of these prices, so my average price is currently $1.78. To illustrate, if you bought 100 shares at each of these prices, you would have 300 shares at $1.78. Now, on further weakness towards $1.55, I would buy 300 shares in the $1.51 to $1.55 area. If filled at an average of $1.54, that would give me 600 shares with an average price of $1.66. Assuming we bottom at $1.50, it would only take a 16 cent rally to allow me to dump half my shares at breakeven. Since we typically see a rally in the 30 to 50 cent range, it should not be difficult to make a nice return on my investment.
But suppose we do not stop at $1.50, and continue lower. In that case, I would buy another 200 shares at $1.45, 200 at $1.35 and 200 at $1.25, for a total of 600 low shares with an average price of $1.35. With 600 already owned high shares with an average price of $1.66, I would own 1200 shares overall shares with an average price of about $1.51. That is not too bad when you consider I started buying at $1.89 and we dropped all the way down to $1.25. Once we fall to $1.25, one would expect to see a rally back up off the bottom of 30 to 50 cents, which again allows one to dump half your shares on the rally, freeing up money to buy more shares on the next dip.
But suppose we do not get that countertrend rally and DUST continues all the way down towards $1.01, which translates to the major resistance of $27 in GDX. In that case I would already have 1200 shares with an average price of $1.51. On the dip to $1.01, I would buy an additional 1200 shares, with an average price of $1.11. If you average out all 2400 shares, the average would be $1.31 for the entire position. Again, with the typical 30 to 50 cent countertrend rally, even if DUST is continuing lower, I should have no problem selling half my position back above $1.31 and freeing up funds to make more purchases on the next dip towards 76 cents.
On the morning of May 18th, DUST will undergo a 1 for 10 shares reverse split, which will elevate the price tenfold higher than it is currently. I will update in the comment section how this trade is progressing. As I type, DUST has already seen a low of $1.60. If we should slip into the $1.50s, I will be aggressively buying to lower my price, as shown in the above illustration.
To follow along as we trade DUST or NUGT, the Canadian Dollar, gold futures, or mining stocks such as IAG or KGC, as well as GLD, GDX or GDXJ, along with crude oil (UWTI or DWTI), the S&P500 (SPXL or UPRO), Biotech (LABU & LABD), natural gas (UGAZ and DGAZ), or other commodities, join us in our private Short Bull Trading Room on WeChat. Just download the free app on your phone or tablet, and then add "bobed1". You can then send me a message so I can invite you into the room. Still plenty of room.
You can also subscribe to my free weekly newsletter. Send an email to shortbull2020@yahoo.com if interested in subscribing. Again, it is free!
Disclaimer:
The thoughts and opinions in this article, along with all STOCKTALK posts made by Robert Edwards, are my own. I am merely giving my interpretation of market moves as I see them. I am sharing what I am doing in my own trading. Sometimes I am correct, while other times I am wrong. They are not trading recommendations, but just another opinion that one may consider as one does their own due diligence.
Disclosure: I am/we are long DUST.