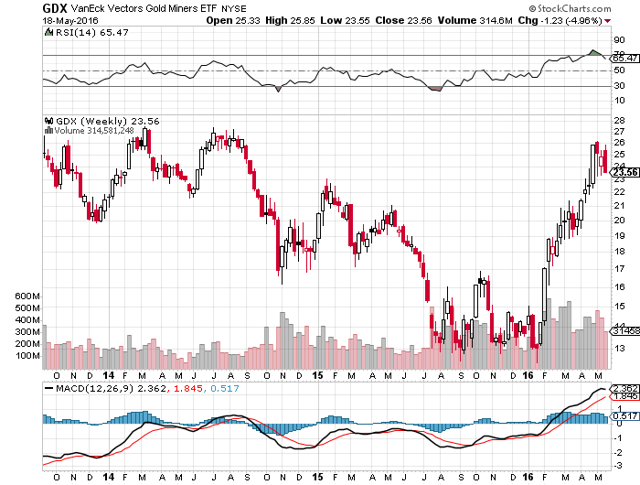 The last weekly bar on the above chart, is only accurate through today's action, Wednesday, May 18, 2016. With the more hawkish FedSpeak today, the gold metal and gold miners sold off, on the US dollar rise, as the market tried to adjust to the possibility of a June or July rate hike. With this much downward momentum, it is looking like we will probably close down in GDX for the third week in a row. A long-awaited correction is now in progress.
When GDX bottomed in late January 2016 at $12.40, GDX would rally and close up for 12 of the next 14 weeks. The high was $26.17. This type of bullish action is quite impressive. Therefore to finally get a three week correction, it is prudent for traders to use the current setback to buy into GDX and maybe a bit of NUGT, to play for the retest of the highs. The trend is definitely still up, despite the current minor setback.
I have often repeated that the first rule of trading is to "Buy The First Dip". What we are now seeing is the first dip in GDX after a very long and explosive rally. Due to the recent history, all dips are a buy (especially the first time we can drop for 3 straight weeks). I plan to therefore use any additional weakness for the remainder of this week to get long.
Where is it headed after that? Odds do not favor seeing 4 straight down weeks, so next week should be an up close, and if next week is up, so should be the following week. Thus I have my plan to get long by the end of this week, and ride back up for the next week or two as we retest the high.
Since GDX topped out in 2011, a few months before gold hit its all-time high above $1900, the gold mining stocks have been in a downswing with all countertrend rallies being quite pathetic. It would appear that after 5 years of a long-term down trend, we are likely at the very beginning of a multiyear upswing. The last time we had a major bottom in GDX, followed by an extended upmove, was back in 2008. The following chart shows what GDX did back then.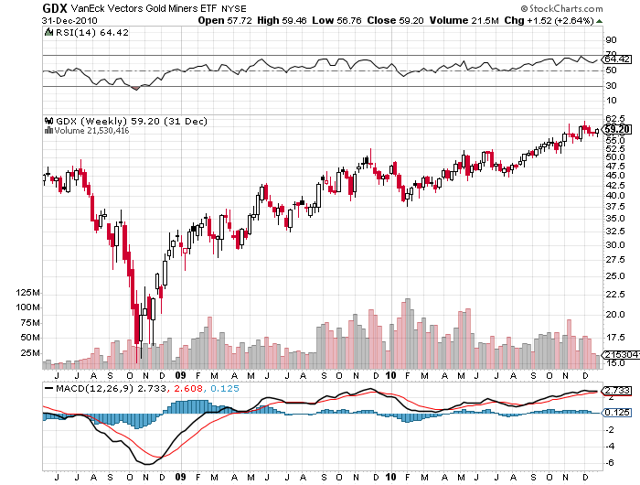 The above chart shows how GDX bottomed in the 4th quarter of 2008, at the depths of the financial crisis. There was no inflation and they were not selling cars and had to do the "cash for clunkers" promotion to stimulate the economy and end the deflation. Back at that time, things were moving very quickly and GDX crashed and then recovered quite quickly. Today the selloff has occurred over many years and so the rally off the bottom, will also be more subdued. It is still important to see past action to compare as GDX rallies to various long-term milestones. What the above chart shows is that there is a lot more upside than downside, in GDX and the miners over the next several months.
Disclaimer:
The thoughts and opinions in this article, along with all STOCKTALK posts made by Robert Edwards, are my own. I am merely giving my interpretation of market moves as I see them. I am sharing what I am doing in my own trading. Sometimes I am correct, while other times I am wrong. They are not trading recommendations, but just another opinion that one may consider as one does their own due diligence.