As this is my first post commenting on a stock, it is my duty to explain my style of analyzing and writing. I will only focus on the trend, earning reports and the company history to decide whether the stock worths buying or selling, and at which range. I hope my posts would make you have a better point of view about how the stocks trade.
-----------------------------------------------------------------------------
Facebook (NASDAQ:FB) has been going incredibly strong with an 58% increase since the last earning report (Oct 23, 2012). This is no doubt the largest social network on Earth until this point. Most of us has been very bullish about this company ever since it hit 1 billion million users.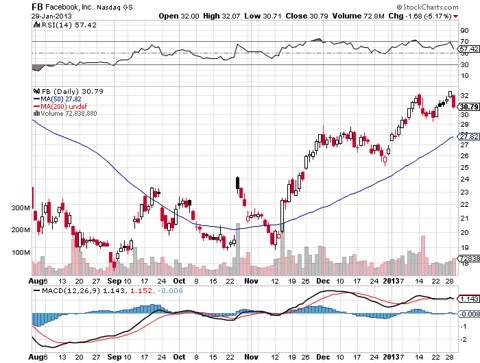 Let me cut the chase to save your time. Now we all heard the bulls and the bears are arguing about the future of this social network giant. The questions are being asked can be summarized below:
The Bulls: What Facebook will do to make use of that incredible fan base? With that much people, it is hard to go wrong in the bull sense
The Bears: What is the next step Facebook will take for the years to come as advertising does not seem to be an ongoing growth method?
What is the difference between these two questions? It is the emotion that dictate the investors whether they should long or short. In this case, the Bulls will win tomorrow night and go on the run until Friday.
There are two reasons for that:
1. The hype: The NASDAQ market consensus has upgraded to Buy. The famous Zacks research has also upgraded the stock to Buy. The After hours trading has been very steady at $31.03, 0.78% increase from the last 29/01/2013 trade. The volume has been consistently increasing over the last two months, going from 50M shares/day to 72M shares/day. I believe tomorrow will be an exciting day for Face
2. Let's take a look at the past earnings:
| | | | |
| --- | --- | --- | --- |
| Date reported | Actual EPS | Estimated EPS | Share drop/gain |
| 10/23/2012 | 0.06 | 0.07 | +19% |
| 7/26/2012 | -0.08 | 0.09 | -25% |
Even though Facebook had negative surprise earning of 14.29% from the last earning, the investors still see it has done a lot better in comparison to the negative 188.89% since July, 2012. This is when the bull sense comes in with the belief in something big will happen in the future. If this happens to other companies, they could have been punished but not Facebook, the one that we use everyday. We forgive the ones we love easily, then we may forget its guidance.
My opinions for the stock (FB):
Wednesday after market close, Facebook will most likely beat the consensus EPS by 10-30%. Expecting to see about 100M shares traded by the end of Wednesday. Try to buy lowest price as possible to maximize profit.
On Thursday Morning, there will be a big jump up to range $32.00 to $36.00 if the volume go up above 100M
The Bears will take their time to watch for the stock to reach its ceiling on Friday. Possible short selling on Monday may occurs so take your profit before this weekend to enjoy your days off worry free.
Long after all the bears had made their move, but I would say Facebook is not a long term investment.
Conclusion: Facebook looks very strong this week and I am expecting to see a rally on Thursday morning. The bears may get in and out sometime but a strong report will keep the investors stay in for a little while longer. If Facebook does not change its earning strategy, I am afraid to say it will fall. Just a matter of time.
Thank you for your time.
Fair Trader
Disclosure: I have no positions in any stocks mentioned, and no plans to initiate any positions within the next 72 hours. I wrote this article myself, and it expresses my own opinions. I am not receiving compensation for it (other than from Seeking Alpha). I have no business relationship with any company whose stock is mentioned in this article.