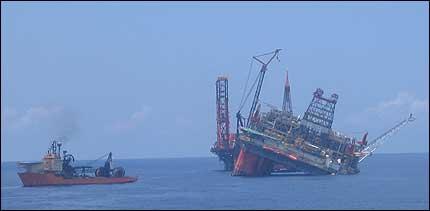 If you look at two recent events, the Thunderhorse disaster and now the Deepwater Horizon catastrophe, there will be a fundamental change in the economic equation: You take some risk, you get a return. The bigger the risk, the more return you need, or you just won't drill the project....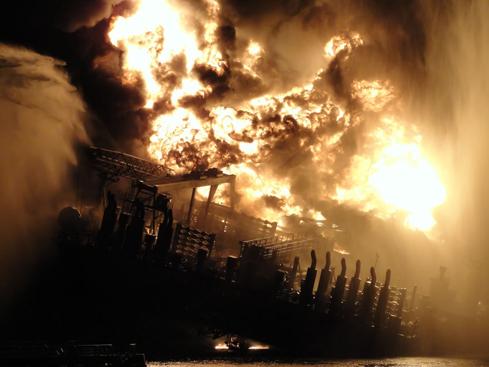 So, there are a lot of projects that won't get drilled at all, from now on, because the potential risk of either a Thunderhorse Event or a Deepwater Horizon event, will outweigh the potential return...


The high return threshhold will have an impact on peoples "reserves estimates".... example: Company X holds some leases, they were previously considered drillable... now maybe not so much....so the fundamental asset value of some of these companies will be in question....I have to think there are people in boardrooms right now with projects on the books spread out on conference tables with a lot of empty coffee cups and pizza boxes... trying to figure out what is and is no longer economically viable at the current price....

In the long run, given the state of the reserves at the levels we now know, the current price is not maintainable....How long that is, of course, is subject to debate...but...

Can you envision a world of $150 oil but no one will touch one of these projects with a 10-foot pole because of the potential liability?

Can you envision a time when anyone that wants to stay in this business will have to form bigger and bigger consortia/joint ventures to diffuse the risk..... you'll have 12 companies instead of 3 working on every project....

Can you envision a world of $300 oil, in which the public is demanding "damn the environment we need the oil" and a subservient Washington provides the drillers immunity from lawsuit to allow them to drill in the gulf anyway? Perhaps a Chinese-type model, where the government, which cannot be sued is the part owner of the oil company? Not so far fetched. In fact, we're producing motor vehicles that way right now.

Or in the final stages, where the military is drilling the oil because they need it for their war machines..... rate of return or cost or risk mean nothing in that economic equation.... How far would we have to get for that to happen.....

So we're actually just in the beginning stages.....You can envision the end game on this...
Disclosure:
none