The retail sector has been strong in 2010 as evidenced by the S&P Retail Index (RLX) rallying 18%. There is a niche area within the retail and apparel sector that has been flying under the radar. The footwear makers and footwear retailers have been able to put together a sustainable rally.

Tonight on Mad Money, Jim Cramer discussed the area for continued growth. He went on to discuss some of his favorite picks. I decided to run our quant model and find the shoe retailer that has the best overall profile. The stock with the most undervalued, improving fundamentals and strong relative strength. 

Our top pick was Genesco Inc (NYSE:GCO). Genesco is a retailer of branded footwear and branded headwear. During the fiscal year ended January 30, 2010 (fiscal 2009), the Company operated five business segments: Journeys Group, Underground Station Group, Hat World Group, Johnston & Murphy Group and Licensed Brands.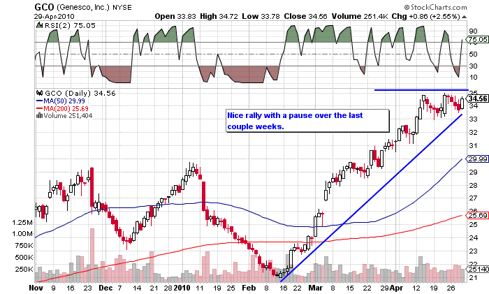 Look for a continue rally over the next 1 to 4 weeks.
To learn more about our quant model go to:
Quantboys.com

Disclosure: No Position on GCO