Market Recap for Thursday, 8th April, 2010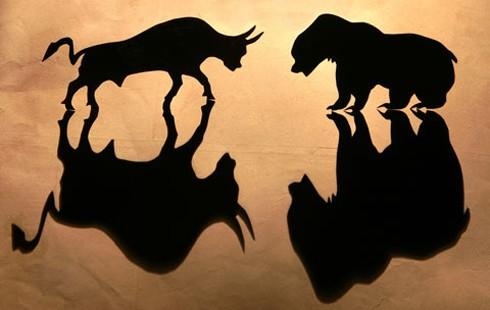 Thursday saw the markets in a see-saw action from positive to negative, and back, throughout the day. The Labor Department reported an increase in initial jobless claims, with first-time filings for unemployment benefits unexpectedly jumping by 18,000 last week, which helped send the major market indexes into the red early in the session. However, total same-store sales for March surged by a record-setting 9.1%, along with speculation about a possible merger between United Airlines and US Airways, helped the bulls battle their way back into the black by the end of the day.
The Dow Jones Industrial Average (DJIA – 10,927.07) had a gain of 29.6 points, or 0.3%, the S&P 500 Index (SPX – 1,186.44) made up 4 points or 0.3%, whilst the Nasdaq Composite (COMP – 2,436.81) finished the day with a gain of 5.7 points, or 0.2%, the same as yesterday.
Notes of Interest….
·         Total sales for March had a record-setting 9.1% increase, with the vast majority of retail issues surpassing analysts' expectations.
·         The Gap GPS) had same-store sales increase by 11% which was well above analyst's expectations of 3.7%.
·         By the close of the day, crude oil for May delivery gave up 49 cents, or 0.6%, to settle at $85.39 per barrel.
·         The continuing concerns about Greece's debt pushed the U.S. dollar higher.
·         Apple iAd program, described as a new form of mobile advertising, is to monetize iPhone apps with interactive media. This simply means that the Apple's new iAd program is Tied into iPhone OS 4, which will allow the developer to include richly interactive ad experiences into their apps. This should give them a 60% cut of the advertising revenue. iAd provides a way for users to explore rich content ads within the app that is presenting it without being sent into a web browser.
·         However, at the iPhone OS 4 launch, Apple (NASDAQ:AAPL) CEO, Steve Jobs, is quoted as saying, "Developers are starting to put ads into apps, but we think most of these really suck."
What is your opinion?
Success is simple. Do what's right, the right way, at the right time.




http://www.stock-options-made-easy.com
ian@stock-options-made-easy.com
Disclosure:
no positions held for stocks mentioned
Disclosure:
no positions held for stocks mentioned