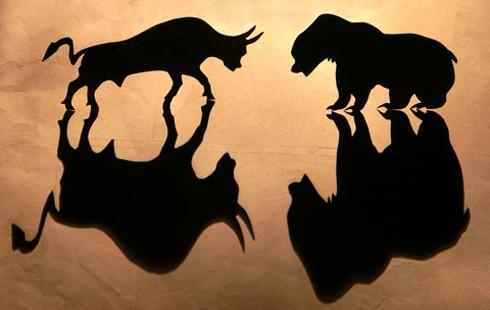 There is a reasonable amount of activity on the economic calendar today:-.
·         March's building permits.
·         March's housing starts.
·         The University of Michigan's consumer sentiment index for April.
Even though there is certainly a lot of bullishness in the market place (referring to the survey by the Association of Individual Investors, which stated that of those polled, the bullish percentage is at its highest point of 2010), I think we could have a fairly quiet day! Just before the opening of trading, futures on the Dow Jones Industrial Average (DJIA) and the S&P 500 Index (SPX) are trading basically flat with fair value.
Some factors which need to be considered before trading today are:-
·         Investor sentiment continues to improve across the board according to a survey by the Association of Individual Investors.
·         In electronic trading, Google Inc. (NASDAQ:GOOG) shares are down nearly 5% after reporting a first-quarter profit of $6.76 per share.
·         Advanced Micro Devices Inc. (NASDAQ:AMD) shares are also down nearly 3% heading into the open after reporting first-quarter income.
·         However, traders are reacting positively to Bank of America Corp.'s (NYSE:BAC) quarterly report.
·         General Electric (NYSE:GE) has improved by approximately 1.6% in electronic trading, despite the decline in profit.
·          Mattel Inc. (NASDAQ:MAT) is expected to release its quarterly earnings report today.
·         The Chicago Board Options Exchange (NASDAQ:CBOE), saw approximately three (3) call option contracts to one (1) put option contract yesterday…..very bullish.
·         Overseas trading is very mixed for Friday, with many of the foreign indexes in negative territory particularly with reaction to Google Inc. (GOOG) earnings report, U.S. weekly jobless claims and Greece's debt problems weighing heavily on the markets.
·         Growing economic concerns and poor corporate earnings have forced crude futures down 1.06% at $85.83 per barrel, in pre-market trading.
·         Gold futures have also slipped $4.70 to trade at $1,155.60 an ounce in London.
·          Finally, the U.S. Dollar Index is up 0.22% at 80.66 in electronic trading.
Companies to Watch.
Plum Creek Timber Co. (NYSE: PCL)
Plum Creek Timber Co. (NYSE:PCL) is a real estate investment trust, which owns and manages timberlands in the United States. Its products include lumber products, plywood, medium density fiberboard, and related by-products, such as wood chips.
It is an American company, sitting on American timberland, which should benefit from higher lumber prices – but can literally "grow" in value if prices get too low. Plum Creek Timber Co. pays a 4.1% dividend and looks to be a fairly safe investment.
If you want to add some exposure to lumber, and collect a modest dividend, look for opportunities to build a position slowly in this company in dips over the next few months.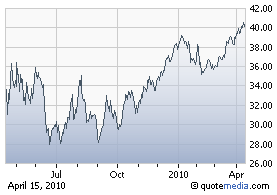 Imax Corp. (NYSE:IMAX)
Imax Corp. (IMAX) is an entertainment technology company, specializing in motion picture technologies and large-format film presentations. It operates giant screened movie theatres throughout the world. IMAX is a motion picture film standard developed by the Canadian IMAX Corporation. The Company's activities include building, leasing, marketing, maintenance and operation of IMAX film and digital theatre systems along with the production and distribution of IMAX motion pictures. IMAX specializes in immersive motion picture technologies.
In April 2009, the stock was trading at $3/share and is now over $18 per share. Earnings came in at $.20 per share easily topping the analysts' view of 6 cents.
This has been attributed to releases such as Avatar, Alice in Wonderland and How to Train Your Dragon.
IMAX intends to release Iron Man 2, Shrek Forever After and Toy Story 3, which should see the company reach new heights.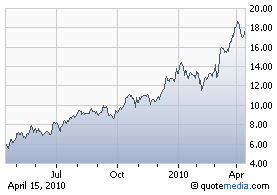 Caution would be the by-word in trading today!
Best of luck!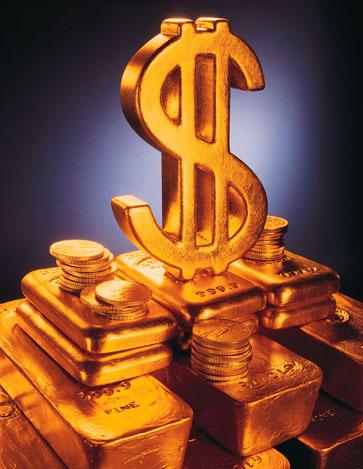 If you are not already a member of Stock Options Made Easy, then you may wish to become one so that you can benefit from the profits that are being generated!
If you wish to become part of this venture please follow the link below.
Subscribe to Stock Options Made Easy
Success is simple. Do what's right, the right way, at the right time.




    http://www.stock-options-made-easy.com
ian@stock-options-made-easy.com
Disclosure:
no positions held in stocks mentioned