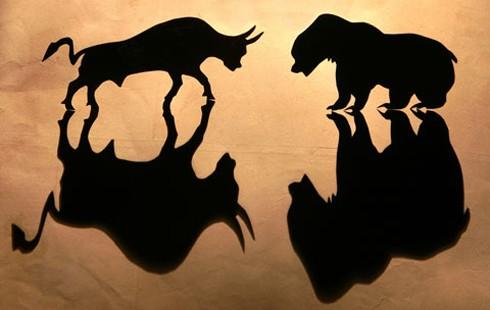 There are no economic reports due out today but a great deal is happening on the earnings front.
These are AK Steel Holding Corp. (NYSE:AKS), Coach Inc. (COH), The Coca-Cola Co. (NYSE:KO), Delta Air Lines Inc. (NYSE:DAL), Harley-Davidson Inc. (NYSE:HOG), Johnson & Johnson (NYSE:JNJ), TD Ameritrade Holding Corp. (NASDAQ:AMTD), UnitedHealth Group Inc. (NYSE:UNH), Apple Inc. (NASDAQ:AAPL), Cree Inc. (NASDAQ:CREE), Juniper Networks Inc. (NYSE:JNPR), Seagate Technology (NASDAQ:STX), VMware Inc. (NYSE:VMW), and Yahoo! Inc.
It seems that the market will be quite somber this morning, due to the following reasons:-
·         Investors are wading through a deluge of corporate earnings reports and are taking time to digest the information.
·          The futures on the Dow Jones Industrial Average (DJIA) and the S&P 500 Index (SPX) are trading flat but with fair value, which indicates a fairly slow start to the trading day.
·         Goldman Sachs Group Inc. (NYSE:GS) is also putting on a good front this morning, with an earnings report of first-quarter net income of $3.3 billion, or $5.59 per share, as revenue rose to $12.78 billion. Wall Street analysts expected earnings of $4.16 per share and revenue of $11 billion.
·         Also the fear index, CBOE Market Volatility Index (VIX), seems to be easing according to the trend line.
Other reports:-
·         IBM Corp. (NYSE:IBM) said that its first-quarter net income came in at $2.6 billion, or $1.97 per share. Revenue rose 5% to $22.9 billion. Wall Street analysts were expecting a profit of $1.93 per share on $22.8 billion in revenue. This is not well accepted by early morning traders, as the shares have dropped by 2% in pre-market trading.
·         Zions Bancorporation (NASDAQ:ZION) reported a first-quarter net loss of $86.5 million, or 57 cents per share. Analysts expected the company to lose 95 cents per share. In pre-market trading their shares are up about 2%.
Some positive indicators which should help bolster the bulls' are:-
·         Overseas trading looks stronger this morning, as many of the foreign indexes are in positive territory.
·         News that many flights were returning to normal across Europe after the Icelandic eruption.
·         Daimler earnings report, also helped boost the foreign trading.
·         Commodities are being helped with the improved economic outlook as well as the weaker U.S. dollar.
Some factors which need to considered are:-
·         Crude futures, in pre-market trading, have jumped 1.26% to $84.18 per barrel.
·          Gold futures have added $7.50 to trade at $1,143.30 an ounce in London.
·         The U.S. Dollar Index has fallen 0.23% in pre-market trading due to strong economic data out of Europe and an interest-rate hike in India.
There is still a lot of bullish presence in the market place, as noted by the Chicago Board Options Exchange (NASDAQ:CBOE), where option activity, on Monday, saw twice as many call contracts as put contracts traded.
Companies to Watch
Checkpoint Systems (CKP)
According to Yahoo, Checkpoint Systems, Inc. manufactures and markets identification, tracking, security, and merchandising solutions for the retail and apparel industry worldwide. The company operates in three segments: Shrink Management Solutions, Apparel Labeling Solutions, and Retail Merchandising Solutions. The Shrink Management Solutions segment provides shrink management and merchandise visibility solutions. It offers electronic article surveillance systems, such as EVOLVE, a suite of RF and RFID-enabled products that act as a deterrent to prevent merchandise theft in retail stores; and electronic article surveillance consumables, including EAS-RF and EAS-EM labels that work in combination with EAS systems to reduce merchandise theft in retail stores. This segment also provides keepers, spider wraps, bottle security, and hard tags, as well as Showsafe, a line alarm system for protecting display merchandise. In addition, it offers physical and electronic store monitoring solutions, including fire alarms, intrusion alarms, and digital video recording systems for retail environments; and RFID tags and labels. The Apparel Labeling Solutions segment provides apparel labeling solutions to apparel retailers, brand owners, and manufacturers. It has Web-enabled apparel labeling solutions platform and network of 28 service bureaus located in 22 countries that supplies customers with customized apparel tags and labels. The Retail Merchandising Solutions segment offers hand-held label applicators and tags, promotional displays, and queuing systems. The company serves retailers in the supermarket, drug store, hypermarket, and mass merchandiser markets through direct distribution and reseller channels. Checkpoint Systems was founded in 1969 and is based in Thorofare, New Jersey.
Checkpoint Systems (CKP) is heading into its next earnings announcement with bullish estimate revisions. Currently, shares are range bound with a great deal of sideways trading, but with Checkpoint Systems (CKP) even with news that one of Checkpoint Systems' divisions reported a 3 year extension for its contract with Airbus.. This multi-million dollar contract is the industry's largest RFID software transaction. Checkpoint Systems (CKP) is also set to release first-quarter results on 4th May, which may be the news that is needed to get out of this range..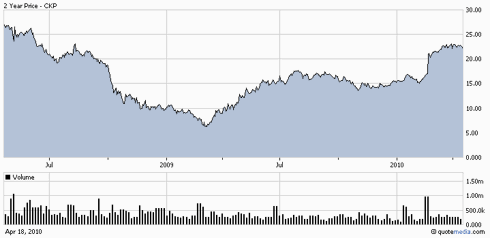 VMware, Inc. (VMW)
According to Yahoo, VMware, Inc. provides virtualization infrastructure software solutions and related support and services primarily in the United States. The company's virtualization software solutions support a range of operating system and application environments, as well as networking and storage infrastructures. It provides VMware vSphere, a data center platform, which helps companies along the path of cloud computing by providing compatible IT infrastructures. The company offers solutions that enable organizations to aggregate multiple servers, storage infrastructure, and networks together into shared pools of capacity. It provides products that address various infrastructure needs, such as planned and unplanned downtime management, system recoverability, backup and recovery, resource provisioning and management, capacity and performance management, and security. VMware, Inc. provides various desktop products and technologies comprising View Manager that provides session management and security services; View Composer, which offers desktop image provisioning, management, and storage reduction; and VMware ThinApp that enables quick application delivery. The company also offers client-hosted desktop virtualization products, including Workstation that enables to create multiple secure virtual sandboxes on a single computer; and Fusion that enables Windows and Windows applications on an Intel processor-powered Apple OS X Macintosh computer. In addition, it provides various support services; consulting services for implementation of virtualization solutions; and education services that provide hands-on labs, case study examples, and course materials. The company sells its products and services through distributors, resellers, x86 system vendors and integrators, and direct sales. It has a strategic partnership with Siemens Enterprise Communications. The company was incorporated in 1998 and is headquartered in Palo Alto, California. VMware, Inc. is a subsidiary of EMC Corporation.
VMware, Inc. (VMW) is to announce its first-quarter figures after the closing bell on Tuesday, according to Thomson Reuters. Historically, the company has exceeded the Street's per-share profit predictions in each of the last four quarters.
During the past couple of weeks, investors have bought twice as many calls as put contracts in light of the company's history. The number of contracts has also doubled in trading volume. The most popular, according to the International Securities Exchange (ISE) and Chicago Board Options Exchange (CBOE), is the in-the-money 55 strike in the May call series of options. Also, the shares of VMware, Inc. (VMW), have added more than 83% during the past 52 weeks.

Best of luck with your trading for the day.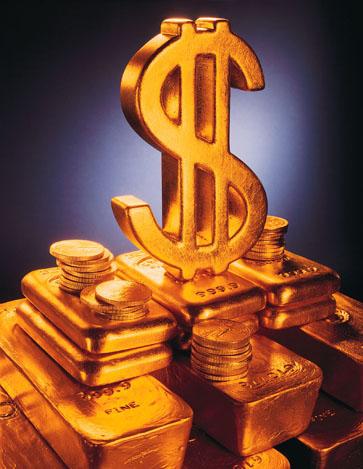 If you are not already a member of Stock Options Made Easy, then you may wish to become one so that you can benefit from the profits that are being generated!
If you wish to become part of this venture please follow the link below.
Subscribe to Stock Options Made Easy
Success is simple. Do what's right, the right way, at the right time.




    http://www.stock-options-made-easy.com
ian@stock-options-made-easy.com
Disclosure:
no ositions held in stocks mentioned