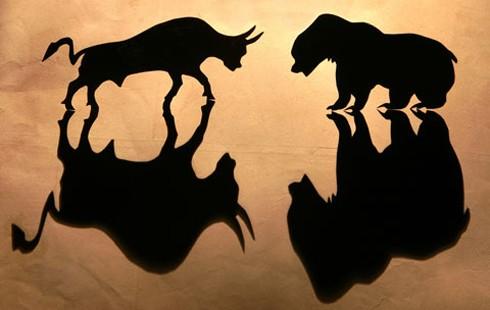 Tuesday started fairly slowly due basically to negative effects that traders were still feeling to the fraud charges against Goldman Sachs GS). The company had a stronger-than-expected-forecast result, with a surge in first-quarter profits of 91%, but despite this, spent most of the day in negative territory.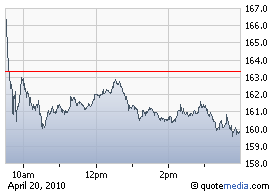 Goldman Sachs (NYSE:GS)      
However, rescue for the major indexes, came in the form of some well-received earnings results which sent the stocks into the black. These are as follows:-
·         Harley-Davidson, Inc. (NYSE:HOG) with its first-quarter earnings, had per-share profits of $0.29, surpassing the Street's prediction of $0.22. After this morning's report, HOG hit a new annual high, soaring to $36.13.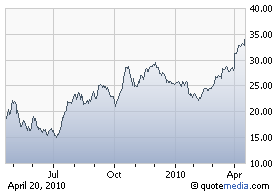 ·         Coach, Inc. (COH) also reported, with third-quarter earnings of 50 cents per share, beating consensus estimates for 45 cents per share. COH also revealed that it plans to double its cash dividend, raising these returns to an annual rate of 60 cents per share. Following this promising report, COH shares rose 1%, and the equity is now trading at $42.89.
                         Coach, Inc. (COH)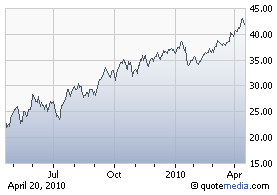 ·         Another boost to trading came in the form of an implication that spending habits are changing, where consumers are loosening the purse strings and spending more.
Despite the quarterly reports from International Business Machines Corp (NYSE:IBM) and Coca-Cola (NYSE:KO), not making any growth improvement on the day, the major indexes had a fairly successful day, even though much of the trading was in a sideways movement.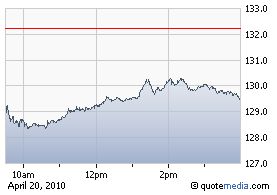 International Business Machines Corp (IBM) reported that its earnings during the first three months of 2010 rose 13 percent to $2.6 billion, or $1.97 a share.
IBM has been slashing costs, including cutting some local jobs, to help bolster its bottom line. The New York-based company employs about 10,000 people at its massive campus in Research Triangle Park.
IBM also increased its projected 2010 earnings per share to $11.20, better than the $11.12 analysts were expecting.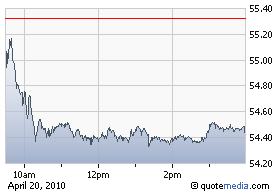 Coca-Cola Company (NYSE: KO) reported its quarterly earnings report, before the opening bell. Coca-Cola (KO) beat Wall Street estimates and posted $7.5 billion in revenue. It also reported a 55% increase in its profits. Coca-Cola's EPS came in at $0.66, which was on-par with the Street's expectations.
The Dow Jones Industrial Average (DJIA – 11,117.06) had a reasonable gain of 25 points, or 0.2%. The S&P 500 Index (SPX – 1,207.17) managed to gain 9.7 points, or 0.8%, whilst the Nasdaq Composite (COMP – 2,500.31) finished the day well with a gain of 20.2 points, or 0.8%.
Note of Interest….
·         The S&P 500 Index (SPX) managed to climb above its' psychological level of 1,200, to settle at 1,207.17 points for the third time in five days.
·         The Nasdaq Composite (COMP) was also back above the 2,500 mark, sitting at 2,500.31.
 S&P 500 Index (SPX)                                                   Nasdaq Composite (COMP)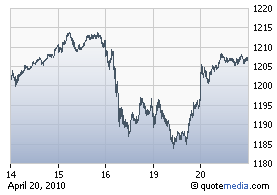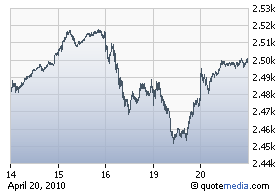 ·         Crude futures also climbed higher with the combined effect of consumer sentiment in regard to the economic recovery, and the clearing of skies over Europe. By the close, crude oil for May delivery added $2, or 2.5%, to finish at $83.45 per barrel.
·         Gold futures also rose for the day, particularly with positive corporate earnings, to send June delivery to a gain of $3.40, or 0.3%, to finish at $1,139.20 per ounce.
Stocks to Watch
Silver Standard Resources (Nasdaq: SSRI)
According to yahoo, Silver Standard Resources Inc. engages in the exploration, development, and production of mineral resource properties in Argentina, Australia, Canada, Chile, Mexico, Peru, and the United States. The company primarily explores for silver, gold, tin, zinc, lead, and copper deposits. Its principal projects include Pirquitas project located in the Province of Jujuy, Argentina; San Luis project in central Peru; Pitarrilla project in Durango State, Mexico; Diablillos project in Salta Province, Argentina; Snowfield project in northwest British Columbia, Canada; and Brucejack project in northwest British Columbia, Canada. The company was formerly known as Consolidated Silver Standard Mines Limited and changed its name to Silver Standard Resources Inc. in April 1990. Silver Standard Resources Inc. was founded in 1946 and is headquartered in Vancouver, Canada.
Silver Standard only began producing silver in December, and showed just $5.4 million in sales for all of 2009. Yet by the end of this year, two of the company's major mining operations should be operating at full tilt. And that should yield revenues of more than $100 million if silver prices stay at their current level. As two more mines come on line during 2011, the company should see sales approach $200 million. By the end of next year, the annualized rate of production could approach $300 million.
If you don't want to buy this stock for its earnings power, but instead for the value of its assets then this could be a good play. Silver Standard has spent a considerable amount of time and money acquiring interests in the most prolific mining regions -- especially in Argentina, Mexico, Peru and British Columbia. Based on the most recent purchase prices, the company's stakes are worth roughly $2.6 billion or $30 a share. That's more than +50% above the current value of the stock.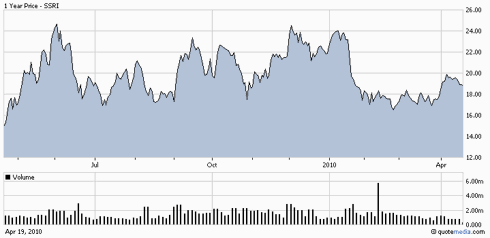 Nova Measuring Instruments (

NVMI

)
According to Yahoo, Nova Measuring Instruments Ltd. engages in the design, development, production, and sale of integrated process control metrology systems and stand-alone metrology systems for the semiconductor manufacturing industry. Its product line comprises metrology systems for use in thin film measurement in chemical mechanical polishing and chemical vapor deposition; optical CD and metal line thickness systems for use in post-copper chemical mechanical polishing; and optical critical dimension systems for lithography and etches applications. The company also offers integrated thickness monitoring systems for chemical mechanical polishing process control that enables wafer-to-wafer closed loop control. It serves various sectors of the integrated circuit manufacturing industry, including logic, ASIC, foundries, and memory manufacturers, as well as semiconductor and process equipment manufacturers in the United States, Europe, and the Asia Pacific. The company was founded in 1993 and is headquartered in Ness-Ziona, Israel.
Nova Measuring Instruments Ltd. (NVMI), in the fourth quarter, sales rose 145% to $15.2 million compared with the same quarter a year earlier. During the same period, Nova's earnings rose to $2.7 million or 13 cents per share compared with a loss of $1.6 million or 8 cents per share. The company recently announced that it has received record quarterly orders, so things are looking up in anticipation of NVMI's May 4 earnings report.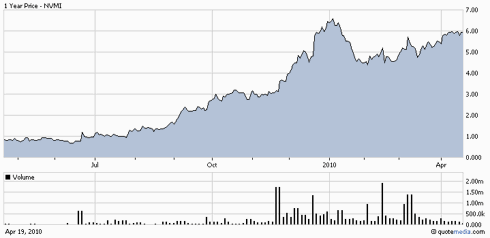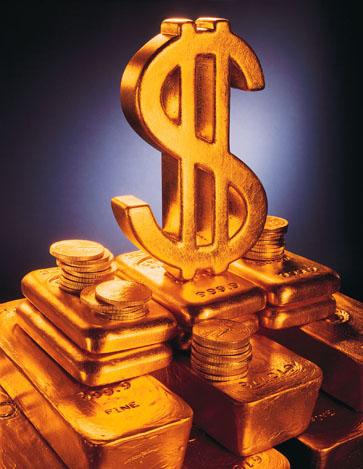 If you are not already a member of Stock Options Made Easy, then you may wish to become one so that you can benefit from the profits that are being generated!
If you wish to become part of this venture please follow the link below.
Subscribe to Stock Options Made Easy
Success is simple. Do what's right, the right way, at the right time.




http://www.stock-options-made-easy.com
ian@stock-options-made-easy.com
Disclosure:
no positions held in stocks mentioned