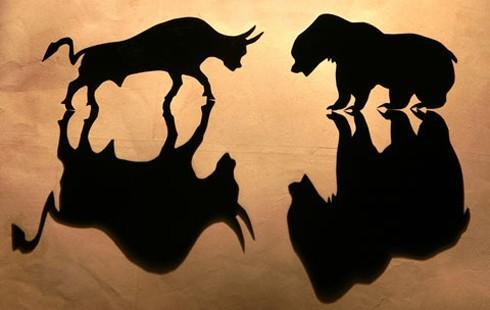 Wednesday was very much as I predicted, in my "Outlook", before the start of markets. The three major indexes were all over-the-place, basically due to a mix of earnings reports throughout the day, and investors reacted accordingly.
The Dow Jones Industrial Average (DJIA – 11,124.92) had an up-and-down day finishing with a gain of 7.9 points, or 0.1%. Boeing (NYSE:BA), along with Apple Inc. (NASDAQ:AAPL), Morgan Stanley (NYSE:MS), and United Technologies (NYSE:UTX), produced very sound quarterly reports which helped save the day for this index. However, Gilead Sciences (NASDAQ:GILD) and Abbott Laboratories (NYSE:ABT) were the catalyst for this index, issuing disappointing full-year results. (Refer to more information on Boeing (BA) and Gilead Sciences (GILD) below.)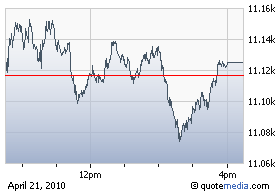 The Dow Jones Industrial Average
The S&P 500 Index (SPX – 1,205.94) did not fare too well with a small loss of 1.2 points, or 0.1%, but managed to climb back up to regain its' hold onto the  psychological level of 1,200, for the fourth time in six sessions.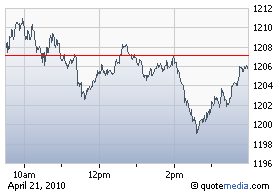 The S&P 500 Index
Also, the Nasdaq Composite (COMP – 2,504.61) struggled throughout the day to eventually drag its' way back above the psychological barrier of 2,500, to finish with a small gain of 4.3 points, or 0.2%.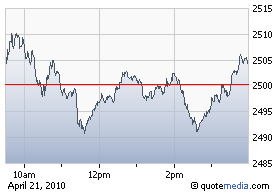 The Nasdaq Composite
Notes of Interest….
·         Crude oil for June delivery lost 17 cents, or 0.2%, to settle at $83.68 per barrel. This loss in crude futures was due to several factors. The Energy Information Administration reported that domestic crude inventories advanced by 1.9 million barrels last week, surpassing economists' forecast for an increase of 200,000 barrels. Also, gasoline stockpiles rose by 3.6 million barrels – which was more than 10 times the expected build-up of 300,000 barrels. Jet fuel was also saved due to less aircraft flying due to the volcanic eruption.
·         Gold futures for June-dated gold added $9.60, or 0.8%, to finish at $1,148.80 an ounce. This was due to continuing concerns about Greece's debt and repayments.
Boeing (BA) said that quarter earnings fell 15% to $519 million, or 70 cents per share. The figures include a 20 cents-per-share charge due to the loss of a health care tax deduction in federal health care law. Sales fell to $15.2 billion from $16.5 billion. Analysts were looking for earnings of 66 cents per share on sales of $15.4 billion.
BA has rallied nearly 32% since the start of 2010.This earnings report may what is needed to help propel this stock forward from its' position of stagnancy.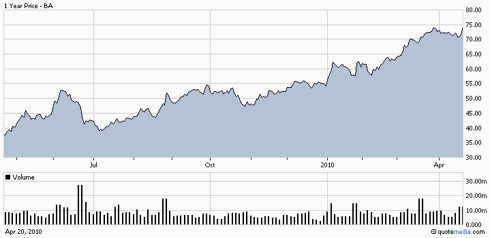 Gilead Sciences, Inc. (GILD) slumped to a new annual low of $39.90 today after slashing its 2010 sales outlook, with the drug company citing slower-than-forecast sales of its key HIV medications, as well as the ill effects of U.S. health care reform.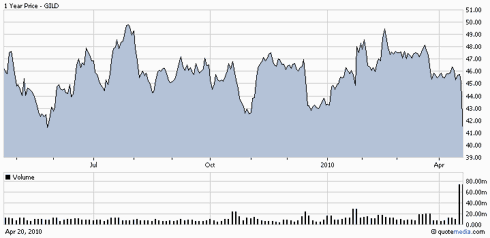 Stocks to Watch
These are companies that are looking promising for the short-to-mid-term future. Consider buying shares in these companies after checking them out thoroughly.
Continental Airlines, Inc. (CAL) is drawing attention from options traders ahead of its earnings report, which is due to hit the Street Thursday morning. Analysts are looking for a quarterly loss of 86 cents per share, which would mark an improvement over CAL's year-ago deficit of $1.07 per share.
Call option activity is apparent with the volume being more then seven times the usual level. The  June 21 call is one of the most popular contracts.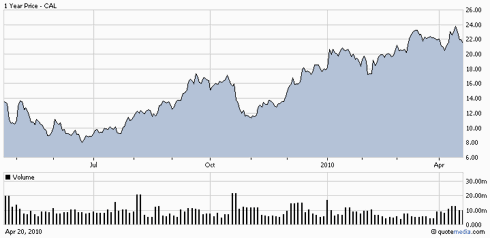 Hansen Natural Corporation (HANS)
According to Yahoo, Hansen Natural Corporation, through its subsidiaries, engages in the development, marketing, sale, and distribution of beverages in the United States and internationally. The company principally offers natural sodas, fruit juices and juice drinks, energy drinks and energy sports drinks, fruit juice smoothies and functional drinks, non-carbonated ready-to-drink iced teas, children's multi-vitamin juice drinks, and flavored sparkling beverages under the Hansen's brand name. Hansen Natural Corporation was founded in 1985 and is based in Corona, California.
At the moment there is a great deal of speculation of unsubstantiated takeover talk, where Dr Pepper Snapple Group (DPS) could be a potential merger-and-acquisitions company.
Call options buyers' are definitely seeing potential in this "speculation". The most popular call is based around HANS' May 45 strike.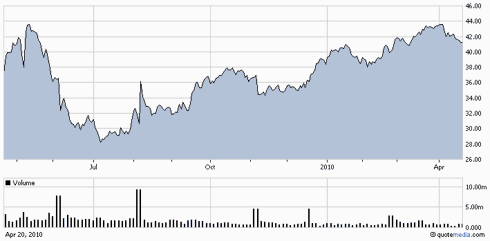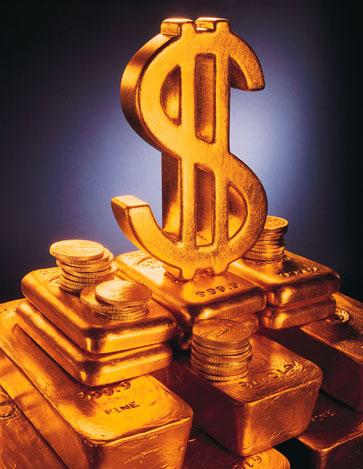 If you are not already a member of Stock Options Made Easy, then you may wish to become one so that you can benefit from the profits that are being generated!
If you wish to become part of this venture please follow the link below.
Subscribe to Stock Options Made Easy
Success is simple. Do what's right, the right way, at the right time.




http://www.stock-options-made-easy.com
ian@stock-options-made-easy.com
Disclosure:
no positions held in stock mentioned