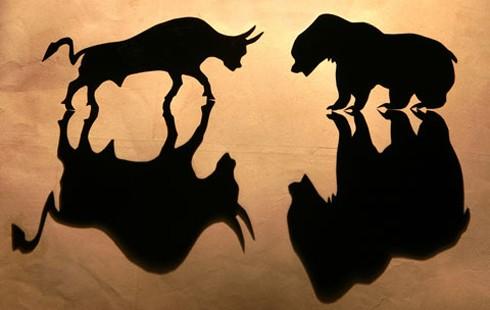 There are a couple of reports from the economic front today:-
·         The Case/Shiller home price index for February and
·         The April consumer confidence index.
 Also, there will be plenty of action on the economic front as we have many companies reporting their quarterly earnings. These are:-
·         3M Company (NYSE:MMM),
·          DuPont (DD),
·          Ford Motor Co. (NYSE:F),
·          Lexmark International Inc. (NYSE:LXK),
·          Newmont Mining Corp. (NYSE:NEM),
·          Office Depot Inc. (NYSE:ODP),
·         U.S. Steel Corp. (NYSE:X),
·         UAL Corp. (UAUA),
·         Under Armour Inc. (NYSE:UA),
·         United Parcel Service Inc. (NYSE:UPS),
·          Broadcom Corp. (BRCM),
·         Panera Bread Co. (NASDAQ:PNRA), and
·         RF Micro Devices Inc. (RFMD).
which indicates that we, once again, will have an interesting day on the markets, with plenty of ups-and-downs.
Some positive indicators which should help bolster the bulls' are:-
·         The Dow Jones Industrial Average (DJIA) is still hanging in there, logging its sixth consecutive daily gain on Monday, and also maintaining its position above the 11,200 level.
·         The S&P 500 Index (SPX) has maintained its' perch above the 1,200 level despite a pull-back.
Some factors which need to considered are:-
·         Overseas trading is looking very poor this morning as most major foreign indexes are trading in the red. In Asia, stocks fell due to the financial sector in the U.S. where they took a big dip. In Europe, Greece's debt problems are still weighing heavily on share prices, particularly, since Germany has made further demands to the financial aid package. However, European shares may rally as the day extends.
·         Due to Greece's debt problems the Euro is still under-going pressure which is giving a boost to the U.S. dollar.
·         Gold futures have dropped $2.60 to $1,151.40 an ounce in London, basically due to the rising U.S. dollar.
·         Crude futures are headed lower due to demand concerns and a stronger U.S. dollar, falling 1.14% at $83.24 per barrel.
·         The U.S. Dollar Index has added 0.26% to trade at 81.69 this morning.
There is still plenty of bullish activity still occurring, particularly with equity options trading, looking at the figures stated by the Chicago Board Options Exchange (NASDAQ:CBOE). There were more than twice as many call contracts as put contracts on Monday (1,970,144 call contracts/810,898 put contracts).
 However, caution will need to adhered to today, particularly with the re-emergence of the Greece situation, basically Germany's new demands, and its' effects on the market. Also, looking at the early futures trading on the Dow Jones Industrial Average (DJIA) and the S&P 500 Index (SPX), there is nothing of excitement to be had, therefore indicating a quiet start to trading! With so many negative events occurring at the moment, the "fear" factor, the CBOE Market Volatility Index (VIX), has raised its ugly head.
Some Company Reports
Texas Instruments Inc. (NYSE:TXN) reported a first-quarter profit of $658 million, or 52 cents per share, on revenue of $3.2 billion. For the second quarter, TXN forecast revenue in the range of $3.31 billion to $3.59 billion, on earnings in the range of 56 cents per share to 64 cents per share.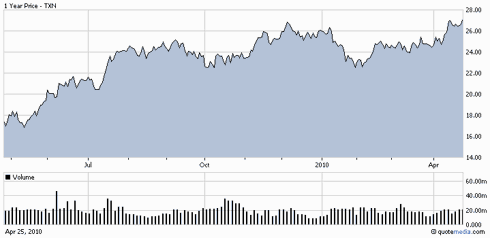 Ford Motor Co. (F) swung to a first-quarter profit of $2.1 billion, or 50 cents per share. Analysts had been expecting earnings of 32 cents per share. Revenue rose to $31.6 billion.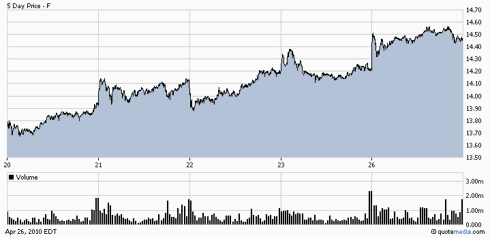 DuPont (DD) had a first-quarter net income which more than doubled from a year earlier to $1.13 billion, or $1.24 per share. Wall Street was expecting earnings of $1.06 per share. Sales rose 23% to $8.5 billion. The company raised its full-year earnings guidance to $2.50 to $2.70 per share from a previous forecast of $2.15 to $2.45 per share.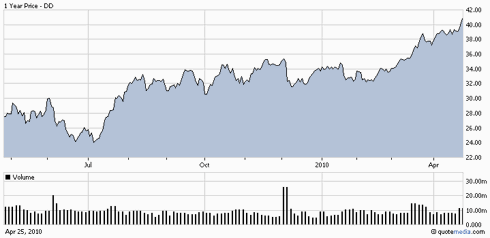 Boston Scientific Corp. (NYSE:BSX) reported a first-quarter profit of 16 cents per share, excluding one-time tax charges, as sales slipped to $1.96 billion from the same period last year. Analysts were expecting earnings of 9 cents per share on sales of $1.99 billion.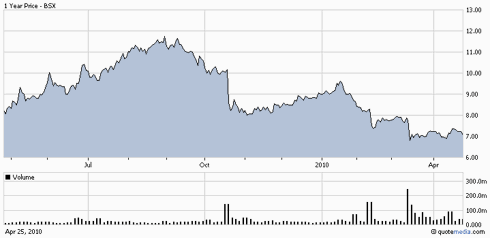 Companies to Watch
These are companies that are looking promising for the short-to-mid-term future. Consider buying shares in these companies after checking them out thoroughly.
Under Armour (UA)
Under Armour (UA) is a developer, marketer and distributor of branded performance apparel, footwear and accessories for men, women and youth.
Under Armour (UA) is to present its quarterly earnings today but has already reached a new 52-week high of $36.22, which gives it a yearly improvement of about 30%. Analysts are looking for a profit of 10 cents per share, up from 8 cents per share in the year-ago period.
Under Armour (UA) has exceeded consensus earnings estimates in each of the past four reporting periods. Obviously investors are expecting big things from this company seen by options bought on the International Securities Exchange (ISE) where traders have bought to open 2.28 times more puts than calls during the past 10 days.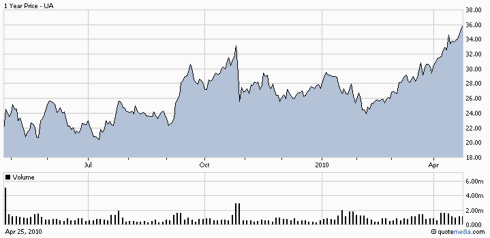 iShares MSCI Brazil (EWZ)
Brazil is a booming emerging market with a great deal of aggressive, but potentially lucrative investments, to be had. There is always risk involved whilst trading in an emerging market but there is also a great deal of profit also. This fund is one method to invest in a less risky fashion as it consists of various components. EWZ component stocks include some of the biggest powerhouses in the region, like energy giant Petroleo Brasileiro (PBR), better known as Petrobras, and metals and mining giant Vale SA (VALE). These Brazilian blue chips give the EWZ ETF some stability.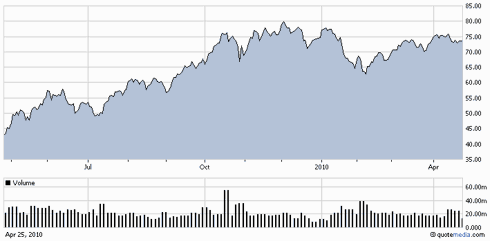 Best of luck with your trading for the day.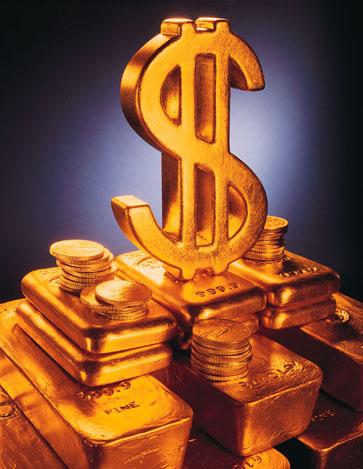 If you are not already a member of Stock Options Made Easy, then you may wish to become one so that you can benefit from the profits that are being generated!
If you wish to become part of this venture please follow the link below.
Subscribe to Stock Options Made Easy
Success is simple. Do what's right, the right way, at the right time.




    http://www.stock-options-made-easy.com
ian@stock-options-made-easy.com
Disclosure:
no positions held in stocks mentioned