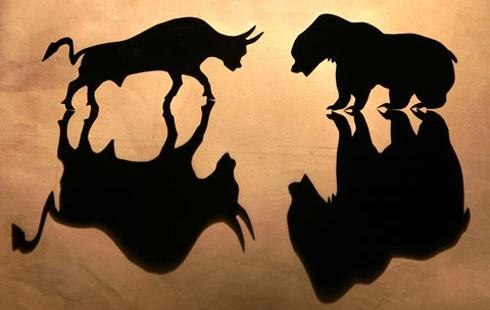 If Monday was a let-down, then Tuesday was definitely a major abattoir for the bulls. Everyone ran for cover as Standard & Poor's slashed its ratings on the Greek government deb,t to junk status, announcing, "Greece's economic and fiscal prospects lead us to conclude that the sovereign's creditworthiness is no longer compatible with an investment-grade rating." Greece's debt has a rating of BB+, which is extremely pathetic for an EU country. Portugal was also downgraded by Standard & Poor's by two levels. Maybe Standard & Poor's has over-reacted at this stage, but I definitely feel that investors have pushed the panic-button too early.
There was some light during the day, such as:-
·         Goldman Sachs Group (NYSE:GS), fared well, particularly after Fabrice Tourre, an accused trader at GS, denied vehemently any involvement in securities fraud, before a Senate subcommittee.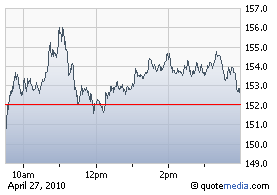 ·         The CBOE Market Volatility Index (VIX), also known as the "fear factor", had a major uplift of 30.6% to 22.81, by the close, to mark the biggest one-day percentage gain for April.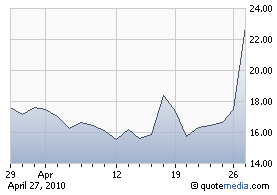 ·         The other beneficiary for the day was the U.S. dollar, which gained ground against the euro, due to the EU's problems.
Lexmark International, Inc. (NYSE:LXK) also did well for the day, despite the decline in the market.
Lexmark International, Inc. (LXK) reported its quarterly earnings today, with profits of $1.35 per share, well above analysts' predictions for profits of $0.89 per share. They have managed to reach a 52-week high, at $42.14 during trading. LXK has had a 54% gain in 2010.
Due to these results there has been an increase of options, five times the usual daily volume, where the majority has been bullish.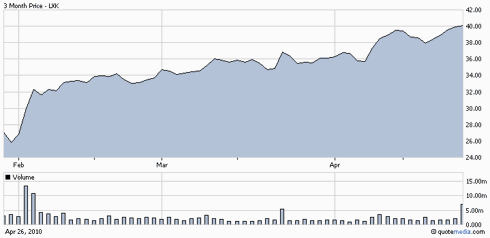 The Dow Jones Industrial Average (DJIA – 10,991.99) suffered greatly today, to have a massive loss of 213 points, or 1.9%. The S&P 500 Index (SPX – 1,183.71) didn't do so well either by ending the day with a loss of 28.3 points, or 2.3%.  The Nasdaq Composite (COMP – 2,471.47) also finished the day deeply in the red, with a loss of 51.5 points, or 2%.
Notes of Interest….
·         The Dow Jones Industrial Average (DJIA), ended below 11,000 for the first time since April 9, and also settled below its 20-day moving average.
·         The S&P 500 Index (SPX) also ended its five day hold above 1,200, as well as ending below its 20-day moving average for the first time since Feb. 12.
·         The Nasdaq Composite (COMP) also dropped below its psychological barrier of 2,500.
·         Crude oil for June delivery ended the day with a deficit of $1.76, or 2.1%, to settle at $82.44 per barrel, due mainly to the rising U.S. dollar and the uncertainty in the European markets.
·         Gold for June delivery ended the day on a gain of $8.20, or 0.7%, at $1,161.70 per ounce, as many investors see this as a safe-haven during times of volatility.
Stocks to Watch
These are companies that are looking promising for the short-to-mid-term future. Consider buying shares in these companies after checking them out thoroughly.
Clean Energy Fuels Corp. (NASDAQ:CLNE)
According to Yahoo, Clean Energy Fuels Corp. (CLNE) together with its subsidiaries, provides natural gas as an alternative fuel for vehicle fleets in the United States and Canada. It designs, builds, finances, and operates fueling stations; and supplies compressed and liquefied natural gas. The company also produces renewable biomethane, which could be used as vehicle fuel. In addition, it provides natural gas conversions, alternative fuel systems, application engineering, service and warranty support, and research and development for natural gas vehicles. As of December 31, 2009, the company served approximately 390 fleet customers operating 17,790 natural gas vehicles in public transit, refuse hauling, airports, taxis, seaports, and regional trucking markets. It owned and operated 196 natural gas fueling stations in Arizona, California, Colorado, the District of Columbia, Florida, Georgia, Idaho, Maryland, Massachusetts, Nevada, New Jersey, New Mexico, New York, Ohio, Oklahoma, Texas, Virginia, Washington, and Wyoming; and British Columbia and Ontario, Canada. The company was incorporated in 2001 and is headquartered in Seal Beach, California.
Clean Energy Fuels Corp. will report its first-quarter figures on Thursday, May 6, according to Thomson Reuters. Ahead of the event, call buyers have bombarded the alternative energy issue, as indicated by the latest data from the International Securities Exchange (ISE).
During the past two weeks, the stock has racked up a call/put volume ratio nearly four times more CLNE calls than puts, which suggests that investors are bullish on this stock.
However, in the past the company has reported a wider-than-expected per-share loss in three of the last four quarters.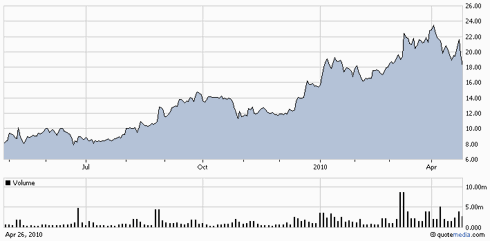 Coinstar, Inc. (NASDAQ:CSTR)
Coinstar, Inc., according to Yahoo, provides automated retail solutions primarily in the United States, Canada, Puerto Rico, the United Kingdom, Mexico, and Ireland. It owns and operates self-service coin-counting machines, which enable consumers convert their coin to cash, a gift card, or an e-certificate; and installs and operates DVD kiosks, which enable consumers to rent or purchase movies. The company also offers electronic payment (E-payment) services, which include activating and reloading value on prepaid wireless accounts; loading and reloading prepaid debit cards and prepaid phone cards; payroll card services; and selling stored value cards and prepaid phones, as well as provides money transfer services. Coinstar offers its services at approximately 95,000 points of presence, including supermarkets, drug stores, mass merchants, financial institutions, convenience stores, restaurants, and money transfer agent locations. As of December 31, 2009, it owned and operated approximately 19,200 coin-counting machines and 22,400 DVD kiosks, as well as offered E-payment services through 25,000 point-of-sale terminals, 300 stand-alone E-payment kiosks, and 12,500 E-payment-enabled coin-counting machines. The company was founded in 1991 and is headquartered in Bellevue, Washington.
On Monday, Coinstar, Inc. (CSTR) saw more than six times the amount of call option contracts to put options contracts being purchased. This certainly seems to add a very bullish aspect to this stock.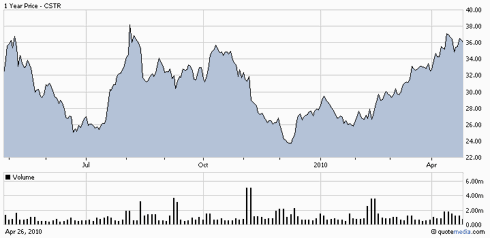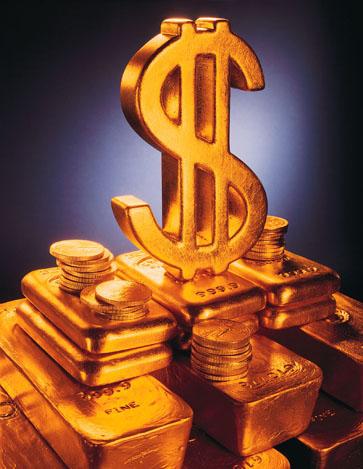 If you are not already a member of Stock Options Made Easy, then you may wish to become one so that you can benefit from the profits that are being generated!
If you wish to become part of this venture please follow the link below.
Subscribe to Stock Options Made Easy
Success is simple. Do what's right, the right way, at the right time.




http://www.stock-options-made-easy.com
ian@stock-options-made-easy.com
Disclosure:
no positions held in stock mentioned