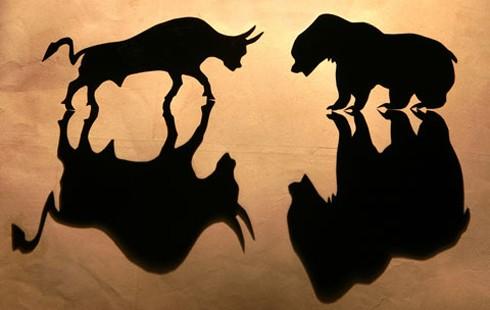 Wednesday, was definitely a recovery day for the bulls. There was the "bad news/good news" syndrome in play again, but this time favoring the bulls. The major indexes all finished in the black, after two days of disaster.
The main items of influence on the markets are listed below:-
·         Standard & Poor's slashed its credit rating on Spain, stating that "a more protracted period of sluggish activity" was to be expected.
·         Dow Chemical (DOW) (Refer to Market Outlook for Wednesday, 27th April, 2010), with its earnings report, set the market on an upward movement.
·         The Federal Open Market Committee (FOMC) decided to hold its benchmark rate between zero and 0.25% for "an extended period" of time.
·         Senate Republicans, for the third time, stalled a vote to debate on a financial regulation bill, which boosted financial stocks in the afternoon.
The Dow Jones Industrial Average (DJIA – 11,045.27) managed to make a comeback today, to have a gain of 53.3 points, or 0.5%. The S&P 500 Index (SPX – 1,191.36) didn't do as well, but made up some ground adding on 7.7 points, or 0.7%.  The Nasdaq Composite (COMP – 2,471.73) couldn't make up much ground an settled for a small gain of 0.26 points, or 0.01%.
Notes of Interest….
·         The Dow Jones Industrial Average (DJIA), climbed above its psychological barrier of 11,000, and also settled above its 20-day moving average.
·         The S&P 500 Index (SPX) is still below the 1,200 level, as well as below its 20-day moving average.
·         The Nasdaq Composite (COMP) is also, still below its psychological barrier of 2,500.
·         Crude oil for June delivery ended the day adding 78 cents, or 1%, to settle at $83.22 per barrel. This increase is due mainly to the Federal Reserve's decision to maintain interest rates as they are and also there seems to be an increase in fuel demand.
·         Gold for June delivery ended the day on a gain of $9.60, or 0.8%, at $1,171.80 per ounce, as many investors, after the downgrade of Spain, are seeing this as a safe-haven during times of economic uncertainty.
Company News
United States Steel Corporation (NYSE:X)
 United States Steel Corporation (X)  in its quarterly earnings report, narrowed its first-quarter loss to $157 million, or $1.10 per share, exceeding analysts' consensus expectations for a loss of $1.38 per share.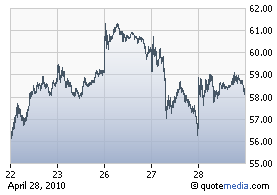 Tuesday saw a great deal of put contracts on X which seemed to hold back progress in price. But Wednesday was a different matter with Dahlman Rose upgrading X from "hold" to "buy" which helped the stock to rise by 3%.
Overall, the prospects look solid for X to move higher during the near term. Following the company's stronger-than-forecast earnings report, the stock is well-positioned to benefit from a capitulation by the weaker bearish hands. As short sellers and put players admit defeat, X should have no trouble extending its rebound from technical support.
AOL, Inc. (NYSE:AOL)
AOL, Inc. (AOL) reported that their first-quarter net income fell to $34.7 million, or 32 cents per share, down from its year-ago profit of $82.7 million, or 78 cents per share. Revenue for the quarter slipped 23% to $664.3 million, due to lower advertising sales and a decline in AOL's subscriber base.
The results fell short of Wall Street's expectations, with analysts surveyed by Thomson Reuters looking for a profit of 70 cents per share on $679 million in revenue. However, Chairman and CEO Tim Armstrong said that the company achieved its goal of "significantly [reducing] AOL's cost structure" following its spin-off from Time Warner (NYSE:TWX).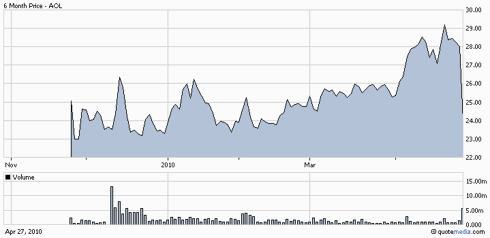 First Solar, Inc. (NASDAQ:FSLR)
First Solar, Inc. (FSLR) reported their earnings today, with a net income for the first-quarter net jumping to $172.3 million, or $2.00 per share, from $164.6 million, or $1.99 per share, in the year-ago period. That topped the $1.63 per share analysts had on average forecast according to Thomson Reuters I/B/E/S. Quarterly revenue rose 36 percent to $568 million, beating the $541 million analysts had forecast.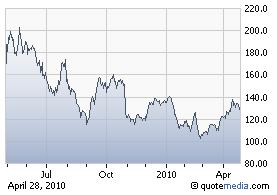 The Tempe, Arizona-based company said it now sees its 2010 earnings per share at $6.80 to $7.30, well above the $6.15 that analysts have forecast.
Shares of First Solar climbed 7 percent to $137.12 in extended trade,
Solar companies have seen sales surge so far this year as the market rebounds from a weak 2009, and First Solar said it had shifted capacity from its lower margin systems business to modules to meet stronger demand from its European customers.
Stocks to Watch
These are companies that are looking promising for the short-to-mid-term future. Consider buying shares in these companies after checking them out thoroughly.
Nexaira Wireless (OTC:NXWI)
According to Yahoo, Nexaira Wireless Inc. engages in the development and delivery of third and fourth generation (3G/4G) wireless routing solutions to carriers, mobile operators, service providers, value added resellers, and enterprise customers worldwide. It develops a line of routing solutions for business market, such as business-grade network reliability and security for wireless routers, including business continuity via cellular 3G/4G backup to wire line service, business class security protocols to support confidential data, a suite of quality of service options to support business performance, and small business call management supporting voice services over 3g/4g technologies; and business-grade networking speeds with cellular WAN algorithms and high gain antennas and wireless routers comprising XtremeSpeed that provides 3G performance required for business applications and high gain directional antennas, which offer improved performance. The company also provides various consumer market solutions consisting of ease of use connection manager that provides auto-configuration to any modem card on any network, and reduces the number of returns and support calls; and Nexware i3Graphical user interface and desktop gadgets. Its routing devices are used in various applications, such as the primary router to wireless, DSL, landline, or cable networks; and to provide device and network redundancy in wan-failover/fail back applications. The company was formerly known as Technology Publishing, Inc. and changed its name to Nexaira Wireless Inc. in October 2009. Nexaira Wireless Inc. was founded in 2005 and is headquartered in San Diego, California.
Several reasons that Nexaira Wireless Inc. seem to be a future prospect are:-
·         NXIA has the fastest router in the world--and the easiest to set up thanks to its patented technology.
·         Wireless backup that retail and industry are now demanding.
·         Huge pent-up market for wireless routing
·         Ease of installation and self-actuating equipment
·         Provides access in remote areas
·         3G and 4G technology (even Apple isn't this up-to-date)
·         Growing client list that includes Cox, Comcast, Sprint, Garmin and Telos as well as many other big names with deep pockets.
·         Takeover potential by Cisco or even Sprint is very strong
·         Potential for serious increase in share price potentially climbs to new highs
·         Most cost effective business class router ever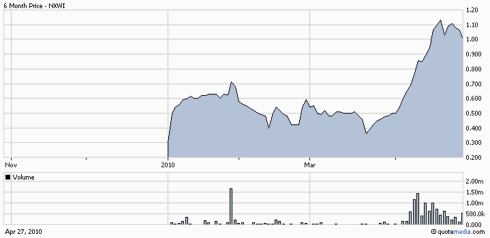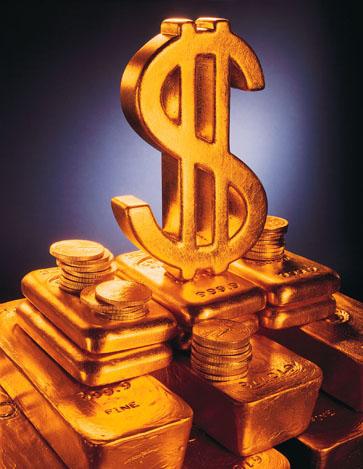 If you are not already a member of Stock Options Made Easy, then you may wish to become one so that you can benefit from the profits that are being generated!
If you wish to become part of this venture please follow the link below.
Subscribe to Stock Options Made Easy
Success is simple. Do what's right, the right way, at the right time.




http://www.stock-options-made-easy.com
ian@stock-options-made-easy.com
Disclosure:
no positions held in stocks mentioned