As per readers request on my last article, Sandstorm Gold: A Golden Opportunity, I've followed up with an article on SSL's sister company Sandstorm Metals and Energy (Canadian Venture Exchange: SND). I delayed writing this article until after SND finished their recent equity offering, which was a success, raising close to $50,000,000.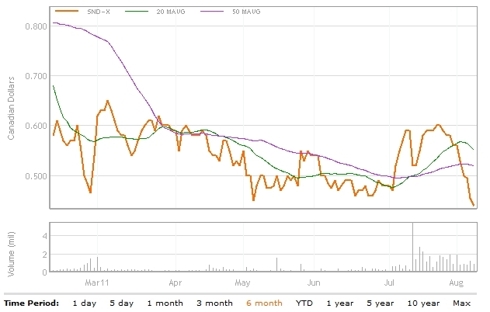 Sandstorm Metals and Energy features the exact same business model as Sandstorm Gold, that being a metals streaming company, but as the names suggests is focuses on Metals and Energy rather than Gold. Both companies are run out the same office, with the same CEO, much of the same management team, and have enjoyed much of the same success. In the short time since the Sandstorm Metals and Energy spinoff in May 2010, they've managed to put together 10 deals on 5 different projects. These deals involve the following commodities:
Natural Gas
Oil
Thermal Coal
Metallurgical Coal
Copper
As I outlined in my post on Sandstorm Gold, the management team at this company is fantastic, being the recipients of multiple awards and possessing large ambitions for the future. The CEO, Nolan Watson, was the youngest CFO of a billion dollar company at the age of 25, that being Silver Wheaton (SLW), and was key in seeing that organization grow into the $11 billion market cap it boasts today. Majority of the rest of the team is from Silver Wheaton, if not from other related mining businesses, and the management team is all graduates from the prestigious University of British Columbia, the top university in Canada. This is definitely an organization you want to be in business with.
The advantage to owning Sandstorm Metals and Energy, as opposed to Sandstorm Gold, is that you enjoy the same excellent management team putting together deals for streams from multiple types of commodities; therefore the investor is protected from any violent fluctuations of any one type of commodity. The downside to this diversification is that a diversified streaming companies will trade at a lower P/NAV multiple than pure streaming companies.
In regards to the commodities SND has deals in, I created a chart to measure their correlation with one another to help determine the ultimate value in the diversification of SND's holdings. I took in 20 years of data and turned the prices into an index for easy comparison, with 1991 being year 1 with a value of 100: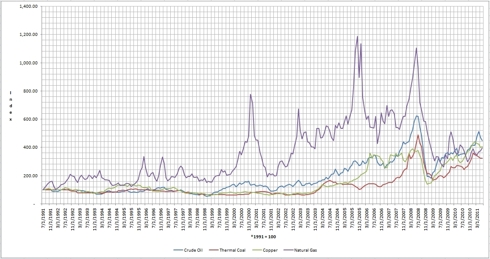 I also did a correlation study for a more accurate measure of the data.

As you can see, oil, coal and copper are highly correlated to one another, whereas natural gas is far less correlated with the other 3 commodities. This is somewhat intuitive given that oil, coal and copper all are subject to the demands of the overall economy, thus as economic activity picks up their prices all should as well. I suspect natural gas diverges from this due to the recent technological innovations associated with extracting natural gas from shale.
It's important to note that none of the commodities are negatively correlated with one another, which means that SND is subject to much of the same risks as a any other commodity company and isn't hedged from an overall decline in commodity prices, although it is protected from any 1 of the 4 suffering a catastrophic drop. Given the behavior of gold as of late, it may ironically act as a great hedge to owning Sandstorm Gold, as if uncertainty were to subside and gold prices coming down were coupled with a pickup in the global economy and further demand for commodities, you may see an inverse relationship develop between the two companies stock prices. But this would be well into the future once the cash flow from the streaming deals was fully developed.

Looking at SND's financials, they have started to flow cash off of their Royal Coal's Big Branch Mine deal which resulted in their past quarter being the first one generating cash flow. Although with the loss for the period at -$249,000, they still have a ways to go before the company is cash flow positive, it is excellent to see that process beginning.  They also have $31,864,000 cash on the books, which doesn't include the $48,757,500 they just raised in an equity offering. Thus in total, currently SND has approximately $75,000,000 in cash.
Given this large cash balance, I would expect an announcement of another streaming deal over the next few months. I attended a presentation approximately a month ago by SND in which their CFO, Ron Ho, expressed that by holding cash in the past they have irritated investors. Thus Ron assured those at this meeting that after raising capital, it will put it to work as soon as possible.
In terms of properties and streaming deals in place, they again boast an impressive margin compared to current spot prices, although the terms are more complex than at Sandstorm Gold. I've simplified these terms down to demonstrate the impressive profit margin they've locked in:

As you can see, there is a healthy margin for the commodities to pull back and for SND to remain profitable, especially given that SND price adjusts downwards as each of the commodity prices falls. This is subject to limitations, as at a certain price it will make more sense for the miners to shutdown and deal with any penalties that may arise. In the end, much of the success of SND is reliant on the price of the commodities they stream.
That being said, there are significant advantages to owning a streaming company as opposed to owning the commodity outright. SND will continue to generate cash as long as commodity prices don't completely collapse, as the margins above show. Thus SND, as opposed to owning the commodity directly, will generate cash flow for their shareholders even if commodity prices stay flat. In addition, if commodity prices were to drop, this would create an easier business environment for SND to put deals together on even more favorable terms, as with current inflated commodity prices many companies can go it alone.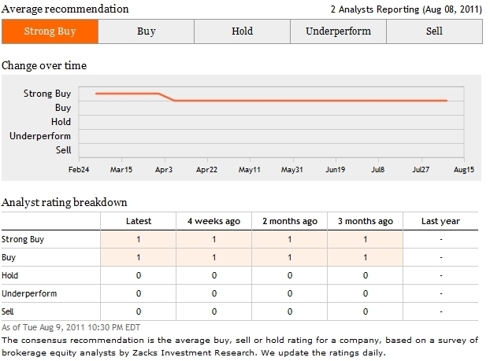 My bullish sentiment for this company is shared by analysts who have had a strong buy or buy recommendation on the business since inception. Given the small number of analysts currently covering the stock, as more begin to follow SND it could act as a catalyst for further stock price increases.
In conclusion, Sandstorm Metals and Energy, much like Sandstorm Gold, represents an opportunity to add exposure to commodities to your portfolio and get in on the ground floor of a company with bright future prospects. Between the two businesses, management has time and time again demonstrated that they can put deals together on great terms to the benefit of their shareholders, with both businesses beginning to generate cash flows. Although there is sure to be bumps in the road in the share price as the company grows, such as further share issuances, over the next 5 to 10 years I expect to see the Sandstorm brand on par in terms of market cap with other streaming companies such as Silver Wheaton.
Disclosure:
I have no positions in any stocks mentioned, and no plans to initiate any positions within the next 72 hours.