Recently Brazil, like most emerging economies, has been grappling with the economic and political shockwaves coming from Europe. Brazil's main equity index, the Bovespa, has fallen roughly 15 percent from its April 8th top due to concerns that the austerity measures being put in place across Europe's weakest economies, the PIIGS, might disrupt Brazil's economic recovery. Brazil's financial markets have been hit hard as a result. However, Brazil has fared better than other developing countries like China whose Shanghai Composite index has fallen 20 percent in the same time frame.
The European crisis has not relented since this colossal shoe dropped back in early April. In fact, on May 28th, the credit rating agency Fitch Ratings downgraded Spain's sovereign debt, citing the same reasons that we all knew for some time. That the austerity measures currently being implemented as a result of the joint IMF and EU bailout of European nations in need of restructuring their enormous debt obligations may harm growth moving forward.
The effect the developed world's debt crisis has had on the developing world has been pronounced. However, emerging economies have been resilient to not only the recent debt crisis, but also the credit crisis which took place in 2008. Since then, Brazil has been at the top of its game, even while external economic events were laying siege to the vast majority of the world, Brazil's economy has persevered and grew at a staggering rate.
According to the article "Brazil's booming economy - Flying too high for safety" from The Economist, "New skyscrapers are going up along Avenida Faria Lima in the business district of São Paulo. Sales of computers and cars are booming, while a glut of passengers has clogged the main airports. Brazil created 962,000 new formal-sector jobs between January and April—the highest figure for these months since records began in 1992. Everything indicates that over the past six months the economy has grown at an annualised pace of over 10%. Even allowing for an expected slackening, many analysts forecast that growth in 2010 will be 7%—the highest rate since 1986."
I am a firm believer in the global growth story that Brazil represents. Going forward, Brazil's abundant resources and growing consumer base will continue to propel it as one of the worlds leading emerging market nations. Moreover, this degree of economic prowess will transform Brazil into a developed economy which may rival the United States and Japan in the not so distant future if Brazil keeps on growing at this elevated pace.
For this reason, I would be long Brazilian equities with commodity exposure. In particular, there is still a massive amount of growth potential for companies such as Vale (VALE) or Petrobras (PBR), two of the world's premier commodities firms. As China and India continue to develop, their demand for raw materials will continue to grow, and this huge demand will be supplied in part by these two firms.
Vale, which trades on the NYSE under the ticker VALE, is the second-largest mining company in the world, second only to the Australian mining giant BHP Billiton. In addition to its numerous mining operations, Vale is also the largest producer of iron ore, which has had a huge demand from China and will perhaps continue to do so for some time. As a result of this demand, coupled with a stable political environment in Brazil, and strong company financials, I think Vale is a company worth owning at these levels.
The other significant commodity company in Brazil is the energy giant Petrobras, which trades under the ticker symbol PBR. Petrobras is the largest company in Latin America by both market cap and revenue. Additionally, Petrobras is one of the global leaders in deep-water and ultra-deep water oil production. Although deep-water drilling might face opposition as a result of the recent British Petroleum deep-water platform debacle in the Gulf of Mexico, there are several major oil fields off the coast of Brazil which are supposedly some of the largest reserves of oil on the planet. As a result of the world's dependency on oil both now and in the near future, coupled with the scarcity of this resource, it is evident that Petrobras will be growing for some time to come. Due to this notion, I would recommend this company as a buy based on its fundamentals and long term growth potential going forward.
For those looking for exposure to Brazil as a whole, take a look at the iShares MSCI Brazil Index Fund. This is an exchange-traded fund that trades under the ticker EWZ and which holds shares of about eighty of Brazil's largest companies. As an added bonus to the diversification this product provides, this ETF is relatively inexpensive with an expense ratio of 0.65%. Additionally, over the past five years this Brazil fund has returned around 30% annually.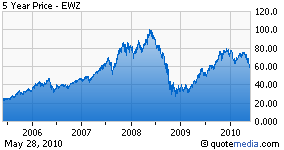 Brazil is a land of opportunity. It is a land plentiful with resources and it has an economy growing at record speeds. The European debt crisis and perhaps an impending American debt crisis will only be temporary bumps in the road to economic prosperity for Brazil. Thus, I am a firm believer in the appreciative nature of the three securities listed above and think the risk and return scenarios associated with each is superb. 

Disclosure: No positions