Biotechnology is an interesting space. Companies go public in hopes of funding their new promising drug, and investors speculate over which companies' drug will get approval from the FDA and either go on to be a commercial success or be bought out from a larger pharma company. With more successful biotech IPOs and biotech indexes and ETFs performing exceptionally well, biotech companies are eager to go public. 2014 saw a record number of biotech companies going public. The advantage of investing in biotech is that the stocks are generally not correlated to the market, so biotech stocks don't necessarily take a hit when the stock market tanks. Although, this varies from stock to stock and depends largely on the elasticity of the demand for the company's products and the insurance coverage of the products.
Background
Repros Therapeutics (NASDAQ:RPRX) is an early stage biotech company with a promising drug pending FDA approval called Androxal, which treats patients that suffer from low testosterone (the company also has a promising drug still in the Phase 2 testing process, which we won't discuss in this article). Low-T, or hypogonadism, is a condition characterized by insufficient testosterone production. Symptoms include reduced sexual activity and desire, decreased energy, increased body fat and reduced muscle mass and depression. Androxal is not a traditional testosterone replacement therapy drug, in that rather than administering testosterone to the body it is a compound that stimulates the body to make more testosterone. Some argue that the testosterone industry is somewhat over promoted and that doctors are overprescribing the testosterone drugs for what appear to be obesity and age related issues. Say what you will about the testosterone industry, the $2 billion yearly market represents a huge opportunity for newcomers like RPRX. Investors and analysts believe that Androxal has what it takes to take up significant market share in the $2 billion dollar industry. Johnathon Aschoff, an analyst at Brean Capital with a PhD in Molecular Biology and Microbiology, has a $40 dollar price target on the stock, which represents close to a 400% upside from current prices.1 Current analyst average price target of 6 analysts stands at $27 according to Yahoo Finance, a 237% potential upside.2 Furthermore, renowned biotech investors Baker Brothers have established the largest institutional position in the company, investing around $27 million dollars representing 14% of the company (.5% of the Baker Bros total holdings).3 Is RPRX poised to bring shareholder record returns, as many other small biotech firms have done? That all depends on the approval of Androxal the commercial potential for Androxal should it be approved. With RPRX at $8 valuing the company at $200 million, it seems that the market isn't too optimistic about Androxal's approval chances, potentially creating an opportunity for contrarian and speculative investors.
Right now, Androxal is still in the approval process. After impressive results from Phase 3 tests, the company filed for an NDA for the approval of their lead drug Androxal FDA on February 2nd, 2015. The FDA has 60 days to reply with an advisory committee date, where a panel of experts selected by the FDA will meet and vote on whether or not to approve Androxal. After the committee votes, the FDA will make their final decision on whether to approve the drug; the FDA almost always follows the recommendation from the committee. Since Repros does not generate any revenue yet, their stock price is almost entirely dependent on the approval and success of their lead drug Androxal. The most important thing to look at when trying to examine whether or a not a drug will be approved is the safety vs. efficacy profile. Furthermore, in examining its potential success we want to look at how the drug is differentiated from similar drugs on the market, as well as the mechanism that the drug uses to determine if the drug is a proprietary and patentable product.
Androxal's Efficacy and Safety
Let's start by looking at the results of Androxal's 2014 studies. Androxal conducted a three month study to determine the effectiveness of Androxal versus a leading TRT, Testim. At the end of the three month dosing period, median morning testosterone levels were placebo (196 ng/dl), 12.5 mg Androxal® (432 ng/dl), 25 mg Androxal® (416 ng/dl) and Testim® (393 ng/dl). Androxal was shown to be more effective than Testim.
Furthermore, in another study named ZA-303 that followed 317 male subjects under 60 years of age with BMI greater than 25 and testosterone levels of less than 300 ng/DL, Androxal was able to raise testosterone levels over 300 ng/DL in 79.3% of subjects, with 71.4% recording a normal testosterone level at their last observation on treatment.
In another study named Z-300, 500 subjects with confirmed testosterone levels of below 300 ng/DL and a BMI greater than 25, more than 80% of men obtained T levels in the normal range, and there was evidence of continued benefit after treatment withdrawal. Below is a table of the results of the study.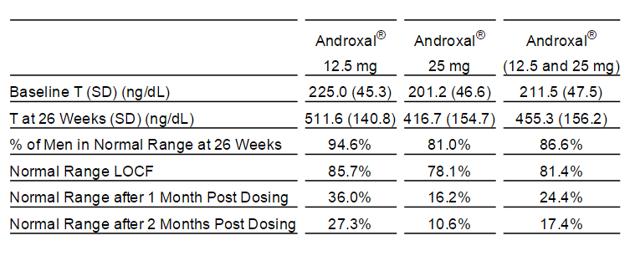 4
Furthermore, Androxal has been proven to be more effective than the market leader, Androgel: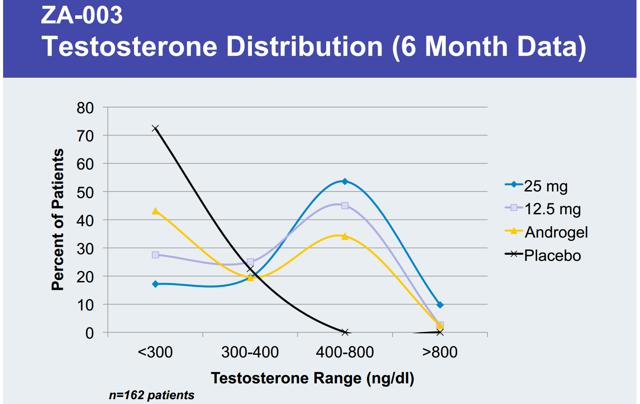 5
Clearly, Androxal is an effective drug that can compete with current testosterone replacement products on the market. But is it safe?
In the Z-303 study, the drug was also shown to be very safe, with only 5 subject reporting injuries which weren't related to the drug (One subject reported a deep vein thrombosis secondary to knee replacement. The other cases involved hospitalization for: kidney stone, gall stone, perforated appendix, and a hand injury). Also, Androxal was shown to not have a negative effect on bone mineral density. In the Z-300 study, no safety issues were identified and there were no deaths and no significant cardiovascular findings. The adverse effects reported were minor and included upper respiratory tract infections (11.6%), but the study was conducted during the flu season. Other adverse effects included headache (6.6%), muscle spasms (4%), and fatigue (2.8%).6 A full list of adverse events from Androxal during the study can be found here: https://www.clinicaltrials.gov/ct2/show/results/NCT01534208?term=androxal&rank=14&sect=X30156#evnt.
In conclusion Androxal has shown to be an effective and safe drug, and based on the studies performed by the company, the drug should receive approval.
FDA Concerns
However, the FDA is still concerned over the cardiovascular risks that testosterone products potentially pose; and in November the FDA warned RPRX that they may require additional studies examining cardiovascular risk. This is because studies released last year implied a link between Testosterone products and cardiovascular events such as heart attacks and myocardial infarctions. However, the studies released are very questionable, since low testosterone itself is a risk factor for cardiovascular events. In light of these studies, the FDA recently voted 20-1 that low-T drugs should only be prescribed to only people with medically related low-T, and not for vague symptoms of aging and weight gain. This has big implications on how the FDA will treat low-T treatments going forward. However, this shouldn't have much of an effect on prescriptions as doctor will continue to prescribe the low-T drugs "off-label". Furthermore, the FDA has acknowledged the fact that people with higher cardiovascular risk are more likely to be prescribed testosterone therapy, and therefore it makes sense why people take testosterone exhibit higher cardiovascular risk.7 The FDA concluded that due to the differences in study design characteristics and methods of analysis, the overall cardiovascular risks and benefits are still unclear.8 Nonetheless, the decision from the FDA caused RPRX's price to fall drastically in September. RPRX fell from $21 to around $6.50, and has only slightly recovered since.
If the FDA requires more cardiovascular studies from RPRX, or bad news comes out regarding the link between TRT and cardiovascular risk, the price of RPRX will almost certainly plummet. However, analysts don't seem to be concerned with this factor, Johnathon Aschoff of Brean Capital stated that "Additional safety trials could always be required in the future, but we note that among the six items the FDA wanted to discuss with Repros, CV risk was not one of them, strongly suggesting that the FDA is not concerned about Androxal's CV risk." Furthermore, people seem to be happy to take a low T drug despite the CV risks because it significantly improves their quality of life, and doctors seem to agree. A recent New York Times article shows comments from users and doctors who strongly favor the drug and don't mind the arguably increased risk for cardiovascular events (http://www.nytimes.com/2014/09/18/health/testosterone-drugs-fda.html).
Contrarily, another low-T drug was denied approval by an overwhelming no vote due to lack of evidence regarding cardiovascular risks. The FDA voted 18-3 to deny Rextoro, an oral testosterone drug, largely because the filing company left out data from its Phase 3 studies. The FDA did its own analysis of the Rextoro clinical studies, for the advisory committee hearing, and concluded that once missing data were taken into consideration, the drug didn't meet pre-specified goals for effectiveness. This analysis, known as a briefing document, also found problems with the safety profile of Rextoro. For comparison, 5% of subjects taking Rextoro exhibited hypertension9, compared to none for Androxal although .48% exhibited hypotension.1
Overall Market Outlook and Potential
The $2 billion dollar market for TRT is dominated by gels, with generic TRT being introduced in 2014 and already claiming a 5% share of the market. Currently, around 5 drugs dominate the market, led by AbbVie's drug AndroGel, which has around 62% of the market. The following drugs and their corresponding market shares are listed below.
If Androxal can capture 5-15% of the market, that would be about $100-250 million in revenue. That is huge for a company with a market cap of only $200 million. With its advantages and differentiation, I believe this is very possible.
Key Advantages of Androxal
Oral instead of a topical solution. It is easier to use and patients will not have to worry about accidentally spreading the testosterone hormone to loved ones and others.
Statistically significant improvement in HbA1c and insulin, and therefore may help patients with Type 2 diabetes.
Doesn't affect testicular function as current products do. Reproductive status and fertility are therefore not affected.
Shown to be more effective than market leader Androgel and Testim.
Delivers testosterone to the body by inducing the natural mechanism the body uses to product testosterone instead of directly injecting testosterone into the body.
Patented until 2023.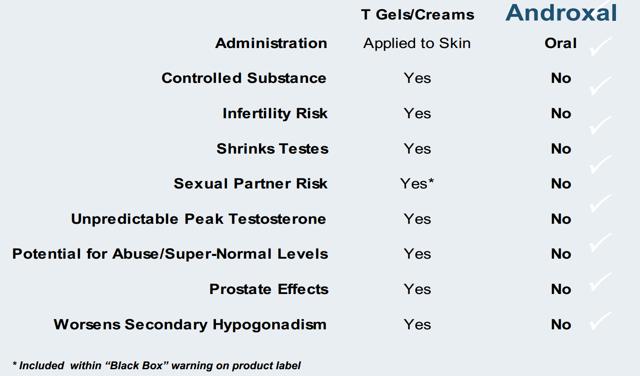 12
If Androxal is approved, it stands a good chance to take between 5 and 15% of the market given these advantages. Much of this will be dependent on marketing efforts, and Repros ability to find a partner to help market the drug. Another possibility is that the company will be bought out or that the drug will be bought and licensed by another company. Both are very favorable outcomes for RPRX and will cause the stock to rise quickly. With the various equally likely outcomes, it is too early to calculate a valuation for the company; that needs to be re-examined once Androxal has reached approval.
Conclusion
In conclusion, the performance of RPRX's stock relies heavily on the approval of its drug Androxal. The drug has a promising safety/efficacy profile and clear advantages and differentiation from current products on the market. Therefore, I believe the chances of approval for RPRX's drug are high, and I expect the advisory committee to vote favorably on the stock later this year. I think RPRX makes for a great speculative play (especially considering that it has a second promising drug in its development pipeline). With the downside priced in after the big drop in September, RPRX has a very asymmetrical risk/reward profile in my opinion.
However, with the FDA's recent focus on the cardiovascular risks of TRT drugs, and the unpredictability of the FDA and its panel of experts, it's difficult to say with certainty that the drug will be approved. On an industry level, investors should pay close attention to the release of new studies regarding cardiovascular risk and TRT and changes in the FDA's opinion of CV risk and TRT. Investors should also pay attention to the FDA's response to the NDA, which should be expected within the next 60 days. Any news regarding these matters will surely affect the stock price.
1 breancapital.com/pdf/researchuniverse.pdf
2 finance.yahoo.com/q/ao?s=RPRX+Analyst+Opinion
3 www.nasdaq.com/quotes/institutional-port...
4 ir.reprosrx.com/releasedetail.cfm?releas...
5 reprosrx.com/documents/Corporate-Update.pdf
6 ir.reprosrx.com/releasedetail.cfm?releas...
7 www.fda.gov/downloads/AdvisoryCommittees...
8 www.fda.gov/downloads/AdvisoryCommittees...
9 www.fda.gov/downloads/AdvisoryCommittees...
10 www.clinicaltrials.gov/ct2/show/results/...
11 www.acrux.com.au/IRM/Company/ShowPage.as...