Here's another post in a series of stocks/companies I'm buying.  My first two posts on ACHN and ALXA garnered great interest and emails.

My next target is Alkermes (NASDAQ:ALKS).  I've been following the company for a few years now, but I'm confident this is the right time to start building a position.  I'm a huge fan of brevity, so here are my reasons:

1. Strong, steady sales: ALKS had $178.3 million in revenue for FY2010 and estimates its FY2011 revenue should be in the $170-195 million range.  Notedly, ALKS reported record manufacturing and royalty revenues from RISPERDAL CONSTA in FY 2010 with global sales by Janssen of $1.5 billion in FY2010, an 11.5 percent increase over FY2009.

2. Low debt at $51 million and sitting on $350 million in cash.

3. Several near term catalysts with a strong likelihood of approval: BYDUREON has a PDUFA date of October 22, 2010 (Along with ELY and AMLN, submitted a response to a CRL addressing a REMS, finalization of product labeling, and clarification of existing manufacturing processes) and Vivitrol has a PDUFA of October 12, 2010 for opioid dependence (Data from the intent-to-treat analysis showed that patients treated once-monthly demonstrated statistically significant higher rates of opioid-free urine screens, compared to patients treated with placebo, p<0.0002). There's also a pending MAA for Bydureon, although we wouldn't expect any regulatory decision until 2011.

4. No near-term potentially negative milestones/events.

5. Promising pipeline with several catalysts expected the latter part of 2010 and into 2011 (see AndrewNava.com for details).

6. Trading at a nice discount ($11.45 as of May 28) to its 90-day and 52-week high of $14.19.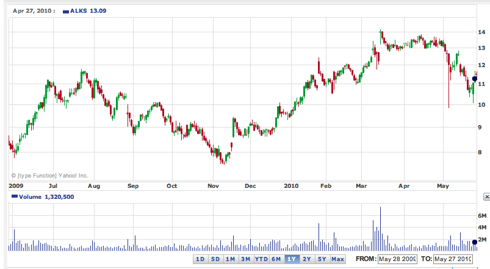 As a final note, ALKS is one of a few biotech/pharma positions held by hedge fund Third Point (VVUS, ACL and OSIP are the others).

For more information on the latest developments at ALKS, check out the company's recent earnings release right here.

Andrew Nava LLC provides institutional and retail healthcare investors with buy-side equity research tools which focus on value-driven investing, profitable trading ideas and clinical, commercial, and regulatory catalysts. Our research is supported by consulting with KOL's, industry professionals, company management, and our database of clinical trial data and upcoming company milestones.

Disclosure: Building position