Not withstanding any general market collapses/corrections/double-dips, etc., I'm currently watching three stocks in anticipation of the upocoming EULAR conference (Annual European Congress of Rheumatology, June 16-19, Rome, Italy).

Immunomedics (NASDAQ:IMMU)

IMMU is scheduled to present clinical trial results on epratuzumab from its Phase IIb study in patients with lupus.  Data will be presented in four posters sessions and one published abstract.  Titles of the four posters can be found here.

IMMU has been trading at low volume and is currently at a nice discount ($3.12 as of this post) to its YTD high of $4.34.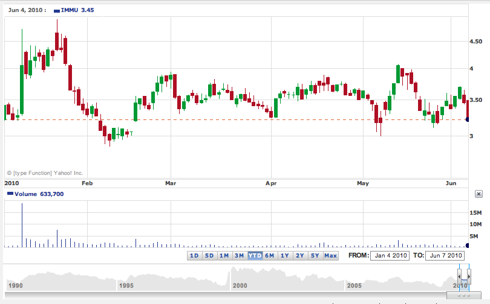 Ardea Biosciences (NASDAQ:RDEA)

RDEA will be presenting additional data from its completed Phase 2a and Phase 2b monotherapy studies of RDEA594, its lead product candidate for the treatment of hyperuricemia and gout.  RDEA will also present additional RDEA594 and allopurinol combination data from its completed Phase 2a study, RDEA594 and febuxostat combination data from its completed Phase 1 study, as well as data on its next-generation URAT1 inhibitor program.

RDEA is down about 5% today due to bearish market conditions, but is trading at a great discount ($20.91) to its YTD high of $26.48.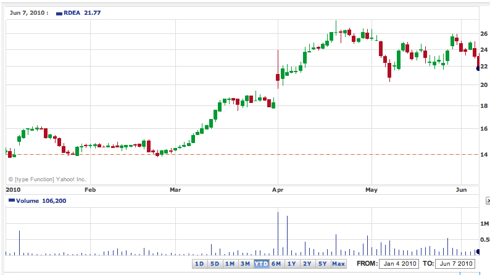 Trubion Pharmaceuticals (TRBN)
In May, TRBN announced the acceptance of
two Phase 1 data presentations
on SBI-087 (PF-05230895). Presentations will include data from a Phase 1 study of SBI-087 for the treatment of rheumatoid arthritis and a Phase 1 study of SBI-087 for the treatment of systemic lupus erythematosus.  The abstracts can be found
here
.
TRBN trades on very little volume, but is also prone to wild inter-day swings.  The stock is down today 2% at $3.41, but also at a nice discount to its YTD high of $4.54.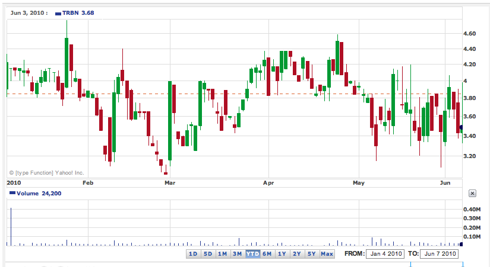 Andrew Nava LLC provides institutional and retail healthcare investors with buy-side equity research tools which focus on value-driven investing, profitable trading ideas and clinical, commercial, and regulatory catalysts. Our research is supported by consulting with KOL's, industry professionals, company management, and our database of clinical trial data and upcoming company milestones.
Our database
is currently tracking clinical trials, product sales, and stock catalysts for over 290 publicly-traded biotechnology and pharmaceutical companies.  Find out more at andrewnava.com
Disclosure:
Long TRBN, IMMU