Recent fluctuations in the market price of gold have brought some attractive value positions to light. The fresh uncertainty and depressed price of gold has brought down many of the mining oriented companies in the sector substantially. Market uncertainty and fear of loss is driving speculators out of the mining industry, which is creating an excellent value opportunity. While the current price of gold, and the cost of production (which we will get into a bit later) are major drivers of the current stock price, the emotional factor of the market is creating deep value.
Good investors are always looking for value relative to the underlying business. One of the most recently intriguing companies to come out of this discrepancy is IAMGOLD Corp. (NYSE:IAG). IAG is trading at a historically low P/B ratio of .45. This means that any company looking to buy out IAG could obtain the entire company for 45 cents on the dollar. (As gold prices recover, this could become a viable possibility, but only if IAG can again produce stable earnings.) Strong, stable earnings come from two things, a) low costs, and b) a stable or growing price of gold. In March, IAG initiated a cost reduction program aimed at cutting costs by $100MM a year in order to build its financial position and strengthen its return on capital. If it is able to maintain this initiative, as gold prices stabilize IAG will emerge as one of the most financially stable miners.
In another industry, the fundamentals of IAG would dictate that the security trade at a price at least double the current price; however, the Gold Mining sector is riddled with excessive uncertainty. IAG is currently trading at a quarter of its 52-week high of $16.88.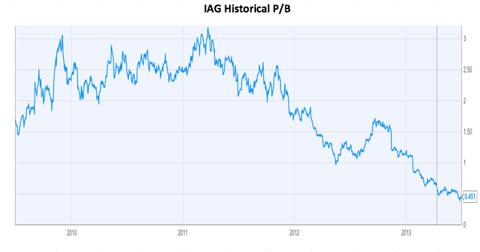 Gold also seems to be nearing a bottom from a fundamental standpoint. The average cost to produce gold is approximately between $1000 and $1200, depending on the size of operations. As gold prices fall through this level, smaller mines will begin to shut down, which will begin to bring down the supply in gold. As supply weakens we should see the beginning of price stabilization for gold. We say beginning, as producers are often slow to react to commodity prices, and markets tend to speculate prices lower than fundamentally supported. Fortunately, there are options to begin to trade this value, even with gold prices uncertain.
IAG historically trades with a strong correlation to gold prices. After a strong drop in this correlation due to a weak earnings report in November, the gold-IAG price correlation seems to have risen again to past levels. This has opened up an interesting opportunity for investors. While fundamentally IAG is trading at a steep discount, gold prices are still cause for uncertainty. At a high correlation, we are able to go long IAG while shorting gold via ETFs such as (NYSEARCA:DZZ), (NYSEARCA:DGZ) and (NYSEARCA:GLL). By hedging some of the risk associated with a dive in gold prices, we are able to profit from the fundamental strength of IAG. As gold stabilizes, the earning potential of IAG will become clearer and the stock price will again reflect the excellent strength of the balance sheet and in earnings potential. Until this time, the gold shorts will allow us to bring in some profit to offset turbulence created by holding a gold miner in this uncertain market.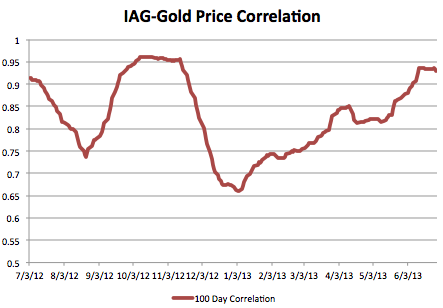 Disclosure: I am long IAG, DZZ. I wrote this article myself, and it expresses my own opinions. I am not receiving compensation for it. I have no business relationship with any company whose stock is mentioned in this article.