Today gold prices fell slightly as stronger than expected jobless data cooled down the demand for safe haven. But looking at the big picture, the fundamentals of the yellow metal appeal are still intact with the fear of the economic recovery.
Similar to the Euro crisis in July, until we see some positive economic data or even verbal soothing from officials, investors stay extra cautious, bullish for gold, and try to avoid investing in stock market.
Short term forecast of gold price is also bullish as gold is above the 50 day moving average and trending higher toward the main physiological resistance level of $1,260, June high. A close above this level creates a strong support for further upward trend. A pull back in gold prices aims at the support level of $1,210.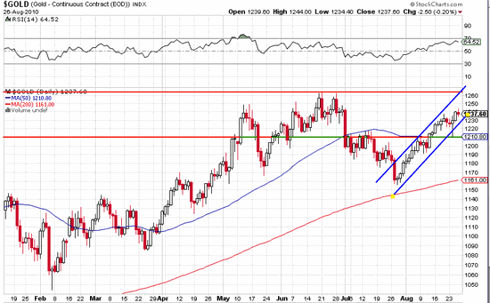 Chart courtesy of stockcharts.com
At Comex today, gold for December delivery fell $3.60, or 0.3% and settled at $1,237.70 an ounce. It traded from $1,235.10 to $1,246.