Yesterday we saw the markets continue to slide as the opening bell rang as concerns about Greece's debt problems and the job market worsen. Then at 10:30 we received a report that retail sales came in better than expected and the market did a hundred-eighty degree turn and from a down morning of -53 points we came back to end up 29 points up on the day.
Now lets take a look at one of our plays we called out yesterday.
We saw that the divergences were setting up on a daily chart (on the right pane below) We took the enter just under the prior days close.  After being filled we looked to the five min chart and notice the rise in the MACD as the price went sideways... so we placed our trailing stop just above the five min consolidation area and got out with a quick $110 profit in about 60min.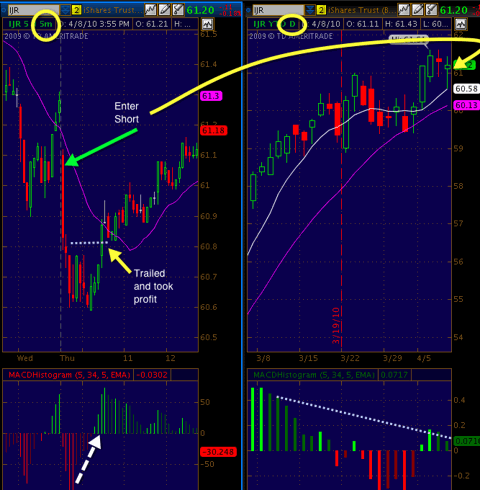 Today we finally broke out winning 100% Win/Loss Ratio. We took a couple of small losses but overall had a great trading day ... See the matrix below for today's trading results that were called out to our Gold Subscribers. 
LGF as shown above is bouncing off its 20ema Take this on the breakout as it breaks above the consolidation area.... See our Trade ideas web page for further details and more trade ideas.

On our web site you will find our results from our calls from our traders.
We had four wins, one loss and one losing position that is still open but with a tight stop, we were able to cut or losses quickly on USB and turned out a nice $668 profit for the day.

Disclosure:
BGC