Thursday night when Trading High Probability Inc sent out its newsletter we addressed that we were sooooo close to the 61.8% Fibonacci Retracement level and that our thinking was that we could be nearing the top of this bull run in a bear market (as we see it). 
All we need is some news that will give the market a reason to sell off and Kick off into gear and head the other direction....Hmmmmm, what could cause this to reverse direction ? Could it be that Friday:
    GE 1Q earnings fall 32 percent as revenue slips ?
    SEC accused Goldman Sachs of civil fraud ?
    Bank of America had 1Q Profit since 2009 but fee income plunged 20%?
    GOOG disappointed Wall Street on its expectations ?
    Greece in need to raise more funds for a bailout from EU-IMF ?
    Or a combination of all the above ?


What ever the reason we at Trading High Probability, Inc look to the technicals for our forecasts.  Above you will find a snapshot of the "SPY" for the last fourteen trading days.  Notice the purple bar from Friday. This is the Kicker. This bar doesn't happen often but when it does, it turns out to be a trend changer 96% of the time. What happens is that the market was riding high and everyone is feeling very bullish and laxadasical when all of a sudden an overnight or premarket occurrence or news event occurs and causes the stock to gap down to yesterdays opening price, leaving a full days gap in the rear window.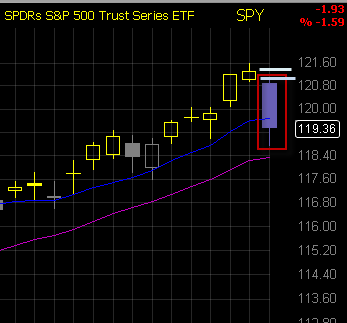 If history repeats itself, this could setup similar to the one from when the Nasdaq (QQQQ )on 11/01/2007 produced this signal to say we are ready to change direction as shown below (yet everyone said at this time its just a correction).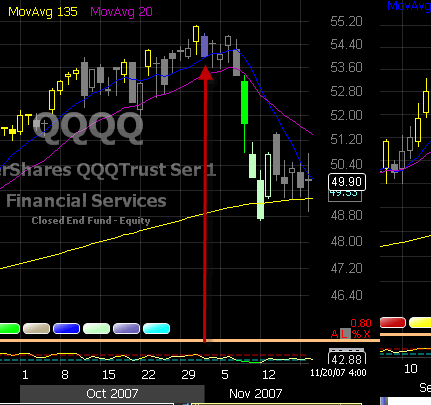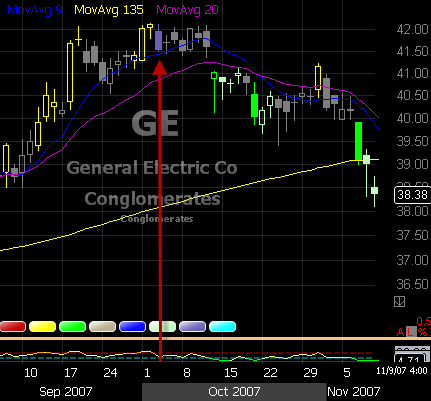 So why is it called the Kicker ?  It kicks the _____ out of the Bulls if it happens at the top or the Bears if it happens at the bottom.  It demonstrates a dramatic change in the investor sentiment.  This kicks off a new direction and will persist with strength for a while.  This move reveals clear and dramatic evidence that the investing mood is nowhere near the same as the day before. If a day or two produces a consolidation after Friday's signal,  the probabilities remain high that the force that caused the reversal will still be exhibited in the price move. If more selling becomes apparent of the next day or two this will be a good opportunity to add to the position. Aggressive traders will have placed short positions toward the end of Friday, while conservative traders will place short positions under Friday's Low.
There is one caveat to this technical signal from Friday. If Monday the price gaps back up, then we will close out our short position that was placed Friday afternoon as this price action will negate the move, 
This afternoon we issued a Trade Idea Alert that if your in any long positions, take the profit and exit or follow with a VERY close stop. Don't be greedy.  Cliff wrote in last week and said that he liked how we take our profits in our trade alerts and wanted to know if we watched MAD Money, we told him "No we dont" but he wanted to let us know that he use to watch Jim Cramer  and the one thing he took away from that show was that Jim always said Pigs get slaughtered and you cant lose taking a profit (early).
Trade Ideas:
Go to our site at our Trade Ideas tab and you will find several trade ideas including the SPY to short.



Yesterdays ( April 16, 2010 ) Model Portfolio Results:
Note: Yellow highlighted area are open positions


To see all our daily and monthly model portfolio performance, go to the
performance
 web page
Disclosure:
SPY