Background:
Qualcomm is a pure play bet on the smartphone revolution. Largely being led by growth in the emerging markets, Wireless Intelligence projects that smartphone sales are projected to have a 24% CAGR from 2011-2016. Qualcomm's extensive chipset portfolio allows their chips to be included in smartphones across all price points. Meanwhile, Qualcomm's licensing business reaches essentially 100% of the global market. Qualcomm's integrated LTE products, along with the recently announced Snapdragon 600/800, will allow them to continue to dominate the high-end of the market. With 28 nanometer chipset supply issues behind them, Qualcomm is the company best positioned to take advantage of the smartphone revolution.
Catalyst: China Mobile
China- China is the largest market for smartphones in the world. However, according to Digitimes research, only 24% of China's population owns a smartphone. As a comparison, over 50% of the United States' population has a smartphone. According to Gartner, while China's smartphone sales now account for 26.5% of the world total, they will account for 72% of global smartphone sales by 2016. This makes China a top priority for both manufacturer and semiconductor companies.
TD-SCDMA & TD-LTE
Three carriers largely cover China: China Unicom, China Telecom, and China Mobile. Each has more subscribers than any US carrier, and China Mobile is the largest carrier in the world with over 670 million subscribers. China Mobile runs on its homegrown TD-SCDMA (3G) network. TD-SCDMA is an unconventional network, and China Mobile is the only carrier in the world to use it. Moreover, only small Chinese semiconductor companies have previously been able to offer modems with the ability to connect to it. However, their modems lack the size and strength of US modems, so they are not offered in powerful smartphones. Hence, only 12% of China Mobile's 670 million subscribers purchased 3G data plans. To complement their 3G networks, China Mobile now plans to cover 35% of their subscribers with their new TD-LTE network by the end of 2013.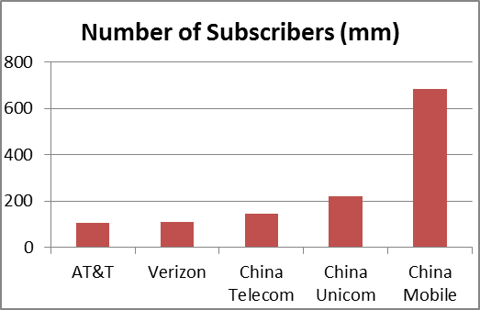 China Mobile Unleashed
During 2012 Qualcomm finally came up with a solution to reach TD-SCDMA, and TD-LTE networks in their integrated products. This marks the first time a US-based company has been able to incorporate TD-SCDMA or TD-LTE into their baseband solution. Even more important, TD-SCDMA is now available in Qualcomm's integrated products. This will allow US based companies to be able to offer their superior smartphones on China Mobile's networks.
Qualcomm Wins 40% of Tenders
On December 17th 2012, China Mobile offered a tender to put 30 new smartphones onto their networks. Of the 30 phones selected, Qualcomm's chips were in 12 of them. This blew away the competition. The next highest semiconductor company had four wins and everyone else had either one or two. I believe this will be a huge catalyst for Qualcomm in 2013.
Disclosure: I am long QCOM.