Ticker: CAT
Here is the SA Market Current: https://seekingalpha.com/currents/post/554011
"We've seen a slowing in economic growth more than we expected," Caterpillar CEO Doug Oberhelman told analysts and reporters in Las Vegas. "We expect fairly anemic and modest growth through 2015."
Oberhelman reduced the earnings forecast for 2015 to $12 to $18 per share, from $15 to $20 per share previously.
~*~*~*~*~*
For a conservative long-term investor, assuming EPS of $9.59/share for FY12 (assumes $0.01 reduction from current Q3 and Q4 EPS) and a EPS of $12/share for FY15, a PEG of 1.0 results in $93/share.
If you have CAT in a DRiP account or are adding to your position in CAT on a regular basis, only add to position below $93/share (buying for dividend). This should help ensure you maintain your capital.
If a price appreciation is needed, say 8% CAGR minimum, and $93/share is reached by the end of FY14 (reflecting FY15 EPS). Add to your position under $79.75/share, which is very close to the recent lows (green line in the chart).
$79.75 would have a yield of 2.60%.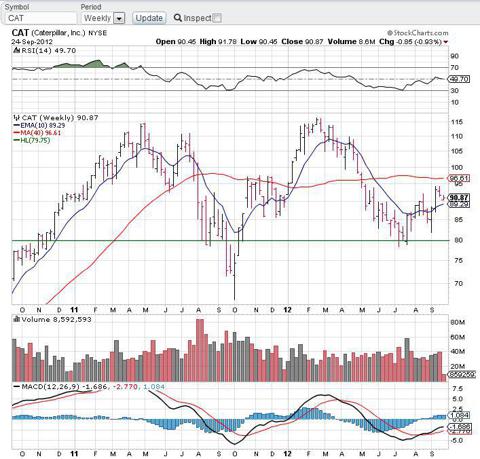 11-Oct-2012: RBC downgrades CAT and sets price target to $95/share, which is inline with my estimates, meaning, being conservative and having a price target of $93/share by FY14 still seems about right. Remember to buy when everyone else is selling. I will add to my position under $80/share.
Disclosure: I am long CAT.