I'm a little late in publishing the Q3 results, so I am going to include them in my blog here on Seeking Alpha.
---
This year I decided to participate in a contest among bloggers with financial-focused websites. The rules are simple:
Four stocks picked at the beginning of the year
No trading allowed (buy and hold)
Canadian or USA stocks
Dividends count in end-of-year yield calculation
Since I do not promote individual stocks on my blog, I chose a diversified ETF portfolio instead. My choices were
For a benchmark, I am using Vanguard's S&P 500 ETF (NYSEARCA:VOO).
My logic for this selection of ETFs can be found here.
First-quarter results can be found here.
Second-quarter results can be found here.
Here is a summary of the 2012 Q3 (ending Sept. 28, 2012) and YTD results. All results include reinvested dividends but exclude trading costs and taxes.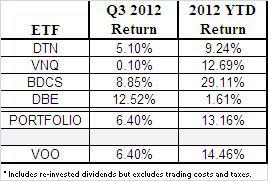 Good news: My portfolio performed as well as the S&P 500 during the third quarter, mostly because of DBE, which was at its yearly low right at the end of Q2. DBE is just barely positive for the year.
Also, my portfolio is outperforming 8 of 10 contestants so far (Q3 results found here).
Year to date, the inflation component of my portfolio is the weakest component, so let's see how other inflation hedges would have performed. My inflation hedge is a very narrow aspect of inflation. For energy prices to increase, either geopolitical tensions need to increase or a robust economy needs to drive demand. Neither has happened so far.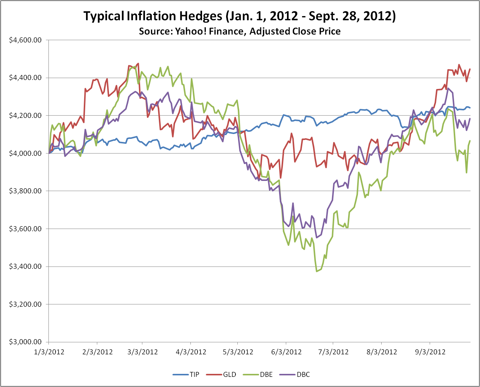 Gold (NYSEARCA:GLD) has been a roller coaster this year. GLD pays no dividend. The Federal Reserve continues with its money printing; therefore, the price of gold should have some solid support. I am nervous that gold prices are more of a trading vehicle now with the inventions of ETFs and, therefore, will not act as it has in the past.
A broad, generic inflation hedge such the as U.S. Treasury Inflation Protected Securities (NYSEARCA:TIP) would have been a safer bet for this type of portfolio. If I had used TIP as opposed to DBE, TIP would have been up 6.06% as opposed to 1.61% for DBE. TIP would have brought my entire portfolio to a gain of 14.23%, almost on par with the S&P 500.
Monday, December 31, 2012, marks the last day of trading, so it will be only a matter of time till we can see what this portfolio returns for the year.