I am finally publishing (yikes!) the results of Q2-2013 for my portfolio of ETFs. Because of vacations, business trips, and a summer-long house project, my time has been limited, so I am publishing the results here in my Instrablog. Will try to catch up and publish Q3 shortly.
Here are the results of Q1-2013: [link]
The second quarter was less than great for the portfolio. The high-dividend holdings (REIT, BDCS) took a hit. Downward pressure on emerging markets continued full strength. May 2013 marked the turning point for bond yields. [Bloomberg article: Bernanke's Tapering Talk Backfires Amid Bond Yield Surge by Craig Torres, dated 13-June-2013]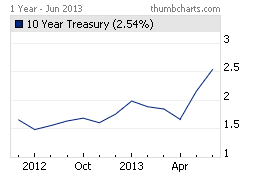 Courtesy of thumbcharts.com
Let's see if quarterly rebalancing will help us at all. For rebalancing to work, out-of-favor holdings have to turn the corner and become in-favor. I do not think this will happen in the short term for bond funds. REITs, BDCS, and emerging markets all have potential.
For Q2-2013, the portfolio was down -2.25%, while the S&P 500 was up 2.89%. YTD is not much better. The portfolio is up 1.31% while the S&P 500 is up 11.41%. If the portfolio were rebalanced, it would be down -2.41% for Q2-2013 and up only 1.15% for YTD.
Q2-2013 Sector Performance: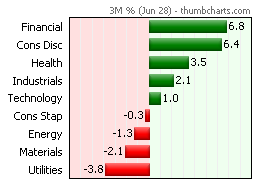 2013 YTD Sector Performance: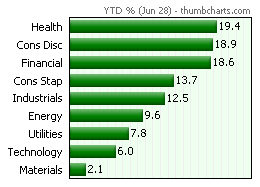 ETF Portfolio Performance for Q2 (without rebalancing):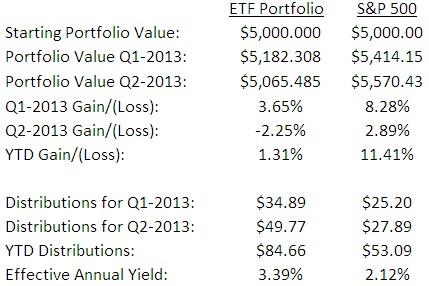 ETF Portfolio Performance for Q2-2013 (with Rebalancing):