Here is a "better late than never" update of my diversified ETF portfolio for Q3-2013. As a reminder, here is the past performance of this portfolio, with and without quarterly rebalancing.
Q1 Performance: (link)
Q2 Performance: (link)
Overall, this portfolio still underperformed the S&P 500 (as measured by Vanguard's S&P 500 Index Fund ETF, VOO). The S&P 500 was up 5.52% for the quarter (including dividend reinvestment). All holdings except the Equal Weight S&P 500 ETF (NYSEARCA:RSP) underperformed the index.

The portfolio as a whole gained only 2.68% as compared to the 5.52% of the S&P 500. The income-producing REIT Index (NYSEARCA:VNQ) underperformed as investors continued to shift allocation away from income-producing equities. The yield on the 10-year treasury continued to rise as "taper talk" became louder. Pundits even talked themselves into thinking the Federal Reserve was going to start the taper in September 2013 (which it did not).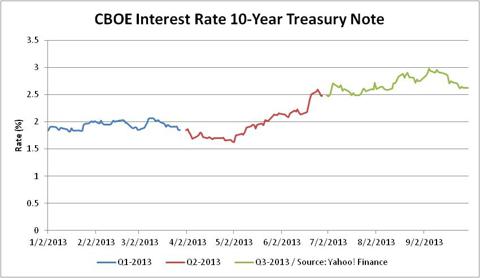 Even though being weighted toward yield-producing ETFs (an interest rate-sensitive market such as Emerging Markets [VWO] ) has hurt overall capital appreciation, the effective annual yield of our portfolio continues to be greater than that of the S&P 500: 3.54% as compared to 2.21% for the S&P 500 Index fund.
So far, rebalancing quarterly has not helped a whole lot. As I've sold the Equal Weight S&P 500 ETF, which has been performing better than the S&P 500 index, the overall portfolio performance has lagged in the near term. The performance of Emerging Markets this quarter does show the power of rebalancing, however. In the regular portfolio, Emerging Markets was up a respectable 4.33%. In the rebalanced portfolio, it was up 10.58%.

Overall, the rebalanced portfolio was up 1.55% as compared to 2.68% for the traditional portfolio and 5.52% for the S&P 500 ETF for the quarter.
For rebalancing, this quarter I sold Business Development Companies (NYSEARCA:BDCS) and Emerging Markets (NYSEARCA:VWO) and bought Equal Weight S&P 500 (RSP), REIT (VNQ), and Bonds (NYSEARCA:BOND).
Year to date, the S&P 500 is up a very impressive 17.56%, the traditional portfolio is up 4.03%, and the rebalanced portfolio is up 2.24%.
Summary of the non-rebalancing portfolio:
Summary of the rebalanced portfolio: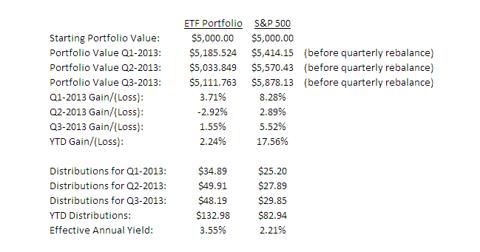 The end of the year is quickly approaching. I will provide an end-of-the-year summary in a more timely manner. Happy New Year to everyone.