(1) Historical 10-Year bond yields:
Source Link: https://fred.stlouisfed.org/graph/fredgraph.png?g=nkOH

(2) Nice summary of U.S. Stock Market Corrections. Uses Dow Jones Industrial Average for a proxy for the stock market.
Source Link:  https://virtueofselfishinvesting.s3.amazonaws.com/uploads/reports/2017/4675/history_of_market_corrections2-hires.png?link=mktw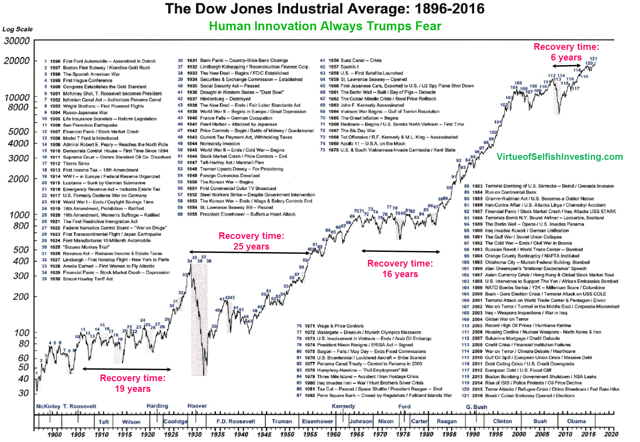 (3) Annual performance of Vanguard's Wellington Mutual Fund (Investor Shares). Ticker: VWELX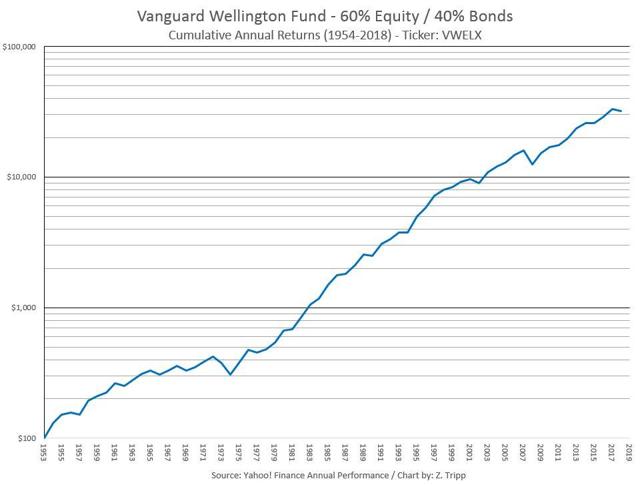 VWELX Investment strategy
Founded in 1929, Wellington™ Fund is Vanguard's oldest mutual fund and the nation's oldest balanced fund. It offers exposure to stocks (about two-thirds of the portfolio) and bonds (one-third of the portfolio). Another key attribute is broad diversification—the fund invests in stocks and bonds across all economic sectors. This is important because one or two holdings should not have a sizeable impact on the fund. Investors with a long-term time horizon who want growth and are willing to accept stock market volatility may wish to consider this as a core holding in their portfolio.
The fund invests 60% to 70% of its assets in dividend-paying, and, to a lesser extent, non-dividend-paying common stocks of established medium-size and large companies. In choosing these companies, the advisor seeks those that appear to be undervalued but to have prospects for improvement. These stocks are commonly referred to as value stocks. The remaining 30% to 40% of fund assets are invested mainly in investment-grade corporate bonds, with some exposure to U.S. Treasury and government agency bonds, as well as mortgage-backed securities.
Asset class

Balanced

Category

Moderate Allocation

Expense ratioas of 03/28/2019

0.25%

Save even more by investing in lower cost Admiral Shares.

Minimum investment

Fund number

0021

CUSIP

921935102

Fund advisor

Wellington Management Company LLP
Disclosure: I/we have no positions in any stocks mentioned, and no plans to initiate any positions within the next 72 hours.
Additional disclosure: I do not own VWELX at this time, I have in the past though. I do own Vanguard Wellesley Income Fund Investor Shares (VWINX) currently.