From time to time, we'd like to share recent copies of investing advisory newsletters or morning reports we believe of are quality and helpful to your investing and trading.  There is so much information about the markets online it is hard to sift through everything and still trade and manage your accounts effectively.  Today we'd like you to take a look at this copy of MarketGauge's "Market Outlook" free newsletter from 2/6/11, written by MarketGauge co-founder, former floor trader, and current fund manager Keith Schneider.

Market Outlook 2/6/11 from MarketGauge: In De Nile
by Keith Schneider
As the world focuses on the situation in Egypt and the Mideast, the US equity markets put in new highs since the financial meltdown in 2008. This just demonstrates how in bull markets bad news is discounted. Maybe we are seeing some world class market manipulation as well. Is some of that liquidity the Fed is supplying finding its home in stock index futures? 
 
I find it interesting that the potential shift in the political climate in the Mid-East has not unnerved the market and caused a sell-off. So I would like to briefly review the history and why the market's current reaction seems out of touch with the potential risks.

Anwar Sadat was assassinated in 1981 by a group of Islamic radicals for signing a peace treaty with Israel, for which Sadat shared the Nobel peace prize. That group of radicals included Ayman Muhammad Rabaie al-Zawahiri, a prominent leader of al-Qaeda and the last "emir" of the Egyptian Islamic Jihad.

Hosni Mubarak (then Vice President) succeeded Sadat, declared martial law - which has never been repealed - and outlawed almost all political opposition, including radical Islamists. Mubarak also has maintained the peace treaty with Israel and sealed the border with Palestine and Egypt, preventing the flow of weapons and reducing missile attacks.

A democratic government in Egypt will likely include the Muslim Brotherhood, whose mandate is to repeal or "review" the treaty with Israel. Any repeal of the peace treaty with Israel will lead to instability and higher oil prices. This pattern occurred before, as OPEC has used the US support of Israel as a reason to raise oil prices. Oil at $300 or more will not be good for the global economic recovery. Yet the market is acting as if there is no risk.

No matter how much we as a people cherish our democracy, a democracy in Egypt most likely will not have a positive economic outcome for the west. This is Obama's moment to seize the day, support the democracy in Egypt, but also take immediate action as a matter of national security to put in place an energy policy that does not depend on external sources. Without this national energy policy in place, we are surely looking at things with rose colored glasses. Now on to the details...
SPY (S&P 500), DIA (Dow Jones), IWM (Russell 2000) and QQQQ (NASDQ 100) Indexes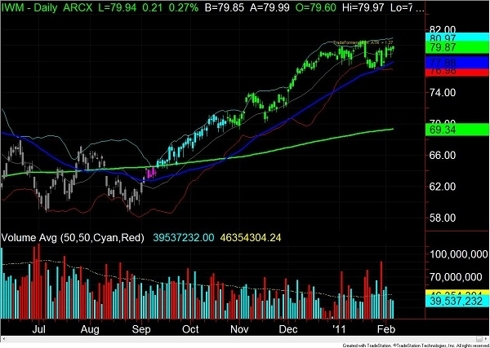 After last Friday's sell-off, the key market indexes have recovered their footing and (with the exception of the IWM) made new highs, even putting in some accumulation days. So the market phase remains bullish and intact across the board while the market internals have improved considerably. The laggard is IWM. We have a short position in this weakest index as a hedge against our longs in this uncertain geo-political situation.


Market Internals 
VIX (sentiment): With the price action shrugging off news out of the Middle East, along with a tepid jobs report, Sentiment numbers have eased back down, with the sell signal generated two weeks ago negated. This indicator is back in the middle of its trading bands, and back to bullish mode.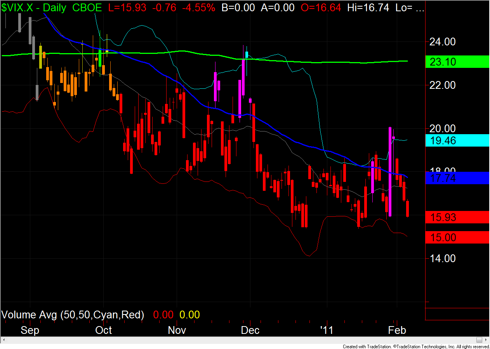 Accumulation/Distribution Volume: This indicator has moved back to neutral from the sell signal that was generated several weeks ago. The high of the day that created the dramatic sell off two Fridays ago on massive volume has been breached, reversing the signal, although the Russell 2000 is lagging and yet to clear its recent highs. 
Sectors 
Gold (NYSEARCA:GLD) and Silver (NYSEARCA:SLV): Gold and Silver finally staged a decent rally. It seems more technical in nature, rather than a response to the geo-political situation. Silver is the much stronger of the two, as it has now changed phase and is back to bullish from warning. Meanwhile, Gold is still in a warning phase and much weaker, technically-speaking. Important cyclical highs are due in mid-February for precious metals. 
Interest Rates: Interest rates jumped significantly on Friday and cleared important resistance levels that have been keeping this market in a holding pattern. This inverse ETF could move another 10% fairly quickly.
Opening Range Strategies and Hotscans
CMG (Quick AM Trade)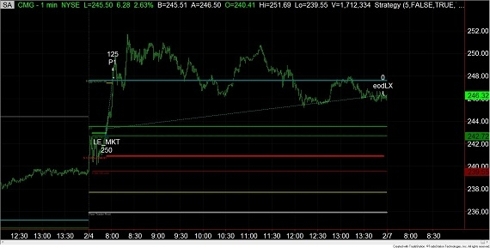 On Friday, we traded CMG (Chipotle Mexican Grill) as one of our quick AM bullish trade setups. There was not a moment of pain, and we took out over $4 in less than 15 minutes. This trade was a classic, taking out key reference points and breaking out over the Opening Range. Looking forward to early next week, the OR reversal trade is going to be a focus, as overall the market has been choppy and reversal patterns work best in that scenario. 
Hope you're having a great weekend!