by Ben C.
Review
I have been a user and customer of tradeMONSTER for more than a year.  Over the past year tradeMONSTER has really evolved into the leading trading platform in the business.  I can't see how tradeMONSTER cannot be part of your core trading tools, especially for options.  (See our full product description of tradeMONSTER's Online Broker & Platform.)
tradeMONSTER is browser based, therefore, you can trade from virtually anywhere you have an internet connection.  The site is quick to load and easy to use.  Options have always been thought of as difficult instruments to trade, but in reality with an easy to use system that helps you every step along the way it's really quite easy.  Just a few of my favorite features are as follows:
Top of my list is the way you can make a quick trade.  All you have to do is enter in the stock symbol and click on the options tab and it pulls up the strike prices and how far out of a trade you want to place.  With one click you can analyze your trade, create a spread or simply buy or sell.  It's really that easy!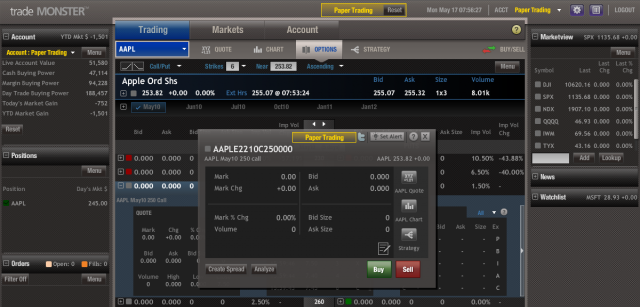 When you're looking at an options trade what are the Risk Metrics you consider?  If you're using tradeMONSTER, you can get them in traditional Greek (Delta, Gamma, Theta, Vega, Rho) or in English (Price Sensitivity, Sensitivity Changes, Time Decay, Volatility Sensitivity, and Interest Sensitivity).  If you're a new trader or an experienced trader this comes in handy.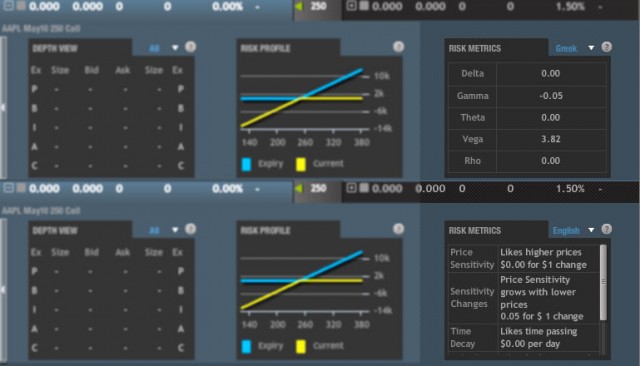 Implied Volatility (IV) is key in options trading.  tradeMONSTER plots on a graph 6 months of both Current IV and 30 Day Average IV.  This is critical when you're looking at doing calendar spreads or deciding whether you want to make your trade a spread or not.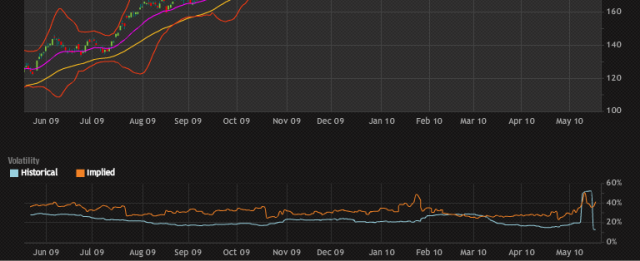 These are just a few of the many features that make tradeMONSTER a great platform.  Look for our in-depth review of the all the unique features as shown on the tradeMONSTER product listing.
Ratings Review
Recommended Skill Rating: All
Quality: 4
The layout of the site is simple, light, and easy to use.  The data provided is reliable, quick, and includes after hours trading.  I find it to be easier to use than other systems due to the simplicity of the features included.
Credibility: 5
tradeMONSTER was designed and built by Jon Najarian aka DRJ, Pete Najarian, and Dirk Mueller who all have a tremendous amount of trading experience.  You may recognize DRJ and Pete from CNBC's Fast Money show.  These are two of the most credible individuals in the options world.
Usability: 5
The website is easy to navigate and trades are executed quickly.  There are plenty of question marks to help guide you through most areas of the site if you get stuck.
Accessibility: 4
tradeMONSTER is only available via the website through your browser.  The biggest complaint I hear from people is that they would like a native program on the computer.  I don't see this as an issue personally, but I can see how some people would.
Features: 5
This website is truly feature rich.  They are a lot of features and I suggest you take the time to get to know them.  They are tutorial videos in the help section that walks you through most of how to use the features.
Reliability: 4
The website is very reliable and loads quickly.  In it's earlier days I did have a couple times where the website was down, but I was able to call in and get my trades completed and trades I had pending were executed without failure.
Compatibility: 4
This site is very compatible with all browsers that I have tried including Firefox, IE7.0, Google Chrome and Safari.
Support: 4
Your questions or concerns are almost always answered on the first call and if they can't be answered on the first call you will most definitely get a call back or an email same day.  Your call is typically answered within the first 30 seconds of calling.
Value: 4
The pricing is excellent at $0.50 per contract (please see their price list for more detailed info).  They don't charge any other hidden or misc fees.

Goodwill: 4
As long as they keep progressing it won't be long before some of the bigger names in the industry look to buy tradeMONSTER – if not just out of pure jealousy.
Overall Score: 4.5
This is a great resource for anyone who trades options or stocks.  They provide very valuable content for free and their commission and fees are quite reasonable.   They have an excellent paper trading component to the system that allows you to try strategies without risking capital.