by Michele Schneider
While the market figures out its next direction, a great strategy is to trade a multiple of technical signals because, in the scheme of things, you just never know which trade will be the winner. However, that does not mean one should randomly buy or sell.
Having a system with good risk/reward and applying it consistently and not second guessing yourself is one of the key components to successful trading. The law of large numbers ends up working for you-meaning- if you apply a consistent methodology with good risk/reward you will make money over time.
"The Law of Large numbers (LLN) is a theorem that describes the result of performing the same experiment a large number of times. According to the law, the average of the results obtained from a large number of trials should be close to the expected value, and will tend to become closer as more trials are performed. The LLN is important because it "guarantees" stable long-term results for random events." Wikipedia
Now, let's apply that to trading. Last Friday, after a huge run up the prior day, there were several instruments that made it to my list. Some were near yearly highs; others had tanked, yet held key support areas. All had good risk/reward for the entries. The results were surprising and overall, profitable. Your browser may not support display of this image.
Buying Weakness : We entered a long position in CEPH as it had held the lows for 3 days in a row and had 2 inside days to the range established on Tuesday, June 8th. Our price was 56.87. Our risk was clear-under the low of the week plus a bit of slippage-or at S1 56.43. Since the range of CEPH is 1.58, this was less than a third of an ATR-a great risk/reward with flexibility of our deciding to do it as a daytrade/miniswing trade or as both taking some profit and leaving the balance on (depending on the overall market action). At time of writing, we were still slightly profitable, having taken a daytrade profit at 57.18 (R1) on some and holding the balance with the stop in place.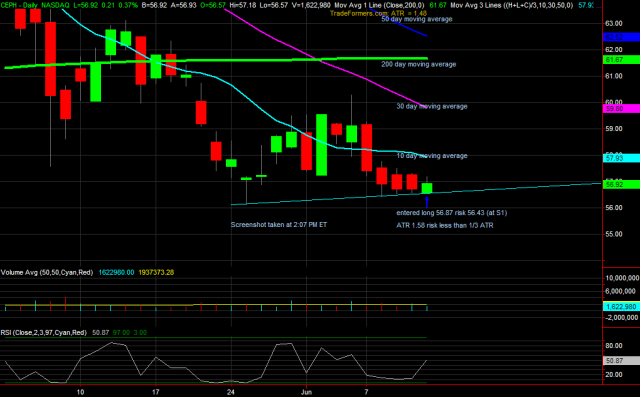 Buying Strength: NTAP has a completely different chart in that it's trading on yearly highs, having held up incredibly well after a gap higher on 5/27. We bought it Friday at 38.90 with a risk under the lows of the day. We could have used a similar risk to CEPH by placing our stop under the previous day high (38.73) but decide to risk to under the low of the day-a bit more than CEPH because of the overall chart pattern. Like CEPH, we sold some at a profit on a daytrade at 39.55, but held the balance for a miniswing position.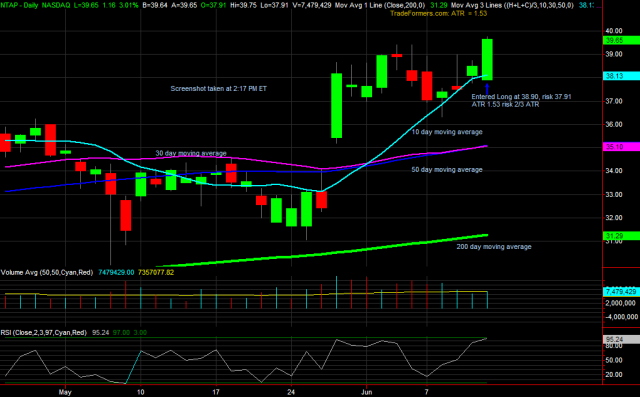 Therefore, we used the same exact parameters (clear risk/reward) for 2 different stocks with 2 completely different patterns (one weak, one strong). And, with taking some profits on a daytrade, guaranteed we would not lose money if the market tanked using our stop losses, yet left ourselves comfortably long in case the market continued to rally. We diversified using the Law of Large Numbers (I have featured a small selection only)-this can be applied (and we do apply it) to many trades provided you use the same trading parameters).