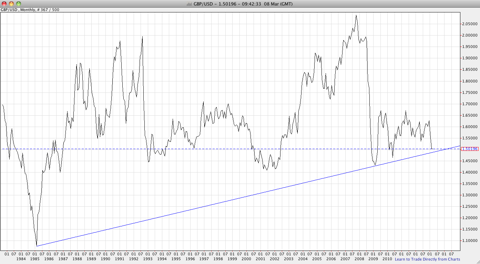 There is no shortage of hype about sterling's collapse. The consensus view is that the pound is on an unstoppable train to oblivion.
Over the last 25 years, sterling has developed the knack of deeply disappointing buyers on any approach to 2.0000. While attacks on 1.4000 have bruised many sellers. I am not the world's greatest sterling fan.
However, I am a big believer in the long-term trend and until it is broken my view is that sterling can build a base between 1.4900 and 1.5000.
A weekly close beneath 1.4865 would be a very bearish development.
Have a great weekend!
Brain kiely
Forex For Anyone.me