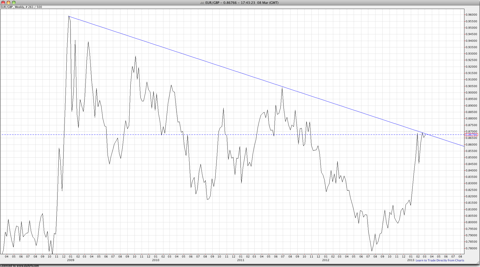 For six weeks traders have been thrashing Sterling against Euro. The down trend in the euro since 2009 has come under huge pressure as sellers have sought to demolish the value of the pound.
But the trend still holds. The euro is hugely overshadowed by its poor performance over past four years.
This is despite the strength of the dollar against sterling after today's NFP, which pushed cable beneath 1.5000, once more. However, a 25 year positive sterling trend at 1.4865 remains in place.
Sterling is not dead yet. Euro-Dollar and Euro-Sterling are both extremely expensive and after today's data the world's love affair with the dollar looks set to go from strength to strength.
The global nature of the Dollar's appeal is reinforced by the movement in Dollar-Yen this week; its at the highest level posted since 2009.
Brian Kiely
Forex For Anyone.me