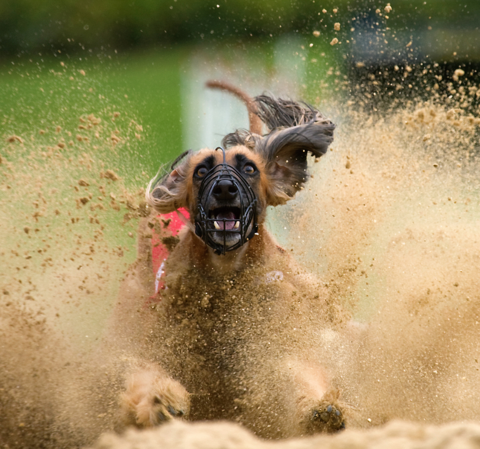 A few years back I was on a long train journey. I was sitting at a table surrounded by four seats. Two of which were empty. A man sat opposite me in the window seat.
I didn't give it a lot of though. But after about 30 minutes this guy got into an animated conversation on his mobile phone.
I am not sure how you feel, but it is very hard for me to switch off from a conversation you are not part of, when you are hearing only one side of the story.
So for an hour, I couldn't distract myself from his chat. He was a young guy, well dressed, but he had a worn, lived in feel in his face, that was not helped by three days of stubble.
He shouted into the phone about a greyhound race he had been at in a small seaside town the night before.
He said 'I started small, laying a grand on Red Donkey in the first'. 'He finished last'. He then went on, that, he was glad he started that way, because he got his bad luck out of his system in the first.
He then proceeded to lay three grand on 'First Flyer' in the second. He came in fourth. Not a good result but at least he was getting a little higher up the field.
In the third, he said, 'well at least I was betting'. He exclaimed 'I HAVE TO BE IN IT TO WIN IT!'. He lost three grand in that race.
I have made up of the names of the two previous greyhounds he backed because I didn't remember, so I won't insult you intelligence by making up another name for the dog in the third race.
He skipped the fourth and fifth race and placed five grand on FX Yarn in the last. It fell on the first bend and never recovered to eventually finish well behind the field.
He was now on his was to a race course where he felt HIS LUCK was about to change after the previous evening's nightmare at the dogs.
The ability to take risk, the availability of risk and the prospect of successfully taking risk are different concepts. To make money you have to take prudent risk at time of great opportunity. Not huge risk at any opportunity.
Buying every scratch card you can afford will not make you a millionaire, regardless of how big the jackpot.
Brian Kiely
WWW.FOREX FOR ANYONE.ME