Previously in our series, Weed Stock Spotlight, we covered media darling Medbox, Inc. (MDBX.PK) and AVTC, Inc. (AVTC.OB); both of which many experts believe to be in good position to thrive with their innovative products as the legalization of use of medical/recreational marijuana spreads throughout the United States. So today, we'd like to switch gears a bit and talk about a smaller company, MediSwipe, Inc. (MWIP.OB), which isn't quite at the same stage of maturity in terms of market capitalization or media notoriety but nevertheless has huge potential in the coming months. To give you a snapshot, MediSwipe, Inc. stock price has surged recently as seen below, posting +650% gain in 3 months, +275% gain in 1 month, and ~44% in 5 days: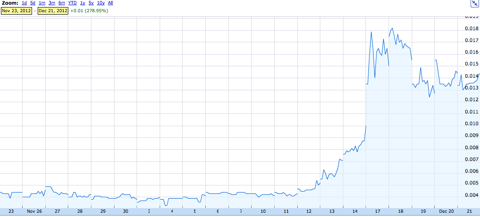 Before we get into the nitty-gritty, let's back up and look at the consumer problem that this company is trying to solve.
The Problem:
Many companies are attempting to provide a remedy after one of the biggest credit card processing companies for the medical marijuana industry announced that they were withdrawing from the industry as of July 1, 2012. (They would be removing Visa and Mastercard as a viable payment option) Their withdrawal further fuels a fire that had already been burning after a American Express payment processor told medical marijuana dispensaries that they are no longer offering payment-processing service in 2011.
Dispensaries and related businesses seemingly had nowhere to else to turn but cash now... However, in this digital age, obviously it's a serious inconvenience for business owners and patients/consumers alike. Business owners take a significant amount of risk when they have thousands of dollars on hand at a business, no matter what industry. It's especially not comforting that one particular insurance company in the medical marijuana industry states the #1 insurance claim in the industry happens to be theft. (Many insurance companies make clients install high-end surveillance systems as a requirement for coverage as a result)
Cash Isn't Necessarily The Undisputed King
Cash is all good and fine when dealing with the black market marijuana industry; but business owners and consumers alike, with medical prescription data and complex inventory management systems, benefit from having a paper trail and flexibility of being able to pay via credit card. Additionally, the progression of payment processing via smart phones is also looming on the horizon potentially pushing cash more and more into the corner and out of use...
The "Green" Opportunity
MediSwipe, Inc. wants to fill the hole that other major credit card processing companies left by offering:
A complete line of merchant services for your medical dispensary business including, Visa, MasterCard & merchant accounts, debit & credit card transaction processing, gift/loyalty card programs and POS terminals. We understand your business, and work with private banking institutions that will streamline the application process and have you accepting credit cards with 5 business days. With MediSwipe, we can tailor a transaction processing solution to meet your needs.
MediSwipe, Inc. isn't the only company out there that is willing to navigate the treacherous terrain of payment processing in the medical marijuana industry; but they are certainly swinging for the fences by being one of the few, if not the only, publicly company with a primary function of payment processing for this industry. Of course, there's some pros and cons to being publicly traded, so let's take a look at some of the data points when considering an investment in MediSwipe, Inc.
The Pro: Identification of Trends
Fundamentally, upon examining their website documentation, we like the fact that MediSwipe has identified two major trends in the industry: loyalty/reward cards, mobile couponing and mobile payment solutions. Being able to handle both of these transactions as the medical marijuana industry matures is a huge upside. Their subsidiary company, 800Commerce, provides these solutions to a variety businesses with white label privileges. They are sticking their necks out for medical marijuana business owners by coming into a scenario that previous credit card processing companies refused to do business and we think these business owners won't forget it.
The Con: Financials
The company still isn't profitable, with a 9-month ending net loss as of September 30, 2012 of ($330,388). However, revenue is up from 2011 to 2012 at $35,222 and $50,239 respectively. The market cap and daily average volume is not attractive to most, as they are considered a nanocap, or penny stock, with an average of about $140,000/10.8mn shares traded daily and market cap is right around $6.4mn at the time of writing.
MediSwipe, Inc. has quite the liquidity problem as it attempts to grow and develop bigger and better technology solutions for businesses and the 10-Q further elaborates on that by stating that they will need to raise money in the future to continue doing business. The CEO has had to loan the company money in the past, as well, which can be viewed as good and bad. On one hand, you have an executive that believes in the business enough to put some "skin in the game" but you also have to wonder why they are having trouble securing more funding elsewhere if this business truly "has legs".
The 10-Q also mentions their accumulated deficit of $4,766,517, which management states is an "ongoing concern about whether or not they can continue operation". Although the numbers do look a little scary at first glance, keep in mind this is a budding technology company that deals with expensive development.
Conclusion:
Much like the other stocks we have covered in the medical marijuana industry, the company is dealing with the same predicament of federal law vs. state law grey area as well as a lack of sound financial numbers. However, also very much like the other companies we have identified, they have huge potential if the company can continue to keep up with the trends associated with payment processing and establish a competitive advantage with their technology.
Additionally, MediSwipe, Inc. is going to have to come up with better ways to receive funding in the future. We definitely understand that you have to do what you have to do, so to speak, to fund a business, but personal loans from the CEO and "the unsecured convertible debentures from unaffiliated investors which may cause dilution to shareholders" are not going to cut it in the long-term if business grows substantially.
It will be interesting to watch in the next few months if any announcements of more businesses using 800Commerce payment solutions will generate some cash from investors and they can start to close their accumulated deficit gap. If this scenario starts to happen, we can definitely see MediSwipe, Inc. getting a lot more (positive) attention from the media and we think it will be added to a lot more watch lists. We look forward to keeping an eye on MediSwipe, Inc. and perhaps consider a potential investment in the next 3-6 months if the financial conditions improve and the company successfully increases revenue in the next couple of quarters.
MediSwipe, Inc's most recent 10Q can be found here for further research
Disclosure: I have no positions in any stocks mentioned, and no plans to initiate any positions within the next 72 hours.