The Vatican's Size
Whomever is chosen by the College of Cardinals next month to succeed Pope Benedict will essentially have control over one of the largest, wealthiest, and most powerful organizations on earth.
Revenue
The Vatican has estimated revenues of $170 billion dollars annually [cite]; over 1 million employees; and billions of dollars in investments and bank accounts.
To put that revenue number in perspective, Apple (AAPL) has yearly revenues of about $165 billion dollars and General Motors (GM) has revenues of about $152 billion dollars.
Assets
What kind of investments and other assets does the Catholic Church have? The Guardian recently detailed the Vatican's commercial property empire, which they say was initially funded with a $50 million dollar gift from Mussolini, in return for the Vatican recognizing his Fascist party prior to World War 2. The Guardian estimated the current worth to be over $570 million dollars. Specifically, they said:
Since then the international value of Mussolini's nest-egg has mounted until it now exceeds £500m. In 2006, at the height of the recent property bubble, the Vatican spent £15m of those funds to buy 30 St James's Square. Other UK properties are at 168 New Bond Street and in the city of Coventry. It also owns blocks of flats in Paris and Switzerland.
Valuing the money in the smaller branches of the Catholic church -- archdioceses -- would also add to the overall wealth of the Vatican. Using information from a bond prospectus a couple of years ago, it's estimated that the Boston archdiocese has a net worth of approximately five hundred million dollars (subtracting liabilities from assets). A back-of-the-envelope estimate for American church funds would take the 32 archdioceses, multiplied by an average value lower than Boston's, because of lower property values across the country. We'll say $250 million to be on the safe side. That amounts to $8 billion dollars. The Roman Catholic Church has over 600 archdiocese around the world. While they likely have less assets than American archdioceses, that can give you an estimate of a large amount of wealth in areas outside the Vatican.
So, in addition to the Vatican commercial real estate worth over $570 million dollars; tens of billions of dollars in Archdiocesan assets in countries around the world; and revenues of over $170 billion per year, the Vatican bank -- the Institute for the Works of Religion -- has over $6 billion euros in deposits according to its director Paolo Cipriani. You are looking at an organization that has tremendous wealth.
Finally, an article in Time magazine from 1965(!) may help put total Vatican wealth into perspective. It stated:
Bankers' best guesses about the Vatican's [total] wealth put it at $10 billion to $15 billion. Of this wealth, Italian stockholdings alone run $1.6 billion.
If you take $12.5 billion dollars (half the estimate) and figure a rate of return of only 7% over 47 years, it amounts to about $300.5 billion dollars.
| | | | |
| --- | --- | --- | --- |
| Starting Amount | Rate of Return | Number of Years | Cumulative |
| $12.5B | 7% | 47 | $300.5B |
The secrecy of the Vatican makes it very difficult to figure out the true investments and wealth. Additionally, religious institutions are not forced to provide details of their investments or income in the U.S. Suffice it to say, the Catholic Church has a lot of wealth in investments, real estate, gold, church artifacts, and money. So what investments could it make going forward in the U.S. stock market (after all, I should tie it into stock picks right)?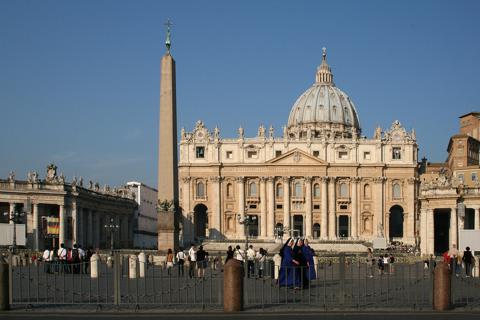 Disclosure: I have no positions in any stocks mentioned, and no plans to initiate any positions within the next 72 hours.