We are up to Week 15 of 2017 for the BDC Reporter's recap of the big trends underway in the market for publicly traded BDC common stocks.
We are still using the UBS Exchange Traded Note with the ticker BDCS as our (flawed) guide to whether the sector is up or down.
This week, the BDC sector pulled back, along with the markets in general.
As the chart below shows, BDCS was down (1.70%) , but then so were the DJI, S&P 500 and NASDAQ indices.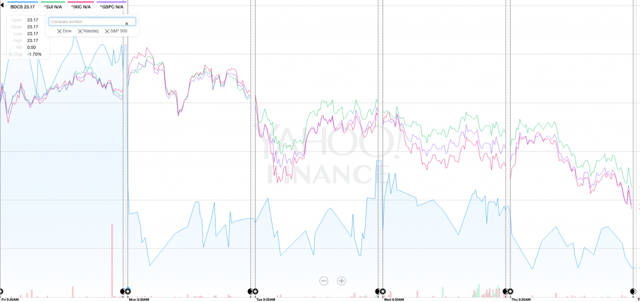 As we've been saying for months there has been considerable correlation between BDC common stocks and the general "bull market" in stocks, and this continues during the dips.
MOVING STORY
The number of BDCs trading above their 50 Day Moving Average price continued to drop, reaching 22 of the 45 we track. For the first time in a while this upward trending indicator has more BDCs in the red than in the green.
Last week there were 24 BDC stocks above the 50 Day Moving average and two weeks ago 28.
Interestingly, the number trading above the easier-to-beat 200 Day Moving Average remains at 35.
Hardly a major reversal of sentiment as yet by that metric.
FROM THE TOP
We also have a weekly look at how many BDCs are trading within 10% of their 52 Week High.
That number has dropped in the last week to 29 from 32.
Still, there are 12 BDCs trading within 2% of that 52 Week top.
That's more than a quarter of the universe in a peloton at the front.
DOWN BELOW
There are 4 BDCs trading within 10% of their 52 Week Low, usually a sign that all is not well.
No great surprises here: Fifth Street Finance (FSC), with its shocking managerial change and questionable dividend sustainability is 1% off the bottom.
BlackRock Capital (NASDAQ:BKCC) has credit and credibility problems of its own. The august name saw its stock price drop again this week, and remains not far off its post-Great Recession low.
OHA Investment (NASDAQ:OHAI), whose very continued existence as an independent BDC is in question, was down but not to its absolutely lowest level yet.
Even the speculators who typically yank the stock price up and down appear to have moved on. A couple of weeks ago the daily volume of shares traded exceeded 1.2mn !
This week, the average number of shares trading hands was closer to 30,000.
Finally, Garrison Capital (NASDAQ:GARS) was slightly down on the week, but is well off the bottom reached back in November 2016.
At $9.61, GARS is trading at a big discount to its $12.42 NAV, after a distribution cut in IVQ 2016.
CONCLUSION
There's nothing in the data to suggest that the BDC sector has reached a tipping point.
If anything, the very small number of BDCs trading down at 52 Week Lows by itself tells us that there remains a remarkable buoyancy in prices.
That's reflected in the credit markets as a whole, with two-thirds of large cap loans that trade marked above par, according to industry records.
(Not that we're not already busy enough tracking the BDC sector, but we also keep tabs on trends in leveraged finance more generally. We save the most pertinent articles into a BDC Magazine: Leveraged Finance.
Just click on this link to Flipboard to review or become a subscriber).
However, sometimes market tops end with a whimper rather than a bang…
We'll only know with the benefit of hindsight, but we're not ready to place bets against this long going BDC rally even if BDCS is close to a 1 month low.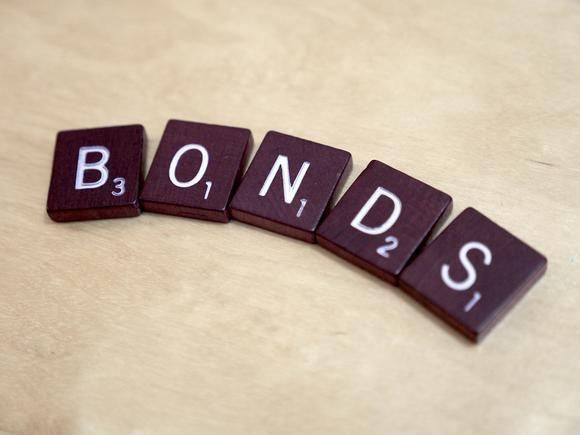 COPYCAT
BDC Baby Bonds slipped slightly, too, during the week.
21 of the 34 issues we track were still trading above their 200 Day Moving Average, but down from 24 the week before.
Ditto: the median price dropped from $25.62 to $25.56.
Obviously, you don't need the BDC Reporter to tell you that was a minuscule move at (0.25%).
As you'd expect, BDC Baby Bond prices typically move around far less than common stocks.
ABOVE PAR
Every Baby Bond issue (including publicly traded Preferred, which we're lumping in here for simplicity's sake) comes out at par.
As of the end of the week, only two issues are trading below par, and one of those was at $24.98.
The only real exception to the rule continues to be Medallion Financial's Baby Bond with the ticker MFINL trading at $16.70, and down on the week, but still up from its lowest level.
No end in sight for Medallion Financial or its Unsecured Note, but that could change in a flash.
OVER ACHIEVER
We did notice that the number of Baby Bonds trading above $26.00 a share was down to 4 from 6.
This is a number that tends to fluctuate in a narrow range.
NO ADDITIONS TO THE CLUB
In the prior week, we reported on Prospect Capital's (NASDAQ:PSEC) new public Convertible Note issue.
We also mentioned TICC Capital's (TICC) new Baby Bond with the delicious ticker of TICCL (pronounced "tickle" by us).
Our goal was to add both officially to our coverage universe and table of BDC securities.
Unfortunately, there has been no public trading as yet that we've been able to determine.
We'll consult our brokers at MS Howells next week to determine which issues will become readily available to buy and sell, and then add them to our internal list.
For the moment we continue to track 34 Baby Bond issues, spread over 25 BDCs.
BOND WRAP UP
There was a slight weakening in BDC Baby Bonds, but nothing dramatic.
We've been expecting that prices will trade within a narrow range from $25.75 to $25.25 or about 2% unless we get a major move in the longer term risk free rate or an end to the market rally.
Nothing lasts forever, but Baby Bonds have been in a Goldilocks range for many months now, including the longer term notes.
Existing holders will hope Goldilocks continues to sleep soundly now that everything is "just right". Would-be buyers are hoping for the 3 bears to come home and shake things up.
Disclosure: I/we have no positions in any stocks mentioned, and no plans to initiate any positions within the next 72 hours.